The internationally-acclaimed Field of Light art installation will see its biggest event yet at the place that inspired it – Uluru in Australia – and be solar powered for the first time.
Originally conceived during a visit to Uluru in 1992, Bruce Munro's Field of Light Uluru will illuminate a  desert area within sight of the world's second largest monolith*.
"I saw in my mind a landscape of illuminated stems that, like the dormant seed in a dry desert, quietly wait until darkness falls, under a blazing blanket of southern stars, to bloom with gentle rhythms of light," said Mr. Munro; who describes the event as a "spiritual homecoming".
More than 50,000 slender stems topped with frosted-glass spheres will light up as darkness falls – the largest and most remote iteration of this artwork to date.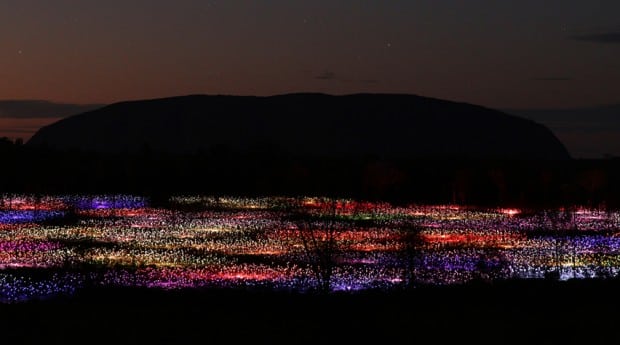 The exhibition is called Tili Wiru Tjuta Nyakutjaku in the local Pitjantjatjara language, which means 'looking at lots of beautiful lights'.
The installation will be in place for a full year; from April 1 to March 31, 2017.
Weighing approximately 15 tonnes in total, the installation was transported to Australia over 32 international and domestic flights; so the use of solar power will be useful in offsetting those aviation emissions. According to NT News, 36 portable solar panels (and we assume battery energy storage) will be used to power the display.
The exhibition is part of Voyages Indigenous Tourism's continued commitment to arts and culture.
"Field of Light Uluru presents an absolutely unique opportunity for guests to enjoy not only the spiritual nature of the destination, but experience it in a unique and mesmerising way," said Voyages' Ray Stone.
This won't be the first time solar power has been used at Uluru on a significant scale. 1.8MW of solar panels were installed at the award-winning Ayers Rock Resort last year, assisted by financing from the Clean Energy Finance Corporation (CEFC). The Australian Renewable Energy Agency (ARENA) is also providing $450,000 in funding support to Voyages Indigenous Tourism to study and promote the learning and expertise gained throughout development and construction.
* Western Australia's Mt Augustus is the biggest rock in the world – two and a half times the size of Uluru.