Sunnycylist is an electro-solar and pedal powered 3 seat vehicle created by young entrepreneurs striving to make a difference in sunny, but struggling, Greece.
The "City" edition of Sunnyclist is the cheapest model, equipped with a 540W solar array, 60AH lithium-ion battery pack and can provide an average range of 35 kilometers per day.
Powered by 6kW brushless hub motors, the "Traveller" model has 680Wp of solar panels and a 100Ah 48V lithium battery offering a range of up to 70km.
Individual portable pedals are available for each passenger; after all, nobody likes a freeloader. The pedal generators have a readout so you can make sure each passenger is pulling their weight.
The makers claim that by combining solar power, a fully charged battery and pedal sources; the Traveller can achieve a range of 190km on a sunny day without further charging. The battery bank can also be recharged from a household power socket in 2 – 3 hours.
Both the City and the Traveller have 250 litres of luggage space with the rear seats removed. The Traveller is around 30kg heavier than the city, at 250kg, and the two vehicles have a top speed of 50 km/h.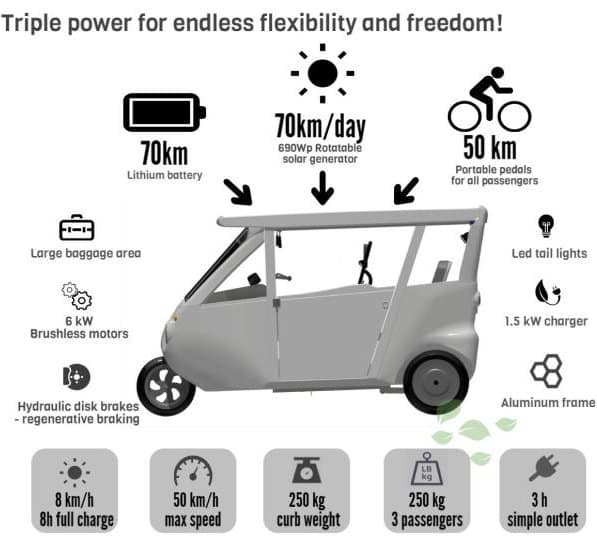 The solar roof of the Sunnyclist can be rotated/angled on two parallel axes.
Three wheel vehicles can be notorious for stability, but this is minimised in the Sunnyclist with a low centre of gravity near the rear axle and an evenly distributed load on the wheels. The vehicle also features disc brakes with regenerative braking features.
The Sunnyclist can also be used to power various electronic devices and of course, there'll be an app for the vehicle.
As for cost – the City is around AUD $10,500 at current exchange rates and the Traveller, approximately $14,520. These prices do not include shipping to Australia or any relevant duties once they hit our shores – and whether they would be street legal here isn't clear.
In addition to avoiding a couple of tonnes of carbon emissions a year; Sunnyclist says owners can expect transport related savings of about $3,750 a year – so around a 4 year payback on the Traveller.
The Sunnyclist team are looking to raise 100,000 euros via an IndieGoGo campaign to get the first vehicles into production.