The hugely popular German-made sonnenBatterie Eco home battery system is now available from Australian solar provider Energy Matters.
Germany's Sonnen is Europe's largest home battery supplier, having shipped 10,000+ units to date and more than 2,600 systems during the first quarter of this year alone.
Sonnen's flagship residential storage product is the all-in-one sonnenBatterie Eco; a modular battery system available in 4kWh – 16kWh hour capacity (2kWh increments).
Made in Germany using quality  components, sonnenBatterie Eco incorporates robust battery modules, an inverter that doesn't require upgrading as the system is expanded and a cutting edge battery management system (BMS).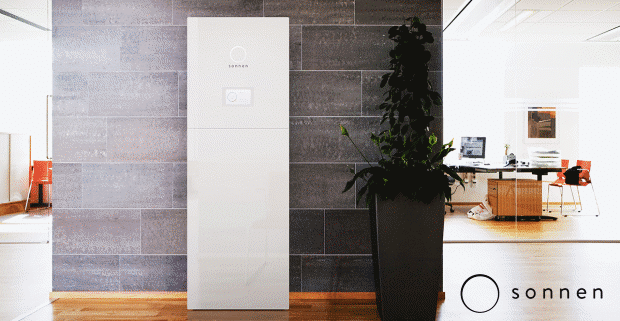 All of this is housed in an elegantly designed and compact cabinet suited to indoor  (garage) installation; in a choice of three colours.
Available in single or three-phase, the system features a self-learning algorithm that determines the optimal times to charge and supply; without manual intervention required.
Owners of sonnenBatterie Eco can monitor their system's performance with the user-friendly SonnenApp from wherever an internet connection is available.
Sonnen has demonstrated its unshakeable confidence in the sonnenBatterie Eco by providing a market-leading 10,000 cycle/10 year warranty; which equates to around 2.7 full cycles a day over a decade.
As an example, a 6kWh sonnenBatterie Eco system offers a daily discharge capacity of up to 16.43kWh based on multiple cycles per day. A reliable Wi-Fi connection is a requirement of this impressive warranty and Sonnen warranty terms and conditions apply.
Efficient, affordable and easy to install and upgrade, Sonnen battery systems are available for retrofits and as part of Energy Matters' Advantage solar + storage range.
To celebrate the arrival of Eco units in Australia, Energy Matters is offering the first ten customers who purchase a 4kWh sonnenBatterie Eco system 50% off a 2kWh Sonnen expansion module.
The three-phase option will be provided free on systems with a 10kWh+ capacity.
This special offer is valid until Thursday 30th of June 2016 or until 10 orders are placed nationally, whichever occurs first.
Households have the potential to significantly reduce their mains grid reliance with a solar + storage system; saving their high value solar electricity for self-consumption and boosting energy independence.
Energy Matters has been installing solar battery systems throughout Australia for much of the company's ten-year history. Energy Matters' storage experts can be contacted on 133-SUN.