The first commercial Tesla Powerpack project in the European Union is currently being installed in Somerset, UK.
A Camborne Energy Storage project, the Powerpack installation will be working with a ground mounted solar PV facility capable of supplying power for more than 500 homes and will provide ancillary services to the UK's National Grid.
"The development of Tesla's first European grid-tied system is an exciting step forward for Camborne and Tesla in terms of our respective storage strategies," said Dan Taylor, Managing Director of Camborne. " This project is another success for storage development in the UK and being co-located with a renewable generation site, should offer significant benefits to all stakeholders."
Energy Storage News reports the battery system has a 500kWh capacity. Poweri Services, which carried out the installation, said the Powerpack units "slotted together like Lego".
"It's a very elegant product that's been very well thought through. There's nothing that I can see that would cause a problem in deploying these in large numbers," stated Chris Roberts, director at Poweri.
Tesla Powerpack is a new-generation utility and commercial energy storage solution that is now also available in Australia. It can be installed in capacities from 100kWh to 100MWh+,  in 250kWh increments.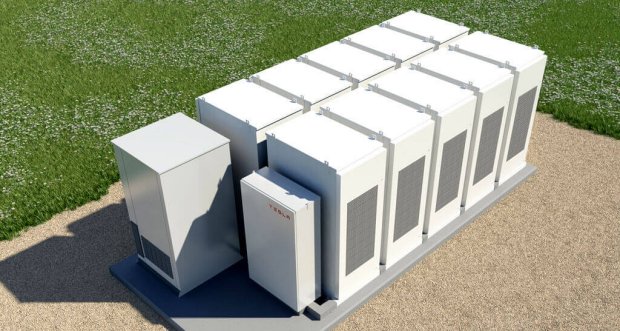 The major benefits for businesses include enabling greater control over energy costs and assisting companies in making the most from their commercial solar power systems. By utilising the stored energy at times of peak demand, Powerpack can help avoid or reduce demand charges – a major component of commercial electricity bills.
Powerpack features architecture tested over the 1.6 billion kilometres driven in Tesla's Model S electric vehicle. A dual coolant and refrigerant loop system adapted from Model S ensures peak performance in harsh climates such as Australia's, and offers better efficiency than air cooling.
Last week, Tesla announced it had been chosen to provide a 20 MW/80 MWh Powerpack battery system for Southern California Edison's Mira Loma substation; which it says will be the largest lithium ion battery storage project in the world once completed.
Meanwhile, Powerwall – Tesla's home battery system – is continuing to enjoy major success in Australia and overseas.