ThermalTech's solar powered smart fabric is made from stainless steel yarn – but we're assured it's not like wearing a pot scourer or chain mail.
We've mentioned a few solar powered clothing items in the past that were quite ..umm ..unique; including the utilitarian SolarVest and the "urban chic" (and very expensive) GO Collection.
Much of the solar clothing that followed has been similar, but Smart Jacket made with ThermalTech is quite different; both in the way it uses light and in general design. It looks more like normal clothing the average person would wear – and it doesn't have any solar panels slapped on it.
While Thermaltech won't power your iPhone, its creators say it will keep you warm without the bulk of conventional cold weather clothing.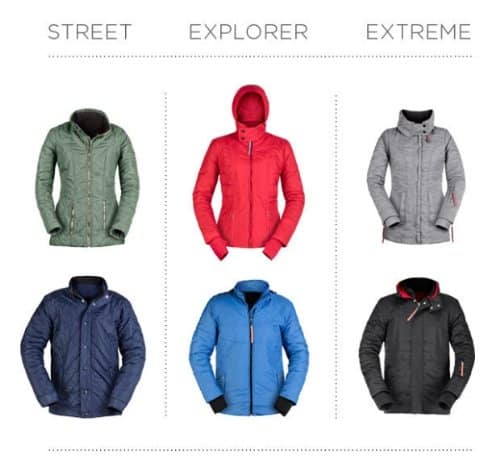 While most thermal clothing simply traps body heat, ThermalTech says its fabric also soaks up energy from sunshine and artificial light, converting it to heat and generating up to an additional 10°C/18°F in just two minutes. It seems the fabric will also heat up on cloudy days.
While black clothing can certainly warm up in sunlight, the same can't be said under artificial light. In addition to infra-red (the "warm" bandwidth of sunlight), the fabric utilises the sun's ultraviolet rays and visible light.
"We believe that by introducing this solar-absorbing fabric into the apparel marketplace, the next generation of outerwear will provide the consumer with even more of an optimal temperature & fit," said Carlos Cortes, CEO of ThermalTech. "This will allow everyone from the snowboarder to the fashionista to be warmer in colder climates."
The stainless steel mesh fabric is lightweight and thin; pliable, machine washable and can be used to create almost type of outdoor clothing item.
The company has launched a crowdfunding campaign to get the jackets into production and it seems to be pretty popular. At the time of writing, the campaign had already raised 91% of its $25,000 goal.  ThermalTech has set its sights on commencing production in April, with the first run of jackets to be shipped to early-bird purchasers in July – just in time for the really chilly days here in Australia.