With a record number of Australians purchasing an Electric Vehicle (EV) in the first six months of 2021, and significant dollars being put into charging infrastructure across the country, industry experts are confident that an electric vehicle revolution is on our doorstep.
While we can anticipate a broader range of models and price points in the near future, this article will take a close look at the current top 5 selling electric vehicles in Australia: Tesla model 3, MG ZV EV, Porsche Taycan, Nissan Leaf and the Hyundai Kona.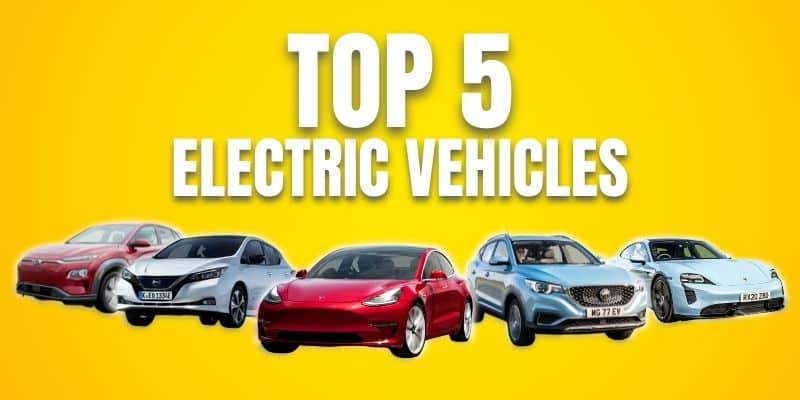 Key Specifications Comparison
| | | | | | |
| --- | --- | --- | --- | --- | --- |
| Model: | Tesla Model 3 | MG ZS EV | Porsche Taycan | Nissan Leaf | Hyundai Kona EV |
| | | | | | |
| Price $AUD: | From $62,900 + on-road costs | From $43,990 drive away | From $190,400 + on-road costs | From $49,990 + on-road costs | From $62,000 + on-road costs |
| Engine: | Synchronous electric | Synchronous electric | AC synchronous electric | Synchronous electric | Synchronous electric |
| Transmission/drive: | Single-speed reduction gear/rear or AWD | Single-speed reduction gear/front drive | Two-speed /AWD | Single-speed reduction gear/front drive | Single-speed reduction gear/front drive |
| Battery: | 50-75kWh Lithium Ion | 42.5kWh Lithium Ion | 79.2 or 93.4kWh Lithium Ion | 40kWh-62kWh Lithium Ion | 64kWh Lithium Ion |
| Power/torque: | 190-353kW/375-639Nm | 105kW/353Nm | 320-460kW/640-1050Nm | 110kW-160kW/320Nm-340Nm | 150kW/395Nm |
| 0-100km/h: | 3.4-5.6s | 8.2s | 2.8s to 4.0s | 7.3-7.9s | 7.6s |
| Consumption: | 14.9-16.6kWh/100km | 18.6kWh/100km | 19.5 to 22.3kWh/100km | 14.7kWh/100km | 14.7kWh/100km |
| Electric range: | 440-580km | 263km | 407 to 450km | 270km-385km | 484km |
| Warranty: | 4yr/80,000km | 5yr/unlimited km | 3yr/unlimited | 5yr/unlimited | 5yr/unlimited |
| Battery warranty: | 8yr/160,000km* | 8yr/160,000km | 8yr/160,000km | 8yr/160,000km | 8yr/160,000km |
| Safety rating: | 5 stars | 5 stars | 5 stars | 5 stars | 5 stars |
Tesla Model 3: Beautiful design meets smart practicality
Without doubt, the Tesla Model 3 is Australia's most popular electric car. Launching internationally in July 2017, and in Australia in 2019, the headline-grabbing Model 3 was hotly anticipated, with a price tag that promised electric vehicle mobility for the masses.
The Model 3's breakthrough appeal has always been its generous battery range, straight line performance, and high-tech, minimalist cabin aesthetics – but the car's clever design also lends it surprising practicality.
Driving enthusiasts won't be disappointed either. The Tesla Model 3 is simply a joy to drive. Its interior is stylish, and it offers the features you'd expect in a high-end vehicle. It's also well-equipped as standard, with such niceties as thick curtain airbags, a suite of driver-assist systems (including Autopilot and collision warning), an automatic emergency braking system with autosteer, and a full-size touchscreen display. Performance is impressive, the cabin is comfortable, and there's ample cargo space for an electric car of this size.
The Tesla Model 3 line-up currently starts at $62,900 for the Model 3 Standard Range Plus RWD and ranges through to $105,900 for the range-topping Model 3 Performance.
MG ZS EV: The most affordable electric SUV on the market
As the most affordable electric car on the Australian market at present, it should come as no surprise that the new MG ZS EV is Australia's second most popular EV. MG has been a strong player in the Australian market, and was well known for its iconic sports car – but it's probably their electric SUV that will make them household names again.
The MG ZS EV is an impressively designed vehicle – no one can deny this. It looks great on paper too, with three driving modes (Eco, Normal, Sport), MG Pilot Driver safety technology, impressive range figures and a relatively low price point. Pegged as a 'family-friendly electric car', the MG ZS EV is also a practical offering, with plenty of space for kids and shopping.
In terms of driving performance, the MG ZS EV is not going to win any races – but it does have more than enough power under the hood to get you around town in a comfortable fashion. The car's interior quality, could be improved upon too – while some may enjoy the minimalist design, others will likely see it as a bit cheap.
However the MG ZS's biggest drawcard is its price point – from just $44,990 driveaway for the Essence model, making the electric dream far more accessible to every day Australians.

Porsche Taycan: A luxurious electric supercar
It might come as a surprise that, following the affordable MG ZS EV, the third most popular car sold this year so far is one of the most expensive on the market. The Porsche Taycan is a stunning vehicle that redefines what an electric car can be. With its sleek design, high-tech capabilities and impressive performance figures, it's easy to see why this bad boy has been attracting so much attention from buyers in Australia.
If you're after a car with looks that kill, then the Porsche Taycan is for you. With a smooth, futuristic design and high-tech features that would make James Bond jealous – it's no surprise this car has been turning heads since its release in 2019.
The performance figures back up those looks as well – with excellent straight line speed and acceleration times to rival the best sports cars on the market – and that's not even mentioning the Taycan's range, which can achieve up to 450km on a single charge. The Taycan's high-speed handling and roadholding ability will appeal to driving enthusiasts, while leading braking and driver-assist safety systems guarantee control.
All Taycans are all-wheel drive, with an electric motor on each axle. The 4S uses a 79.2kWh battery pack or optional 93.4kWh 'dual-deck' item that's standard on the others to extend range.
The Porsche Taycan base model will set you back around $190,400 before on-road costs – but if you're after a luxury EV with looks to kill, this might just be worth it.
Nissan Leaf: Simple practicality at an accessible price
When it comes to electric cars, many Australians can't go past the Nissan Leaf. The Nissan Leaf has been a top choice for buyers looking to go electric – with its affordable (as far as EVs go anyway) price point, good-looks and capable EV drivetrain making it hold its own among other options in Australia. While there are more advanced cars on the market, Nissan Leaf still has a lot to offer.
The Leaf will take you between 270 and 385km on a single charge depending on the model variant that you choose. With a standard 240V outlet, the Leaf 40kW can reach full charge in 17.5 hours – this can be shortened to 7.5 hours with a Type 2 charging unit, so you can charge overnight and start the day with a full 270km of range. The 2021 Leaf E+ has been upgraded with a more energy-dense battery pack and extended real-world range up to 385km, which will make it even more practical for Australian buyers – especially one-car households.
With little noise from the tyres and only slightly more wind noise from the door mirrors, the Leaf's cruising ride is smooth and pleasant. It comes well-equipped as standard with Nissan's Safety Shield 360 suite of driver-assistance features, including automated emergency braking with pedestrian detection and blind-spot monitoring with rear cross-traffic alert.
In terms of the Leaf's aesthetics, it does admittedly look a little dated now – but that doesn't mean you can't have fun with this car – after all, Nissan has introduced some pretty cool special edition models over the years!
The base model starts from $49,990 and goes up to $60,490+ for the Leaf E+.

Hyundai Kona: A long-range EV to rival the Tesla Model 3
While it's at the higher end of the price range, it's hard not to be impressed by the Hyundai Kona EV. This model is a great choice if you're looking for a small SUV with a big (64kWh) battery and powerful (150kW) motor.
The Kona EV's overall performance is a real standout – delivering excellent range as well as brisk point-to-point acceleration. Plus, the Kona EV grips down firmly to steer and corner with precision. With an impressive range of up to 484km on a single charge, drivers can look beyond the daily commute and do some real exploring with this car. You can also extend this range with regenerative braking, which allows you to recharge the battery using kinetic energy captured when the car is coasting or brakes are applied.
The Kona EV comes with a suite of tech features that make it easy for Australians to go electric – including their Smartsense system that features Blind-Spot Collision-Avoidance Assist (BCA), Driver Attention Warning (DAW), Forward Collision-Avoidance Assist (FCA) and Lane Keeping Assist (LKA) to name a few.
Being a small SUV, space up front is adequate if a little tight for legroom in the back. The interior design itself is decidely futuristic, with a floating 'bridge' console, heavily digitised cockpit and satin silver finishes for a luxe ambiance.
The Kona Electric starts from $62,000 for the 64kWh model.
Are you EV ready?
With a home rooftop solar system, you could potentially charge your EV with self-generated electricity from your solar panels. If you aren't home during the day, a home battery unit will allow you use stored energy to charge your EV at night or another time when the sun isn't shining. Charging your car with solar energy improves the business case for both your solar panel installation and your electric vehicle. It definitely represents a better return on investment than sending power back into the grid at current feed-in-tariff rates!
Want to learn more? Take our quick solar quiz for up to 3 obligation-free solar quotes from trusted local installers.