A predicted 16 gigawatts of solar will be installed in the U.S. in 2016 – representing year-over-year growth of a staggering 119%.
That's a lot of solar panels – equivalent to around 61,538,461 based on a 260 watt module.
The 16GW prediction has been made by GTM Research in the latest U.S. Solar Market Insight Report 2015 Year in Review, which has been published in conjunction with the Solar Energy Industries Association (SEIA).
As we reported previously, 7,286MW of solar PV was installed in the USA last year, which was the largest annual total ever and 17% above 2014.
Utility-scale installations will lead the charge in 2016, accounting for 74 percent of capacity additions for the year. However, esidential and commercial markets will also see significant growth and the nation is on the brink of 1 millionth solar installation.
It's good news all round – more clean power, more investment, more jobs – a lot more jobs.
"Because of the strong demand for solar energy nationwide, and smart public policies like the ITC and NEM, hundreds of thousands of well-paying solar jobs will be added in the next few years benefiting both America's economy and the environment," said SEIA president and CEO Rhone Resch.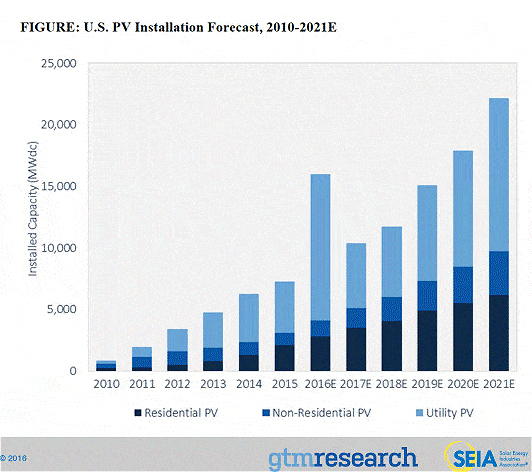 The ITC is the Investment Tax Credit program; providing a 30 percent credit for wind, solar and energy storage systems installed at eligible residential and commercial properties. The credit level was due to drop from the beginning of this year, but was extended late last year and will stay at 30% through 2020 before tapering off.
Peering past 2016, the market is expected to shrink in 2017 comparatively speaking, but will still be a very respectable 10GW. Residential/ non-residential PV markets are both expected to achieve year-over-year growth. In 2018, solar is expected to resume year-over-year growth across all market segments.
"..between 2018 and 2020, the extension of the ITC will reboot market growth for utility PV and support continued growth in distributed solar as a growing number of states reach grid parity," said GTM Research Senior Analyst Cory Honeyman.
By 2021, GTM Research expects the U.S. solar market to breeze past a cumulative total of 100 GW of solar PV, with an annual installation rate of 20 GW or more.
The Executive Summary of the U.S. Solar Market Insight Report 2015 Year in Review can be viewed here.