Quality home energy storage is now very flexible and with a price to please. That is  thanks to Enphase, one of the USA's leading solar + battery manufacturers, and Energy Matters! If you're looking to buy Enphase battery systems, you're in the right place.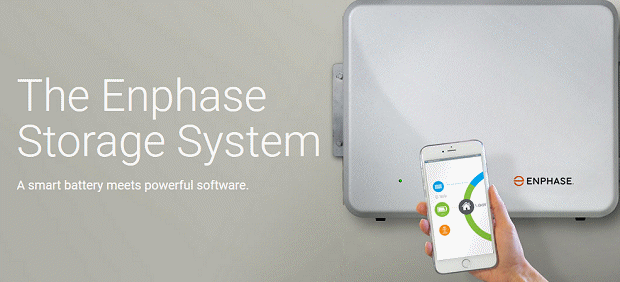 Australia is the first country in the world where the Enphase AC Battery has been released. Interest in this energy storage solution has been massive. That response has far surpassed the expectations of Enphase.
Buy now from Energy Matters now at a very special price!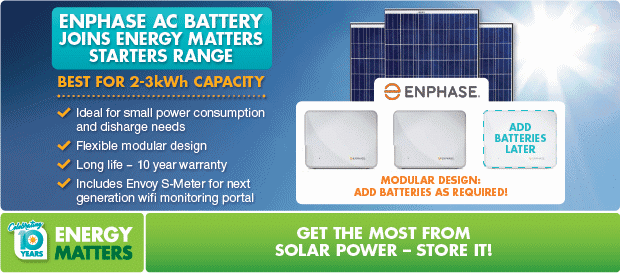 Enphase Battery System Special Offers
New solar + storage installation
Click the button below for a quick solar quote and a great price on full solar + Enphase AC battery package deals! Remember to ask about energy monitoring with the purchase of a solar PV system with Enphase energy storage.

Existing solar PV system owners
Get a quick quote on a deeply discounted retrofit Enphase energy storage solution. Remember to ask about energy monitoring with the purchase of Enphase energy storage batteries.

There's a strong demand for Enphase battery systems, so get in quick!
Modular And Flexible
Whether it's for a new solar installation or retrofit, the Enphase AC Battery is ideal if you're wanting to buy a small battery system to start with and then expand it later. This means that more battery modules can be easily added as required.
Featuring a clean, modern look, this wall-mounted and very compact plug-and-play battery has a capacity of 1.2kWh. And it is very efficient.
Get the most from your solar power system and increase your energy independence with and make the move to buy Enphase Battery!
Enphase AC Battery Highlights
Modular design – quickly and easily add more units as required
AC-coupled
Cost-efficient
Single person installation or retrofit
Wall-mounted
Lightweight – just 25kg per module
Plug and play energy storage concept
Compatible with standard household AC wiring
Cells safety-tested and certified by TÜV Rheinland
Highly stable prismatic battery cells
Lithium iron phosphate (LFP/

LiFePO4

) chemistry
Long cycle life + 10-year warranty
96% round-trip efficiency
2 cycles per day – double the value and more rapid payback
Can be discharged to 95%
Includes Envoy S-Meter for next generation Wifi monitoring portal.
Compatible with all inverters
Optimized for use with Enphase microinverters
Get an obligation-free solar + Enphase battery or retrofit quote now!
AC-Coupled Advantages
The Enphase AC battery is an AC-coupled system. This feature minimises high voltage DC indoors and the batteries can be easily retrofitted to existing solar installations. And note that there is no requirement for a storage-ready inverter.
A Note On Lithium Iron Phosphate (LFP/
LiFePO4

) Batteries

Batteries incorporating lithium iron phosphate (LFP/LiFePO4) technology are generally recognised for better thermal and chemical stability than those made with some other cathode materials. Because of this, no active or passive cooling infrastructure is required for the Enphase battery.
Introducing Envoy
As well as the energy storage aspect, a feature that sets the Enphase AC Battery apart is Envoy S-Meter. This is an advanced electronic component that communicates with Enphase's Enlighten monitoring software. This means that you can track energy production and consumption.

With Enlighten, you can track solar electricity production and storage, monitor your system's health and view/share data using a simple mobile-friendly interface. Request your solar + Enphase battery or retrofit quote now!
Why Buy Enphase Battery From Energy Matters?
Energy Matters has been installing solar and related systems for more than a decade. Because of this, few companies in Australia have our depth of experience in designing and installing energy storage solutions for optimal performance. Thus, you can buy Enphase Battery with confidence!
Contact our team now to discover how to buy Enphase Battery, pricing and how we can help you make the most from solar power. Alternatively, you can request an obligation-free solar + Enphase battery quote or retrofit price now!
Enphase AC Battery Specifications
@ 230 VAC (without bracket)>95%
Weight 25 kg
Installation: Wall mounted in an indoor, unoccupied space using standard AC wiring in conduit or in wall, where permitted.
Table of specifications
OUTPUT DATA (AC)
Peak output power
270 VA
Rated (continuous) output power
260 VA
Nominal frequency
50 Hz
Extended line to neutral voltage range
184 to 276 VAC
Extended frequency range
45 to 55 Hz
Power factor
0.7 leading to 0.7 lagging
Maximum units per 20 A branch circuit
13
Peak inverter efficiency
96.9%
BATTERY CHEMISTRY
Capacity
1.2 kWh
Depth of discharge (usable capacity)
Ambient operating temperature range
-20ºC to 45ºC
Chemistry
Lithium Iron Phosphate (LFP)
Cell safety certifications
TUV Rheinland, UL
Roundtrip cell efficiency¹
96%
MECHANICAL DATA
Dimensions 2
390 mm (W) x 325 mm (H) x 220 mm (D)
Enclosure
Indoor – IP20
Cooling
Natural convection – No active or passive cooling infrastructure required
Grid configuration
TN-C-S
FEATURES AND
COMPLIANCE
Compatibility
Compatible with grid-tied PV systems using the Enphase Envoy-S™ Metered gateway
Communication
Power Line Communication (PLC), TCP/IP through Envoy-S
Services
Maximising self-consumption of solar, time-of-use bill management, power export limiting³
Monitoring
Enlighten Manager and MyEnlighten monitoring options
Compliance
Certification Pending: AS/NZS 4777.2, AS/NZS CISPR 22, AS/NZS 62040.1.1, UN 38.3
LIMITED WARRANTY
Limited Warranty 4
>80% capacity, up to 10 years or 7300 cycles
* All systems will be subject to switchboard review and customers must have a stable internet connection. Enphase AC Solar Batteries require installation indoors.
** Eligibility criteria applies upon application with a third party payment plan provider. Actual payment amounts, interest rates and fees and charges payable supplied upon application with a third party payment plan provider. Other fees and charges may also apply. Actual payment amounts, the term of any payment plan and the applicable interest rates determined by the third party payment plan provider. Offer available through selected distribution partners.