After experiencing the benefits of his own solar system, Jim Sakkas was keen to spread the word to his neighbours in the remote East Gippsland town of Mallacoota.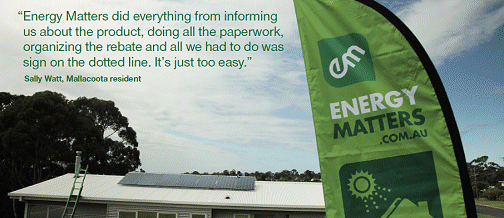 Just south of the NSW border and nestled in a national park, Mallacoota has approximately 1,000 permanent residents, with more in the holiday season. However, the isolation means that it can often be difficult to entice trades people and services to the town.
Mr Sakkas arranged for Energy Matters to attend to the first solar buyers group meeting in 2008. He placed advertising in the local newspaper and organised for the information session to be held in the town's community hall. Word spread quickly.
"The buyers group presented a package to Mallacoota, which was complete", said resident Sally Watt, who attended the first information session. "They did everything from informing us about the product, doing all the paperwork, organizing the rebate and all we had to do was sign on the dotted line. It's just too easy."
"If we have 30 installations on the go, it means that Energy Matters can arrange for an inspector to come and get the distributors to put in the new meters all in the one go", said Mr Sakkas. "There are advantages in working as a group."
60 solar installations and two years later, a second solar buyers group information session was held in Mallacoota. Jim Sakkas was once again key to the arrangements.
"I noticed a definite change in the motivations of people who attend the latest buyers group", says Mr. Sakkas. "The first lot were environmentally centred people, but this lot were also interested because of energy prices going up. When they were told that a 1.5kw system pays for itself in about 4 or 5 years and that rest is profit – that got their interest!"
The Energy Matters team installed 22 solar power systems in just one week and enquiries continued to flood in.
With around 100 solar systems, equating to close to 150 kilowatts, now installed in Mallacoota, Energy Matters wanted to give something back to the community.
"We're arranging to install a free 1.88 kilowatt solar system on roof of the football club, with a Sunny Beam Wireless Monitor to display its performance", said Energy Matters team member, Corban Hill. "After witnessing the incredible dedication to the clean energy revolution shown by the residents of Mallacoota, Energy Matters just wanted to say thanks."
"I think the buyers' group really helped people to make the choice to go solar – not only did they get a great group discount, but it meant that site inspections, installations and electrical inspections all happened in one go", Corban explained. "The buyers group made things easier for everyone: our customers and for us."
Start your own solar power buyers group!
By collaborating with your neighbours, you can secure deep discounts on fully installed solar power systems from Energy Matters through your collective buying power. If you are interested in setting up a solar buyers group, our team can help you with advice and may be able to connect you with an existing buyers group if one is in your area.
Learn more about the advantages of a solar buyers group or contact us today for further information.