Starting from a home-based business in Sydney NSW in 2003; Apricus has rapidly grown into one of the nation's premier solar hot water systems companies and now supplies to more than 30 countries.

Named in Smart company's Smart 50, BRW's Fast 100 and 50 Most Innovative Companies; Apricus is also the recipient of a HIA-CSR Hunter Housing Industry Innovation Award.
Apricus specialises in evacuated tube based solar hot water systems - the most efficient technology as the round tube design allows heat to be captured for more hours of the day and more efficiently than flat panel solar.
Additionally, as Apricus systems are a split system design; a standard 30 tube array weighs less than 100 kilograms - meaning far less strain on your roof.
Far from being delicate, Apricus evacuated tubes have been independently tested and found to withstand a 25mm diameter ball of ice travelling at 90km/hr. Increasing the angle of the evacuated tubes will further increase Apricus tubes' hail resistance attributes. Apricus evacuated tubes are also frost protected - and without the use of glycol.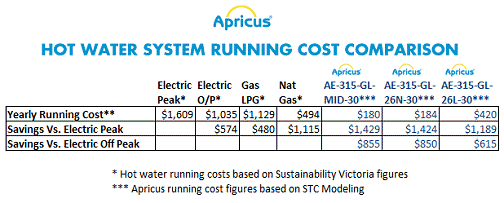 Save up to 80% on your water heating costs by going solar! It's never been cheaper to make the switch to solar hot water from Apricus. Thanks to generous federal and state government solar hot water rebates and incentives, you can save even more on our already deeply discounted prices on Apricus systems!
Products
| Product Image | Item Name- |
| --- | --- |
| | Apricus 20 Evacuated Tube 250L Tank Electric Boosted Solar Hot Water System The Apricus... |
| | Apricus GL 250l electric boost 22 evacuated tubes solar hot water The Apricus solar... |
| | Apricus GL 250l electric boost 30 evacuated tubes solar hot water The Apricus solar... |
| | Apricus GL 160l gas boost 20 evacuated tubes solar hot water The Apricus solar collector is... |
| | Apricus GL 160l gas boost 22 evacuated tubes solar hot water The Apricus solar collector is... |
| | Apricus GL 315l electric boost 30 evacuated tubes solar hot water The Apricus solar... |
| | Apricus GL 315l electric boost 40 evacuated tubes solar hot water The Apricus solar... |
| | Apricus GL 415l electric boost 30 evacuated tubes solar hot water The Apricus solar... |
| | Apricus 250L Gas Boosted 20 Evacuated Tubes Solar Hot Water System The Apricus solar... |
| | Apricus GL 250l gas boost 20 evacuated tubes solar hot water The Apricus solar collector is... |