Solar hydronics (also known as solar thermal technology) has many applications for commercial purposes. For example, heating water and cooling milk can account for a huge amount of the energy used on a dairy farm. Commercial dairy farms can access large amounts of free energy courtesy of the sun for heating water to clean equipment, as well as to warm and stimulate cows' udders, by using a solar hydronic system. On a large scale, this is known as commercial solar thermal.
Solar thermal water heating systems can be used to supply all or part of commercial hot water requirements in a variety of situations, including commercial laundries, hotels and hospitals.
Aside from energy savings, a solar thermal system can significantly reduce energy related greenhouse gas emissions, demonstrating to your clients and stakeholders your organisation's commitment to the environment.
Our range of commercial solar thermal heating systems are comprised of the following quality components:
Apricus evacuated tube collectors
Evacuated tube solar collectors from Apricus are well suited to many commercial applications. These include hot water supply for showers in resorts, to hot water for use in dairy milking sheds.

Apricus evacuated tube collectors are designed to offer high solar conversion efficiency at high temperatures, low pressure drop, high pressure rating and offer flexible mounting formats.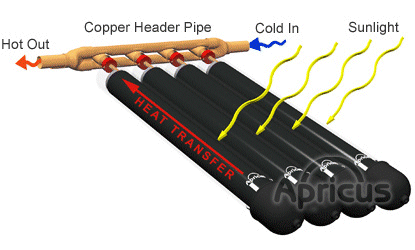 The Apricus company offers a range of evacuated tube products tried and tested to withstand and even flourish in Australia's often harsh weather conditions. They also provide ongoing demand in a commercial environment.
Sanicube hot water storage system
When the fluid in the rooftop evacuated tube system has heated sufficiently, it is then pumped automatically into a Sanicube storage tank. This tank is designed especially for solar hydronic applications. Heat exchange mechanisms within the tank heat the water rapidly ready for use.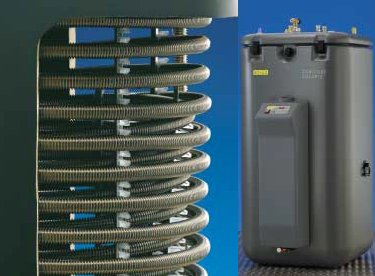 Internal view of a Sanicube hot water storage unit
Sanicube water storage systems offer cutting edging heating technology in an unpressurised unit designed for maintaining hot water temperatures for several days.
The multiple heat exchange coils can heat water very quickly. The Sanicube system also incorporates a special material for superior insulation.
A reliable hot water system is a must for any business.  So, should extended periods of heavy cloud be experienced, an integrated gas or electric boost system ensures hot water is continually available.
Commercial solar thermal systems can be installed for as little as $50,000. That's a small price to pay over the life span of the system compared to the savings your business can make!
Interested in commercial solar thermal?
If you'd like to learn more about commercial solar thermal systems, please contact us.