The cost to industry for heating water is considerable. Industrial solar hydronics (also known as industrial solar thermal) technology allow for major savings on pre-heating water for industrial cooking, steam requirements and energy generation.
Utilising solar hydronics at an industrial scale not only represents considerable cost reductions over the long term, but demonstrates environmental stewardship through a substantial reduction in energy related greenhouse gas emissions.
Our heavy duty industrial solar thermal heating systems contain the following quality components:
Flat plate collectors by Solaris
Solaris flat collectors are highly efficient and convert nearly all short-wave solar radiation. When water temperature in the collector reaches the target temperature, a pump pipes the water to the storage tank. Solaris flat panels can fit on all sorts of roofing structures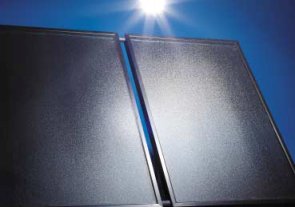 Since its foundation in 1995, Sunda has been providing evacuated tube arrays for industrial solar thermal applications in dozens of countries covering all 6 continents.
Sanicube hot water storage system
Fluid sufficiently heated by the Solaris flat plate system is automatically pumped into a Sanicube storage tank. Heat exchange coils heat the water within the tank ready for use.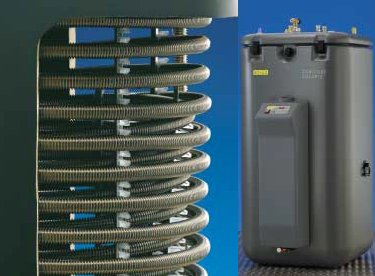 Cutaway view of a Latento hot water storage unit
Sanicube storage tanks are unpressurised  and able to store water at optimal temperatures for up to for several days. Between the inner and outer shell of the tank exists a thick layer of foam insulation. Should weather conditions be unfavourable; a gas boost system ensures hot water is continually available.
The material used in the Sanicube comprises a polypropylene (tank body), stainless steel pipe heat exchange functions; all offering long life and minimal maintenance in an industrial solar thermal setting.
As the Sanicube has already integrated the system connections, elaborate connecting cables to system components is not required.
Interested in industrial solar thermal ?
If you'd like to learn more about about industrial solar thermal systems, please contact us.