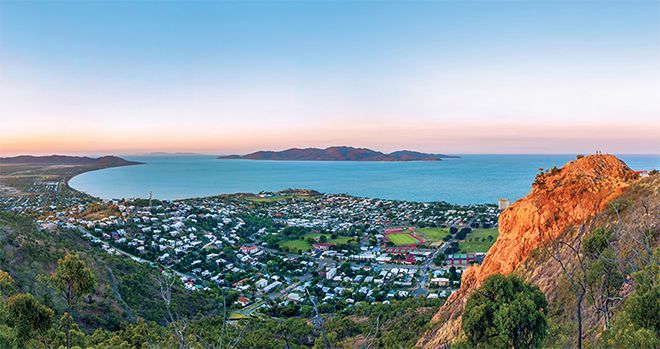 Image: https://www.townsvillenorthqueensland.com.au/
Townsville, located in Queensland, gets it's fair share of sunlight. It has an average of 6 hours of peak sun hours across the day, which makes it a great place for solar energy. Currently, around 24 per cent of households have solar panels installed on their roofs with a solar energy system of around 6kW to 10kW.
Total Installed Solar PV Systems in Townsville*
Total Installed Capacity in Townsville (kW)*
Average solar production in Townsville, QLD
The following data shows the average daily solar PV production by month in Townsville, QLD by a solar PV system. The data is based on a 6kW solar PV system in kilowatt-hours (kWh) rounded to the nearest whole number.
Compare Solar Panels in Townsville
The solar panels your solar installer selects will be chosen based on your personal preference, energy needs, and budget. Most solar installers will use their preferred solar panel manufacturer, which is why getting multiple quotes is important if the brand of solar panel is an important factor for you.
Energy Matters recommends that you select Tier 1 solar panel manufacturers for your solar panels. Tier 1 manufacturers produce solar panels of a higher quality and they will be more likely to honour their manufacturer's warranty compared to lower-tiered manufacturers. Every year, Bloomberg New Energy Finance releases their Tier 1 PV Module Manufacturer list.
In addition, Energy Matters has partnered with trusted solar panel manufacturers that we are proud to recommend to our customers. These recommended manufacturers are:
REC Solar
LONGi Solar
Powerwave solar
Hyundai Energy Solutions
Jinko Solar
Axitec Solar
Suntech
SunPower Maxeon
Whether you know which panels you want to install on your home or business, or you'd rather discuss your options, we recommend that you begin your solar journey by getting up to 3 FREE, no-obligation solar quotes. Our network of trusted, local installers will provide personalised quotes for a system that will meet your current and future needs.
The good news is that solar panel prices have reduced significantly over the last 10 years. When determining the number of solar panels you need to install for your Townsville property, you should consider your roof and the amount your local electricity network will allow you to install.
For most homes in QLD, the solar system size is 6.6 kW of panels with a 5 kW inverter. You can install up to 33 per cent more panels than the inverter is rated at.
Additionally, if you use a lot of electricity, or you are thinking of adding an electric vehicle or battery to the property in the coming years, consider installing a bigger solar system.
As previously stated, your solar installer will factor in your current and future needs. We also recommend sizing up, where possible. Your future electricity needs will undoubtedly increase with electrification and a move to Electric Vehicles. Adding solar panels, or completely upgrading your solar PV system in the future, are expenses you wish to avoid. For this reason, sizing up is recommended.
Solar Rebates and Incentives in Townsville, QLD
Thanks to the extensive sunshine, Townsville has fantastic incentives for switching to solar. The federal government provides incentives to homeowners and businesses for installing solar power in Townsville in the form of Small-Scale Technology Certificates (STCs). The 'rebates'* vary depending on your STC zone and the size of your solar system. Of course, the bigger your solar system in Townsville is, the bigger the 'rebate' amount is. 
For several years now, the STC price has been moving between $35 and $40. Therefore, for an average 5kW solar system, you may get 62 STCs that will be equivalent to a deduction of $2,387. 
You can also get solar Feed-in Tariffs (FiTs), which is money you receive from your solar energy retailer for every kW of power you feed back into the grid. 
Some companies can offer you up to 44c per watt, if eligible for the 'Solar Bonus Scheme'. For current FiT rates in Queensland, please click here. Additionally, this will also help reduce your system's payback time. 
*The STC program is not a rebate as the Federal Government does not provide monetary compensation for homeowners and busniesses. Instead, you can expect a deduction from the total cost of your system. This is organised by your solar installer. 
The Right Solar System in Townsville
When looking for the right solar system for your Townsville property, you need to consider a few factors: 
The amount of power your get during the day

Roof orientation

Shading

Roof space
For example, if you have a 5kW solar system in Townsville, your average daily output will be around 21.0 kWh. Therefore, you can expect a return on investment in three to five years. 

Solar Installation in Townsville, QLD
In Queensland, you will only need to get the approval of the council if your solar system is over 5kW. Also, if you are a renter, you will need your landlord's approval before you install a solar system in Townsville, QLD. You also need to ensure you are with the best solar installer who can deliver your desired results.
Can't Afford to Switch Right Now?
If you don't have the finances for solar right now, don't let that stop you. Solar is an excellent investment. Many of our trusted solar installers in Brisbane now offer $0 upfront interest-free loans where you can pay off your system in small monthly instalments. You only need to request an obligation-free solar quote and find out what payment plan options are available.