Even the best solar panels in the world can only do one thing – generate solar power. And that does not save you as much as you think. That is not the case with the Flex PowerPlay solar system. Flex PowerPlay saves you more energy and more money by doing three things instead of just one.
Generate solar power
Store solar energy
Optimize your overall home energy
So why settle for basic solar and limit yourself to just one thing? Demand more from your solar system and get it with Flex PowerPlay.
California special – Save even more with PowerPlay
Act now and you get a FREE Amazon Echo Show with the purchase of the new Flex PowerPlay solar system in California*.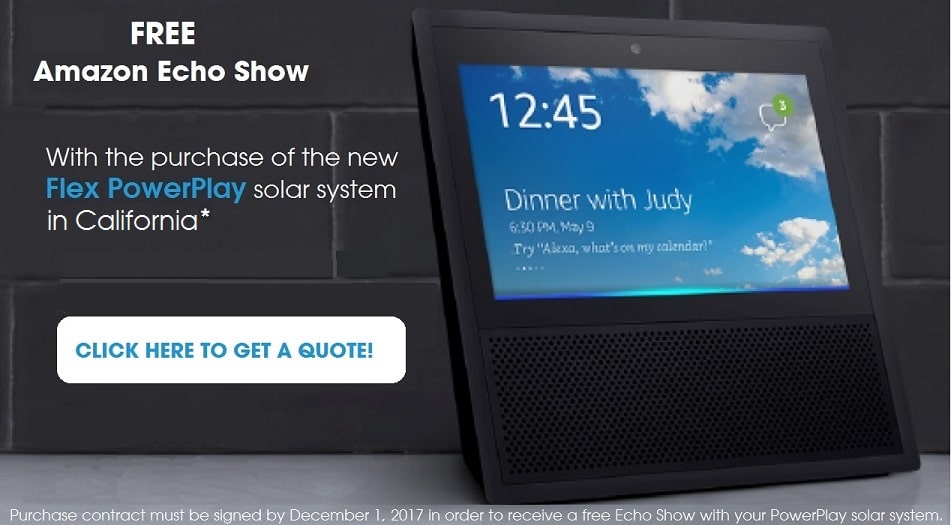 While the new Amazon Echo Show is your personal assistant for the connected life, Flex PowerPlay is your energy solution for the connected home. PowerPlay makes it easy to manage your energy use, giving you greater control and more ways to save money. Designed to work seamlessly with home automation, PowerPlay will grow with you and your home evolves with technology and your energy needs change.
Generate solar energy with a high efficiency solar power system so you produce your own power, save on your utility bill, and use less energy from your utility company.
Store solar energy when you don't need it and use it when you do, even at night. Battery storage helps your solar system work 24 hours a day, unlocking more ways to save.
Optimize your overall home energy by monitoring your real-time consumption and automatically power smart home appliances, lighting, home security, heating, and cooling.
Flex PowerPlay

. The solar system for the connected world.

*Your Flex PowerPlay solar system purchase contract must be signed by December 1, 2017 in order to receive a free Amazon Echo Show. Offer available only in eligible California zip codes. Offer only available while supplies last. Cannot be used with other offers, discounts or promo codes. Other restrictions may apply. Talk to a Flex sales representative today for more details.