Generous government incentives are still available and an Energy Matters solar energy system can save you a bundle on powering your home!
Secure a great deal today with our lowest pricing ever by calling 133-SUN (133 786). Select our payment plan option and pay nothing up front!

3KW/4.5KW Performance – Sydney Metro
(Call 133-SUN or get an instant online quote for pricing in other areas)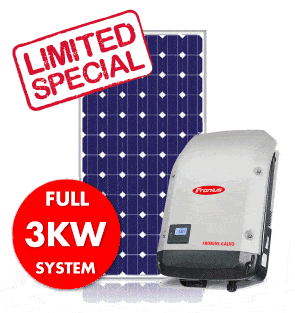 This system includes:
12 x 250W Daqo Signature Series Solar Panels
Austrian Fronius Galvo 3.0 inverter – 10 Year Warranty
Australian Designed & Made SunLock Mounting System
Professional, CEC Accredited Installation
Est electricity savings [1]: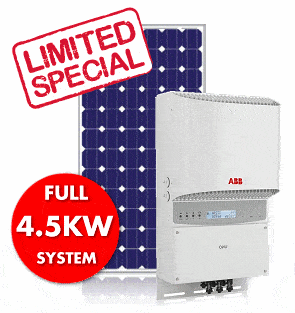 This system includes:
18 x 250W Daqo Signature Series Solar Panels
Italian-made ABB PVI-4.2-OUTD Solar Inverter
Australian Designed & Made SunLock Mounting System
Professional, CEC Accredited Installation
Est electricity savings [1]:
With our best prices ever plus the option of zero deposit; the best time to go solar with Energy Matters is right now. Based on system cost, you can generate clean electricity for just a few cents per kilowatt hour.
Save thousands on your electricity bill or wipe it out altogether by going solar. Get in quick and take advantage of our latest specials for Sydney and New South Wales!
Make money by saving money
A home solar power system installed in Sydney and elsewhere in New South Wales can help you make substantial savings on your electricity bill – and a dollar saved is a dollar earned.
For example, this system installed in Sydney can generate an annual return on investment of 20.3%[6] ! That's certainly better than money in the bank and many other investments – plus it's one that adds value to your home.
Call our NSW solar power specials team today on 133SUN (133 786) or use the form below!
Here's what you get
Make the most from your solar investment by choosing solid and respected brands like these – Trina, Trina, Fronius, ABB and SunLock – tried and tested components from a provider you can trust.
Daqo solar panels as detailed above.

Leading brand grid connect inverter from Fronius or ABB

Genuine SunLock mounting system – Australian designed and made!

Full manufacturer's warranties on all components

Energy Matters' Performance Guarantee

Excellence in customer care!

Offer valid in Sydney and New South Wales only

LIMITED OFFER – call us now on 133SUN (133 786) or use the form below
System variations also available at deeply discounted prices for households and businesses in Sydney and throughout New South Wales – call us now on 133SUN (133 786) to discuss your requirements with our friendly team, or use the form below.
*Please also note:
No other discounts or offers apply

[1] Estimated Sydney and NSW electricity bill savings range based on 27c per kilowatt hour electricity price and an 6.5c feed in tariff with 50% of generation fed back to the grid to 100% consumption of produced electricity.

[2] Special price for supply and installation purchases. System pricing valid for standard installations (single storey, standard pitch, Colorbond roof and no access issues) within 40 kilometres of Sydney CBD. For non-standard installs or areas outside this range, please contact our team for pricing on a custom-designed system. Our quoted prices incorporate a point of sale discount which is conditional on you assigning to us your rights to create small-scale technology certificates in relation to your solar system. The amount of the point of sale discount offered to you is subject to there being no changes to the Renewable Energy Target or the Federal Government's Small-scale Renewable Energy Scheme (SRES) between the time of purchase and installation. If changes are announced which reduce your point of sale discount you will have the option of either cancelling your order and receiving a full refund of all amounts paid or of accepting any resultant price increase and proceeding with your installation. Other Goods And Services Terms And Conditions apply.

[3] Weekly payments are based on Energy Matters 'Save As You Go' funding option for a 3kW standard Performance Range system installed in the Sydney metro area valued at $4,777, paid by monthly payments of $86.65 over a 84 month term at an annual interest rate of 12.90% and a comparison rate of 13.59% per annum; or a 4.5kW standard Performance Range system installed in the Brisbane metro area valued at $6,377, paid by monthly payments of $115.65 over a 84 month term at an annual interest rate of 12.90% and a comparison rate of 13.42% per annum. An establishment fee of $99.00 applies. Other fees and charges may also apply. WARNING: This comparison rate is true only for the example given and may not include all fees and charges. Different terms, fees or other loan amounts may result in a different comparison rate. These figures are estimates only and are not guaranteed as actual payment amounts, the term of any funding and the applicable interest rates will be determined by the third party financier. Any funding solution will be a separate agreement between the customer and the third-party financier. Energy Matters' Terms and Conditions also apply.

[6] Estimated IRR for discounted special for a Sydney standard installation. Each site requires its own assessment. Your actual system production and savings will depend on your individual circumstances and are likely to be different to any estimates shown.

For further details of the EM Performance Guarantee, please click here or call our Sydney team on 133 SUN (133 786).
Energy Matters NSW Solar Guarantee
Energy Matters includes quality components in all our systems, installed by trained and accredited New South Wales solar professionals. In the unlikely situation of a problem occurring, our guarantee program assures your investment will be protected for many years.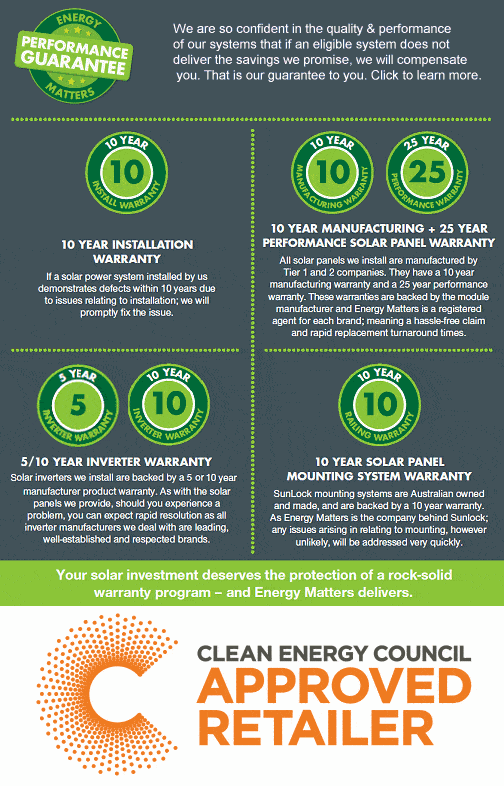 Making solar simple
We understand one of the major blocks to going solar can be the perceived hassles and headaches. Energy Matters will tailor a solution to your needs and assist you every step of the way! Call our friendly team on 133SUN (133 786) today to discuss your requirements and any questions you may have about making the switch to solar!
About Daqo solar panels
Daqo have built on a tradition of manufacturing highly sought after 9N polysilicon and the company's solar panels are guaranteed to output more power than their nameplate rated wattage. With a low temperature coefficient; Daqo modules continue to perform well in hot conditions. Daqo modules have attained a Class A rating in gruelling potential-induced degradation (PID) testing.
About REC solar panels
Now a very popular brand in Australia, multiple award-winning REC Peak Energy solar panels generate more power per square meter thanks to several design enhancements. The panels in our in REC based packages have won multiple awards and recognition. REC Peak Energy modules outperformed 44 other brands in ongoing field testing and more recently, excelled in potential-induced degradation (PID) resistance testing (designed to damage panels).

Energy Matters was the first company in Australia to offer REC solar panels for the local home solar power market. We are a REC Platinum Partner – the only company to achieve this status in the entire Asia-Pacific.
Energy Matters is also Australia's first accredited REC Solar Professional and able to offer an extra 2 years product warranty on REC solar panels we install!
About Aurora Inverters
Crafted by ABB, the Aurora transformerless outdoor grid connect inverter is a fantastic choice for Australian solar power installations. Some of its many benefits and features include a ruggedised, completely sealed unit designed to withstand the harshest Australian conditions, high speed MPPT for real time power tracking and improved energy harvesting and efficiencies of up to 97%. With a wide operating range, the Aurora starts up early in the day and shuts down later than some other brands – which means more solar electricity from your system!
About Fronius inverters
Fronius inverters are made in Austria and the company's name has been synonymous with innovative energy management solutions for 68 years. Fronius inverters feature the MIX concept – multiple power modules that divide up the work of conversion and ensure maximum yield is maintained. The Fronius IG series is East/West ready!
About SunLock mounting systems
Designed in Australia and manufactured locally, SunLock sets the standard for the new generation of solar panel rack mounting systems.
Call our Sydney solar power specials team today on 133SUN (133 786) or use the form below!
Enquiry