Live in comfort, without the worry of high power costs – blast your electricity bill with an Energy Matters solar power system!
These package deals won't last long – take advantage of our zero deposit solar offer and call our Adelaide team today on 08 7122 5086!

3KW/4.5KW Performance – Adelaide Metro
(Call 133-SUN or get an instant online quote for pricing in other areas)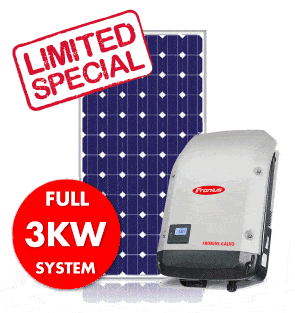 This system includes:
12 x 250W Daqo Signature Series Solar Panels
Austrian Fronius Galvo 3.0 inverter – 10 Year Warranty
Australian Designed & Made SunLock Mounting System
Professional, CEC Accredited Installation
Est electricity savings [1]: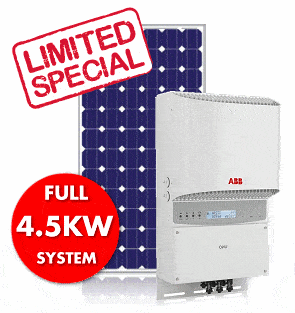 This system includes:
18 x 250W Daqo Signature Series Solar Panels
Italian-made ABB PVI-4.2-OUTD Solar Inverter
Australian Designed & Made SunLock Mounting System
Professional, CEC Accredited Installation
Est electricity savings [1]:
Great investment + add value to your home
Not only will solar add value to your home, it's also a great investment in other ways. For example, this solar panel system installed in Adelaide can generate an annual return on investment of 21.5%[6] . That's a far better rate of return than many other investments!
Slam your electricity bills
South Australia's electricity prices have seen massive increases during recent years. Buffering against electricity rate hikes is another compelling reason to go solar now!
Additionally, under South Australia's feed in tariff program, you'll receive 6.0c/kWh minimum for surplus electricity generated by your system exported to the mains power grid.
Energy Matters South Australia Solar Guarantee
Your solar investment deserves the protection of a rock-solid warranty – and Energy Matters delivers with our guarantee program; protecting our South Australian customers for years.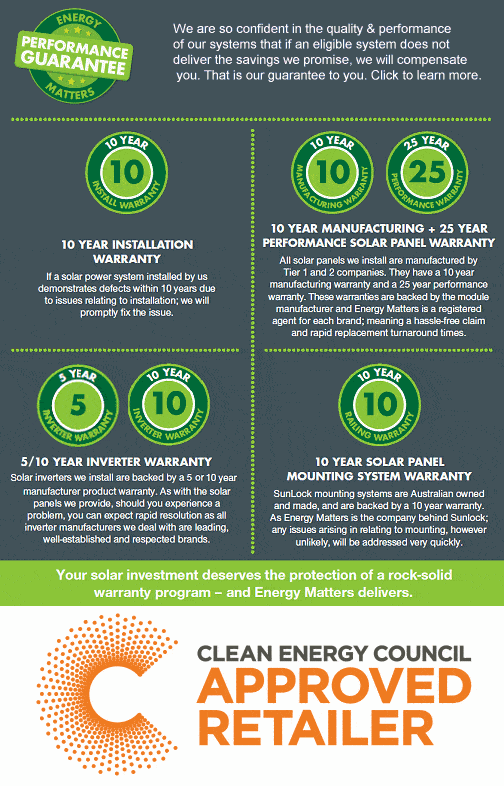 About the components
Daqo solar panels are produced using Daqo New Energy's 9N polysilicon – highly regarded by other panel producers for its purity. Offering a smaller footprint than other modules due to their highly efficient monocrystalline construction, the company also guarantees module output to be more than labelled! Daqo modules have been awarded a Class A rating after demonstrating outstanding performance in potential-induced degradation (PID) testing; one of the industry's toughest tests.
Award-winning REC Peak Energy modules have become a common sight on rooftops around the nation and Energy Matters was the first company to offer these panels to the Australian home solar power market. REC solar panels provide more watts per square meter, so you can maximise your precious rooftop real estate.
REC Peak Energy solar panels have also demonstrated excellent performance after undergoing potential-induced degradation (PID) resistance testing!

As the first company to offer award-winning REC solar panels for Australia's home solar power market and our ensuing work; we have attained REC Platinum Partner status – the only company in the entire Asia Pacific region to do so.
A multiple award-winner ourselves, Energy Matters is also Australia's first accredited REC Solar Professional and will provide you an extra 2 years product warranty on REC solar panels we install!
Fronius has been building tough inverters for tough conditions for over 18 years – it was a pioneer in the field and remains a global leader today. Fronius's history in producing energy management solutions extends back to 1945. With such a pedigree, it's little wonder Fronius inverters are considered among the best in the world. The units excel under extreme conditions; thanks in part to the incorporation of Fronius MIX technology; which through several power modules divides the workload and ensures maximum yield.
The Fronius IG series is East/West ready!
Aurora inverters, manufactured by ABB, are a solid inverter well suited to Australian conditions and offering up to 97% efficiency. With a wide operating range; these inverters are 'early to wake and late to sleep'.
The SunLock mounting system is designed by Australian solar installation professionals and also made in Australia.
Included in the package above:
Daqo Solar panels as detailed above.

Quality Fronius or ABB solar inverter as indicated

Australian designed and made SunLock mounting system

25 year solar panel warranty

10 year solar inverter warranty

10 year mounting system warranty

Energy Matters' Performance Guarantee

Excellence in customer care!

Adelaide and South Australia - call 08 7122 5086
*Please also note:
No other discounts or offers apply

[1] Estimated South Australia and Adelaide electricity bill savings based on 36.7c per kilowatt hour electricity price and 7c feed in tariff with 50% feed in rate to 100% consumption of produced electricity.

[2] Special price for supply and installation purchases. System pricing valid for standard installations (single storey, standard pitch, Colorbond roof and no access issues) within 45 kilometres of Adelaide CBD. For non-standard installs or areas outside this range, please contact our team for pricing on a custom-designed system. Our quoted prices incorporate a point of sale discount which is conditional on you assigning to us your rights to create small-scale technology certificates in relation to your solar system. The amount of the point of sale discount offered to you is subject to there being no changes to the Renewable Energy Target or the Federal Government's Small-scale Renewable Energy Scheme (SRES) between the time of purchase and installation. If changes are announced which reduce your point of sale discount you will have the option of either cancelling your order and receiving a full refund of all amounts paid or of accepting any resultant price increase and proceeding with your installation. Other Goods And Services Terms And Conditions apply.

[3] Weekly payments are based on Energy Matters 'Save As You Go' funding option for a 3kW standard Performance Range system installed in the Adelaide metro area valued at $4,977, paid by monthly payments of $90.25 over a 84 month term at an annual interest rate of 12.9% and a comparison rate of 13.56% per annum; or a 4.5kW standard Performance Range system installed in the Adelaide metro area valued at $6,677, paid by monthly payments of $121.10 over a 84 month term at an annual interest rate of 12.90% and a comparison rate of 13.40% per annum. An establishment fee of $99.00 applies. Other fees and charges may also apply. WARNING: This comparison rate is true only for the example given and may not include all fees and charges. Different terms, fees or other loan amounts may result in a different comparison rate. These figures are estimates only and are not guaranteed as actual payment amounts, the term of any funding and the applicable interest rates will be determined by the third party financier. Any funding solution will be a separate agreement between the customer and the third-party financier. Energy Matters' Terms and Conditions also apply.

[6] Estimated IRR for discounted special for a Adelaide standard installation. Each site requires its own assessment. Your actual system production and savings will depend on your individual circumstances and are likely to be different to any estimates shown.

For further details of the EM Performance Guarantee, please click here or call 133 SUN (133 786).
* South Australia – call our Adelaide solar power team on 08 7122 5086 or register your interest via the form below
Enquiry
| | |
| --- | --- |
| Your First Name: | |
| Your Email: | |
| Phone number | |
| Subject: | |
| Comments | |
| | |