Electricity prices may be going up, but going solar with Energy Matters is within just about everyone's grasp with our $0 deposit Save As You Go initiative!
Blast a hole in your power bills – call us now on 133-SUN and secure your system before remaining subsidies disappear!
3 & 5kW Performance – Launceston Metro Area
(Call 133-SUN or get an instant online quote for pricing in other areas)
This system includes:
12 x 250W Daqo Solar Panels – Signature Series
Italian-made ABB PVI-3.0-OUTD Solar Inverter
Australian Designed And Made SunLock Mounting System
Est electricity savings [1]: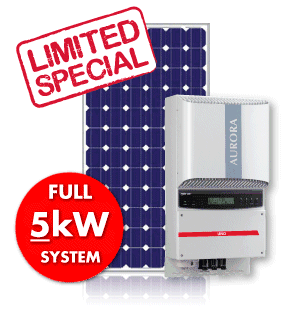 This system includes:
20 x 250W Daqo Solar Panels – Signature Series
Italian-made ABB PVI-5000-OUTD Solar Inverter
Australian Designed And Made SunLock Mounting System
Est electricity savings [1]:
Electricity prices in Tasmania have jumped in the last few years and will likely continue to creep up. Buffer against rising power costs and install a home solar panel system from Energy Matters now.
Solar is a solid investment – for example, this system installed in Hobart will add value to your home and can also provide an annual return on investment of 11.9%[6] . Better than cash in the bank!
Slash or even wipe out your electricity bill!
In addition to the benefits of self-consumption, you'll be credited by Aurora Energy 8c per kilowatt hour for power exported to the mains grid.
Included in the package:
Daqo Solar modules as detailed above – REC upgrade available.

Ultra-efficient ABB or Fronius grid connect inverter as above.

Genuine SunLock mounting system – Australian made!

Solar panel performance warranty of 25 years

10 year mounting system warranty

Manufacturer inverter warranty

Energy Matters' Performance Guarantee

Excellence in customer care!

Tasmania – call 03 6344 9991
Upgrade options also available – call for details!
Energy Matters Tasmania Solar Guarantee
Our rock-solid guarantee program means in the unlikely event an issue occurs with your solar power system, you're covered – for years. We supply this guarantee with total confidence as we only provide quality systems to households in Tasmania; installed by trained and accredited solar installation professionals.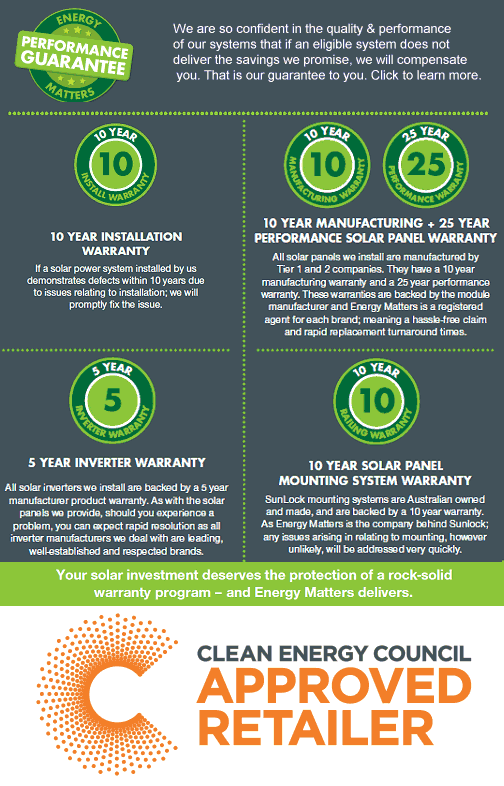 Energy Matters makes solar simple
We know how confusing the topic of solar energy systems can be and we'll explain it to you in as little or in as much detail as you require. It's our goal to provide you with the right advice and the right system for your needs. We understand solar is not a "one-size-fits-all" investment and we will be with you every step of the way to provide you with superior service and end results! Call our friendly team on 03 6344 9991 today!
About the components
The Energy Matters Power Monitor is installed in or near your switchboard. The compact device measures approximate power production and consumption; sending the details securely to an Energy Matters server via your WiFi network and broadband Internet connection. You can then login to your secure My Energy Matters Power Monitor portal and view results and charts, plus also set email notifications.

The Energy Matters Power Monitor is not just a handy tool for keeping an eye on your household's electricity production and consumption; it can also to help you improve your energy efficiency!
Daqo solar panels are based on Daqo New Energy's ultra-pure 9N polysilicon (sought after by other panel manufacturers) and offer guaranteed positive power output performance. This means, unlike some panels, you are guaranteed that a Daqo module with a nameplate rating of 250 watts will generate at least 250 watts under standard testing conditions. These panels have survived some of the toughest tests in the industry – potential-induced degradation (PID) testing; earning a Class A rating in the process.
Manufactured by ABB, the Aurora inverter offers efficiencies of up to 97% and is housed in a ruggedised unit; specifically designed for Australia's often harsh conditions. Featuring a wide operating range; you'll generate more power (and more electricity bill savings) through its 'early to wake and late to sleep' attributes.
Fronius inverters have been a popular choice in solar power installations around the world for many years. At the forefront of inverter technology, Fronius inverters are made in Austria and feature the high level of craftsmanship and quality commonly associated with European design and manufacturing. Fronius inverters feature high conversion efficiency in part due to propriety MIX technology that incorporates several power modules.
The Fronius IG series is East/West ready!
Our SunLock mounting systems were designed by Australian professional installers. Incredibly robust, they are not only Australian-designed, but Australian made too.
*Please also note:
No other offers or discounts apply

[1] Estimated electricity bill savings in Hobart and Tasmania based on 25c per kilowatt hour electricity price and 8c feed in tariff.

[2] Special price for supply and installation purchases. System pricing valid for standard installations (single storey, standard pitch, Colorbond roof and no access issues) within 40 kilometres of Hobart CBD. For non-standard installs or areas outside this range, please contact our team for pricing on a custom-designed system. Our quoted prices incorporate a point of sale discount which is conditional on you assigning to us your rights to create small-scale technology certificates in relation to your solar system. The amount of the point of sale discount offered to you is subject to there being no changes to the Renewable Energy Target or the Federal Government's Small-scale Renewable Energy Scheme (SRES) between the time of purchase and installation. If changes are announced which reduce your point of sale discount you will have the option of either cancelling your order and receiving a full refund of all amounts paid or of accepting any resultant price increase and proceeding with your installation. Other Goods And Services Terms And Conditions apply.

[3] Weekly payments are based on Energy Matters 'Save As You Go' funding option for a 3kW standard Performance Range system installed in the Hobart metro area valued at $4,577, paid by monthly payments of $83.00 over a 84 month term at an annual interest rate of 12.90% and a comparison rate of 13.62% per annum; or a 5kW standard Performance Range system installed in the Launceston metro area valued at $6,477, paid by monthly payments of $117.45 over a 84 month term at an annual interest rate of 12.90% and a comparison rate of 13.41% per annum. An establishment fee of $99.00 applies. Other fees and charges may also apply. WARNING: This comparison rate is true only for the example given and may not include all fees and charges. Different terms, fees or other loan amounts may result in a different comparison rate. These figures are estimates only and are not guaranteed as actual payment amounts, the term of any funding and the applicable interest rates will be determined by the third party financier. Any funding solution will be a separate agreement between the customer and the third-party financier. Energy Matters' Terms and Conditions also apply.

[4] Upgrade the 3kW system to a Fronius Galvo 3.0 Wifi inverter or the 5kW system to Fronius IG60HV WiFi inverter with the free upgrade option. System monitoring will require a WiFi connection and registration on the Fronius Solar.web portal. Fronius inverters installed and registered until December 31st 2014 will receive an additional 5 year parts warranty for free on top of the standard 5 years warranty.

For further details of the EM Performance Guarantee, please click here or call 133 SUN (133 786).

[6] Estimated IRR for discounted special for a Launceston standard installation. Each site requires its own assessment. Your actual system production and savings will depend on your individual circumstances and are likely to be different to any estimates shown.
Call our Hobart/Launceston solar power specials team today on 03 6344 9991 or register your interest via the form below!
Enquiry