Electricity prices may have shot up in recent years, but going solar with SunEdison is within just about everyone's grasp with our $0 deposit Save As You Go initiative!
Blast a hole in your power bills – call us now on 133-SUN and secure your solar panel system installation now!

3.64/5.2kW Performance – Launceston Metro
(Call 133-SUN or get a quick solar quote for pricing in other areas)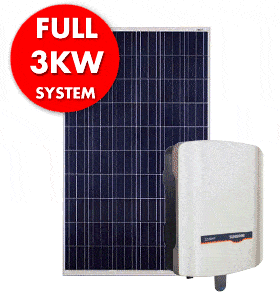 This system includes:
12 x 250W JA Solar JAP6 High Performance Panels
ASG3KTL-D Solar Inverter From Sungrow – #3 Globally
Australian Designed & Made SunLock Mounting System
Professional, CEC Accredited Installation
Est electricity savings [1]: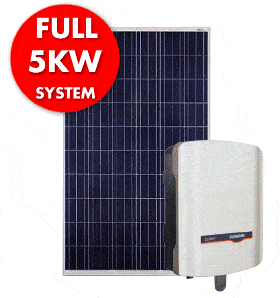 This system includes:
20 x 250W JA Solar JAP6 High Performance Panels
SG5KTL-D Solar Inverter From Sungrow – #3 Globally
Australian Designed & Made SunLock Mounting System
Professional, CEC Accredited Installation
Est electricity savings [1]:
Electricity prices in Tasmania have jumped in the last few years and will likely continue to creep up. Buffer against rising power costs and install a home solar panel system from Energy Matters now.
Solar is a solid investment – for example, this system installed in Hobart will add value to your home and can also provide an annual return on investment of 11.9%[6] . Better than cash in the bank!
Slash or even wipe out your electricity bill!
In addition to the benefits of self-consumption, you'll be credited by Aurora Energy 8c per kilowatt hour for power exported to the mains grid.
Included in the package:
JA solar modules as detailed above.

Ultra-efficient Sungrow grid connect inverter as above.

Genuine SunLock mounting system – Australian made!

Solar panel performance warranty of 25 years

10 year mounting system warranty

Manufacturer inverter warranty

Excellence in customer care!

Tasmania – call 03 6344 9991
Upgrade options also available – call for details!
Energy Matters Tasmania Solar Guarantee
Our rock-solid guarantee program means in the unlikely event an issue occurs with your solar power system, you're covered – for years. We supply this guarantee with total confidence as we only provide quality systems to households in Hobart and throughout Tasmania; installed by trained and accredited solar installation professionals.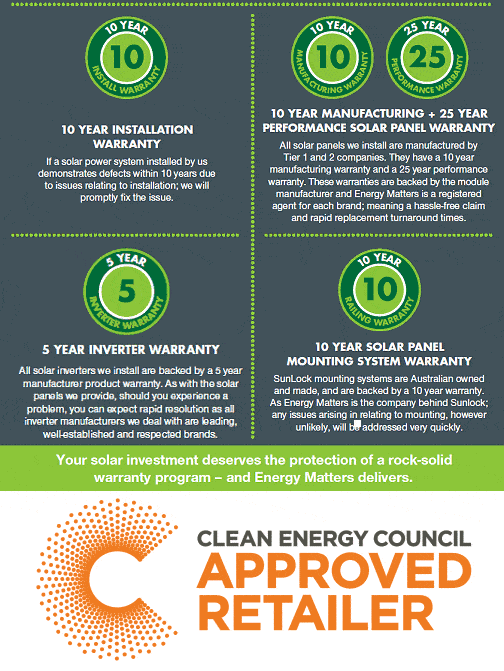 Energy Matters makes solar simple
We know how confusing the topic of solar energy systems can be and we'll explain it to you in as little or in as much detail as you require. It's our goal to provide you with the right advice and the right system for your needs. We understand solar is not a "one-size-fits-all" investment and we will be with you every step of the way to provide you with superior service and end results! Call our friendly team on 03 6344 9991 today!
About the components
JA Solar has shipped more than 11GW of solar cells and panels since commencing production in 2010. The company is a Tier 1 module supplier and offers high conversion efficiency, high reliability and high power output; with each panel providing higher output than its nameplate rating.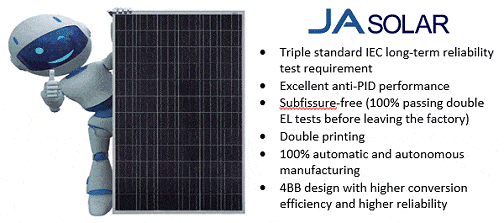 Sungrow inverters, ranked no.3 globally, are used in over 12GW of solar installations around the world; including many installations in Australia. These inverters offer solid performance and a wide range of features to help you get the most from your solar array.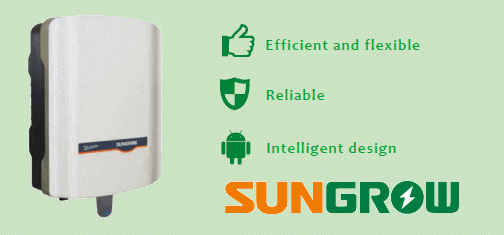 Our SunLock mounting systems were designed by Australian professional installers. Incredibly robust, they are not only Australian-designed, but Australian made too.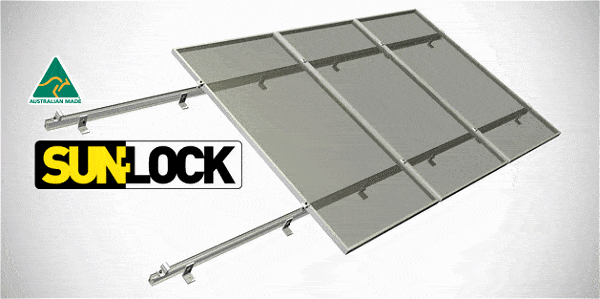 Additional notes, terms and conditions
Terms and conditions associated with this Hobart metro offer can be viewed here.
Call our Hobart solar power specials team today on 03 6344 9991 or register your interest via the form below!
Enquiry