Solar is one of the best investments around. Secure your ticket to cheaper electricity by calling our Melbourne team on 133-SUN (133 786) while government solar subsidies and our best prices ever last on this battery-ready system!

5.3kW Platinum – Melbourne Metro
(Call 133-SUN or get a quick quote for pricing in other areas)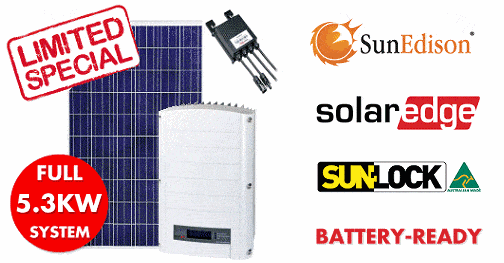 This system includes:
20 x Premium SunEdison P-Series 265W Solar Panels – NEW!
SolarEdge SE5000-ER-01-AUS Solar Inverter – 12 Yr. Warranty
20 x P300 SolarEdge Power Optimisers – 25 Year Warranty
Installation By CEC-Accredited Solar Professionals.
Ready For Battery Storage!
Estimated annual electricity savings [1]:
$1,181 – $1,868 (depending on system installation location and self-consumption level)


An investment with great returns
Think of installing solar panels as an investment – for example, this system installed in Melbourne can generate an annual return on investment of 14.8%[6] . That's much more than you would receive from a term deposit and many other investments these days!
Confused about solar? We make it simple
Buying solar doesn't have to be a headache. Thousands of households in Melbourne and throughout Victoria have joined the rooftop revolution with an Energy Matters supplied and installed home solar power system. We're here for you every step of the way to help you enjoy a hassle-free solar experience.
Make your own electricity! Package includes:
SunEdison solar modules as detailed above.

Quality Power One solar inverter as indicated

Standards compliant genuine SunLock mounting system – Australian made!

Full manufacturers warranties on all components

Excellence in customer care!

Offer valid Melbourne and Victoria only

Call us now on 133SUN (133 786) or use the form below
Upgrade options also available – call 133SUN (133 786) for details!
Energy Matters Victoria Solar Guarantee
We only use leading brand components in all our systems, installed by accredited solar professionals. However, Energy Matters' guarantee program in Victoria also assures your solar investment will be protected for many years.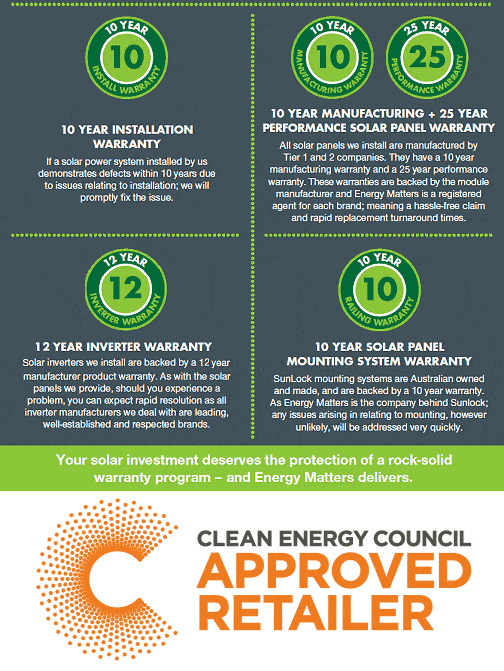 About SunEdison solar panels
The SE-P265NPB polycrystalline solar panel offers an outstanding module efficiency of 16.2%; meaning a better return on your investment! Back by a company that's been around for more than 50 years, SunEdison solar panels are an excellent choice for Australian home solar power installations. SunEdison solar panels additional inofrmation.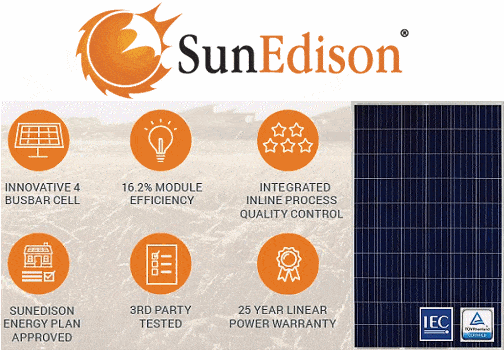 About SolarEdge inverters
Sophisticated digital control technology with efficient power conversion architecture are hallmarks of SolarEdge inverters. Panel level monitoring is available with SolarEdge inverters used in combination with included SolarEdge Optimizers – all accessible via the company's online monitoring portal using any web browser. The 97%+ efficiency of the inverter is enhanced through the included Optimizers' functions and the system forms the basis of StorEdge; a full Telsa-compatible energy storage solution also from SolarEdge.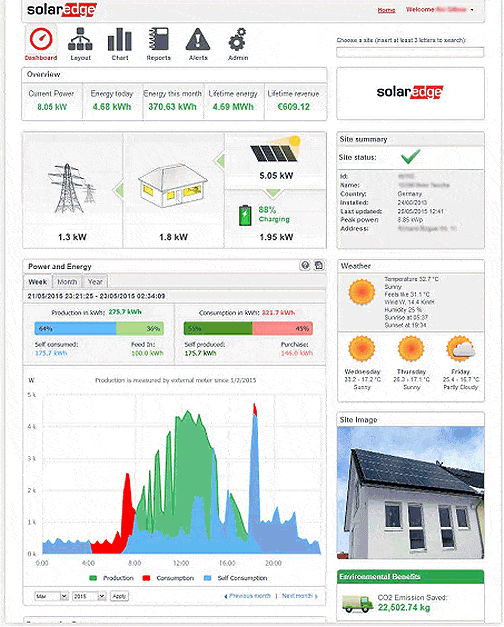 About SunLock mounting systems
SunLock mounting systems are designed by Australian installers for Australian conditions. Manufactured locally, SunLock sets the standard for the new generation of solar racking.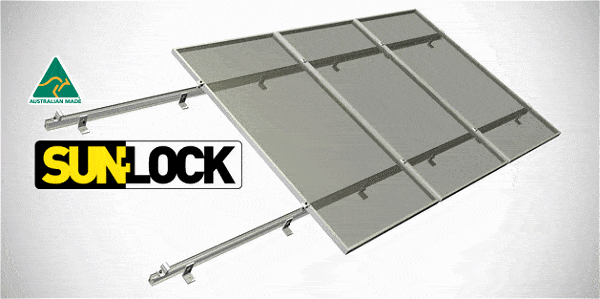 Notes, terms and conditions
Terms and conditions associated with this Melbourne metro offer can be viewed here.
Call our Melbourne solar power specials team today on 133SUN (133 786) or use the form below!
Enquiry
| | |
| --- | --- |
| Your First Name: | |
| Your Email: | |
| Phone number | |
| Subject: | |
| Comments | |
| | |