Solar is one of the best investments around! Secure your ticket to cheaper electricity with a zero dollar deposit today by calling our Melbourne team on 133-SUN (133 786) while government solar subsidies and our best prices ever last!

3KW/4.5KW Performance – Melbourne Metro
(Call 133-SUN or get an instant online quote for pricing in other areas)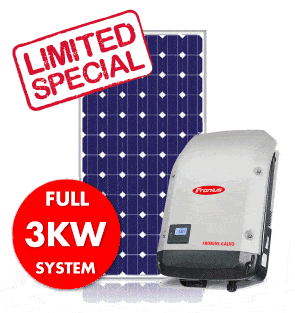 This system includes:
12 x 250W Daqo Signature Series Solar Panels
Austrian Fronius Galvo 3.0 inverter – 10 Year Warranty
Australian Designed & Made SunLock Mounting System
Professional, CEC Accredited Installation
Est electricity savings [1]: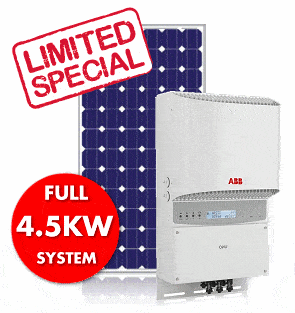 This system includes:
18 x 250W Daqo Signature Series Solar Panels
Italian-made ABB PVI-4.2-OUTD Solar Inverter
Australian Designed & Made SunLock Mounting System
Professional, CEC Accredited Installation
Est electricity savings [1]:
An investment with great returns
Think of solar as an investment – for example, this system installed in Melbourne can generate an annual return on investment of 14.8%[6] . That's much more than you would receive from a term deposit and many other investments these days!
Confused about solar? We make it simple
Going solar doesn't have to be a headache. Thousands of households in Melbourne and throughout Victoria have joined the rooftop revolution with an Energy Matters supplied and installed home solar power system. We're here for you every step of the way to help you enjoy a hassle-free solar experience.
Make your own electricity! Package includes:
Daqo Solar Panels as detailed above.

Quality Power One solar inverter as indicated

Standards compliant genuine SunLock mounting system – Australian made!

Full manufacturers warranties on all components

Energy Matters' Performance Guarantee

Excellence in customer care!

Offer valid Melbourne and Victoria only

Call us now on 133SUN (133 786) or use the form below
Upgrade options also available – call 133SUN (133 786) for details!
*Please also note:
No other offers or discounts apply

[1] Estimated Melbourne and Victoria electricity bill savings range based on average TOU Peak 25.8c per kilowatt hour electricity price, 6.2c feed in tariff and 50% feed-in rate to 100% consumption of produced electricity.

[2] Special price for supply and installation purchases. System pricing valid for standard installations (single storey, standard pitch, Colorbond roof and no access issues) within 65 kilometres of Melbourne CBD. For non-standard installs or areas outside this range, please contact our team for pricing on a custom-designed system. Our quoted prices incorporate a point of sale discount which is conditional on you assigning to us your rights to create small-scale technology certificates in relation to your solar system. The amount of the point of sale discount offered to you is subject to there being no changes to the Renewable Energy Target or the Federal Government's Small-scale Renewable Energy Scheme (SRES) between the time of purchase and installation. If changes are announced which reduce your point of sale discount you will have the option of either cancelling your order and receiving a full refund of all amounts paid or of accepting any resultant price increase and proceeding with your installation. Other Goods And Services Terms And Conditions apply.

[3] Weekly payments are based on Energy Matters 'Save As You Go' funding option for a 3kW standard Performance Range system installed in the Melbourne metro area valued at $5,177, paid by monthly payments of $93.90 over a 84 month term at an annual interest rate of 12.9% and a comparison rate of 13.54% per annum; or a 4.5kW standard Performance Range system installed in the Melbourne metro area valued at $6,877, paid by monthly payments of $124.70 over a 84 month term at an annual interest rate of 12.90% and a comparison rate of 13.38% per annum. An establishment fee of $99.00 applies. Other fees and charges may also apply. WARNING: This comparison rate is true only for the example given and may not include all fees and charges. Different terms, fees or other loan amounts may result in a different comparison rate. These figures are estimates only and are not guaranteed as actual payment amounts, the term of any funding and the applicable interest rates will be determined by the third party financier. Any funding solution will be a separate agreement between the customer and the third-party financier. Energy Matters' Terms and Conditions also apply.

[6] Estimated IRR for discounted special for a Melbourne standard installation. Each site requires its own assessment. Your actual system production and savings will depend on your individual circumstances and are likely to be different to any estimates shown.

For further details of the EM Performance Guarantee, please click here or call 133 SUN (133 786).
Energy Matters Victoria Solar Guarantee
We only use leading brand components in all our systems, installed by accredited solar professionals. However, Energy Matters' guarantee program in Victoria also assures your solar investment will be protected for many years.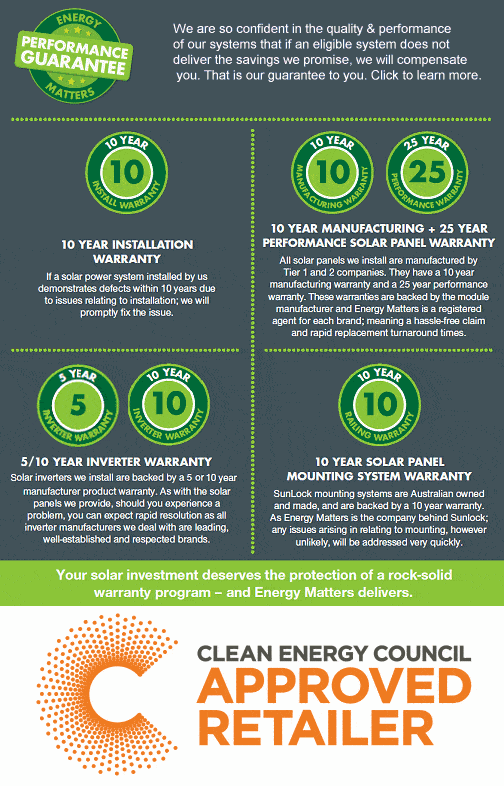 About Daqo solar panels
Daqo New Energy is one of China's largest polysilicon manufacturers and also produces high grade solar panels that offer guaranteed positive power output performance – meaning that a 250 watt module will produce at least 250 watts under standard testing conditions. Daqo panels have also proven their mettle in tortuous potential-induced degradation (PID) tests, earning a Class A rating.
About REC solar panels
Hugely popular in Europe and with substantial market share in Australia, REC Peak Energy solar panels deliver more power per square meter due to several design improvements. REC PV modules allow you to make better use of your valuable rooftop real estate, accelerating return on your investment!
REC solar panels have an industry leading energy payback time of one year; a result of innovations such as the new fluidised bed reactor (FBR) silicon production process that uses 80 to 90 percent less energy than traditional methods. Energy payback refers to the amount of time it takes to recoup the energy that went into production.
In February 2013, REC Peak Energy modules were subjected to damaging potential-induced degradation (PID) resistance testing and passed with flying colours!
REC panels were named as the top performer after ongoing field testing, beating 44 other solar brands. The Peak Energy series were also a nominee for the coveted Intersolar Photovoltaics Award in 2010. In 2009, a study performed by the respected Fraunhofer Institute in Germany placed REC solar panels ahead of two major Chinese and European brands in a year-long performance ratio test.

As a REC Platinum Partner and also Australia's first REC Solar Professional,we can provide you an additional 2 years product warranty on REC solar panels at no extra cost!
About Aurora inverters
Specifically designed for Australian conditions, these inverters are crafted by ABB and include among their many features:
Completely sealed unit to stand the harshest Victorian conditions

High speed MPPT for real time power tracking and enhanced energy harvesting

High power output in a small unit

Transformerless operation for highest efficiency: up to 97%

Anti-islanding Protection

Certified grid connected operation according to the international standards

LCD Display on the front to monitor the main performance
With a wide operating range, you'll squeeze more electricity from each day and high yields mean a faster pay back and efficiency from your solar power system!
About Fronius inverters
Founded in 1945, Fronius was established by Günter Fronius in Pettenbach, Austria. Originally producing battery chargers and welding transformers; Fronius then branched into solar energy management solutions and rapidly established itself as a global leader. Fronius inverters feature MIX technology that incorporates several power modules that ensure maximum possible yield from a solar array is maintained.
About SunLock mounting systems
SunLock mounting systems are designed by Australian installers for Australian conditions. Manufactured locally, SunLock sets the standard for the new generation of solar racking.
Call our Melbourne solar power specials team today on 133SUN (133 786) or use the form below!
Enquiry
| | |
| --- | --- |
| Your First Name: | |
| Your Email: | |
| Phone number | |
| Subject: | |
| Comments | |
| | |