At Energy Matters we believe in a zero-carbon future and are committed to seeing Australia become a "Solar Nation". For this to take place, renewable energy equipment must be affordable, of the highest quality and easily accessible to homeowners, schools, community groups and business. We not only partner with those who provide the products to create a renewable future, but the expert services to build it and the education to support it. We work with the best in the industry who adopt a best practice policy for design and installation. This is our energy philosophy.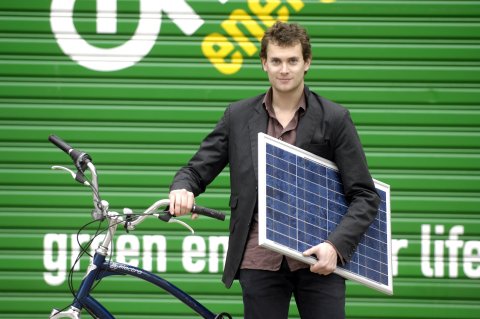 We walk (and ride) the talk!
We have a genuine passion for what we do, and as one of the industry leaders, it shows. Everyone at Energy Matters commits to creating access to clean, green and affordable energy. With a huge network of renewable energy experts, Energy Matters' team is the key to our success in supplying the industry's finest products and service.
Partnering with Energy Matters creates an clean energy solution that is friendly to both the environment and business. Installing solar power on a commercial or community property builds a positive image among stakeholders. It also demonstrates a solid commitment to practice a more sustainable way of life.
Mission
Energy Matters mission is to provide a one-stop-shop resource to consumers, industry specialists, manufacturers and environmentalists, where together we can achieve a zero-carbon future. 
We are:
your independent renewable energy advisor, connecting you to Australia's leading solar retailers and installers
a reliable source of industry updates direct from the worlds leading manufacturers
dedicated to raising community awareness about the benefits of renewable energy technology
a solutions based company, connecting you to resources, products and tools to reduce your daily costs and make a positive difference to our planet
Solar philosophy and vision
Australia's environment is unique and fragile. Energy Matters strives to preserve it for future generations whilst also recognising unique & varied situations and looks to support one & all.
Our vision is to be the trusted advocate for sustainable, affordable and greener energy solutions globally.
We strive to:
become the leading knowledge centre in our field by leveraging global research partnerships on renewable power and energy efficiency
broaden the scope of available renewable energy technology in line with the latest improvements in concept and design
provide affordable energy solutions to enable everyone to benefit, then in turn make "greener choices" in other areas of their lives
Active in the school community
Energy Matters has been very engaged in bringing knowledge about renewable energy to schools and colleges throughout Australia more than a decade. For example, just in Tasmania alone, Energy Matters was engaged in:
Exhibiting solar equipment for Flinders Island School
Conducting a demonstration for students at Exeter Primary School of how solar modules work
delivering an in-class demonstration and lecture on solar modules and wind power for grade 7 students at Reece High School
Our staff delivered a presentation on solar modules for St. Mary's school
delivering a 12 week lecture series as part of a TAFE course covering solar modules, wind generators, batteries, design of equipment and inverters
organising a tour of one of Tasmania's hydro power stations for 70 students from the University of Tasmania. Apollo Energy took the students to a remote area hydro power station for a lecture on solar, wind and hydro systems
presenting a series of lectures on design of renewable energy systems at the Maritime College of Australia. Students designed a power system for a remote village in India as part of their course
Participating in a show about electric and solar powered boats at the Maritime College of Australia. This was part of a challenge in which university students designed a solar powered electric boat to do a full length of the Tamar River and return (100km trip).
Training staff to teach
Our staff also trained laboratory technicians and taught staff to enable them to train children in the classroom. 30-40 technical teachers attended this course from all across Tasmania. Participants received training on how solar modules work and how they can use that information to demonstrate applications to kids. These applications include solar cars, solar boats and other types of experimental construction in classrooms.
If your school in interested in our pro solar philosophy and in educational materials or sessions on renewable energy, please contact us.
Providing industry training
We're also very active in a variety of industries, helping to educate key decision makers and tradespeople on green energy topics. For example, we delivered educational talks on renewable energy for management and technicians of electrical retailer, Aurora Energy.
We also delivered a presentation on installation of solar power systems onto residential buildings for the Architectural Institute of Tasmania. This was attended by council building inspectors and architects.
Planting trees
We realize that solar power alone will not save the planet from climate change. Energy Matters embarked on a tree planting initiative to assist communities in other countries address issues of deforestation, while helping to reduce carbon dioxide emissions.
| | |
| --- | --- |
| | |
Energy Matters – Market Place