Are you on the South Australia Group 4 Solar Feed in tariff? If you're one of the tens of thousands of South Australian solar households receiving the state's Group 4 solar feed in tariff incentive, the following is very important information.

South Australia Group 4
Participants in Group 4** were receiving 16 cents per kilowatt-hour exported to the grid – but only until 30 September 2016, when the program ended.
From October 2106, your feed in tariff rate has been slashed to as little as 6.8c per kilowatt hour!
While 6.8c is better than nothing; it doesn't reflect the true value of your solar electricity – and particularly if you have to buy it back at a far higher rate from your electricity retailer!
What should you do ?
There's a few steps you can take to help you make the most of your solar investment in South Australia.
If you'd like personalized advice, call our friendly experts on 133-SUN.
Compare electricity retailers
How solar owners are treated can vary greatly between South Australian electricity retailers. It's a good idea to contact your current retailer first to determine how your feed in tariff and general electricity arrangement will change from October 1. Here's some questions you should ask:
1) What costs, if any, will be involved with the new feed-in tariff arrangement?
2) What rate per kilowatt-hour are you currently offering with your net feed- in tariff ?
4) What will my tariff and contract conditions be from the beginning of October – will there be any changes?
If you don't like what you hear – shop around for a more solar-friendly electricity retailer. It's important to bear in mind  while some electricity retailers may offer a higher solar feed-in tariff rate, there may be other charges that make the rate less appealing – so always check the fine print.
Consider retrofitting a battery system
By retrofitting one of the new generation battery systems available from Energy Matters, you can make the most of your rooftop-generated electricity by decreasing the amount of supply your household consumes from the mains grid and how much of your valuable solar electricity is exported.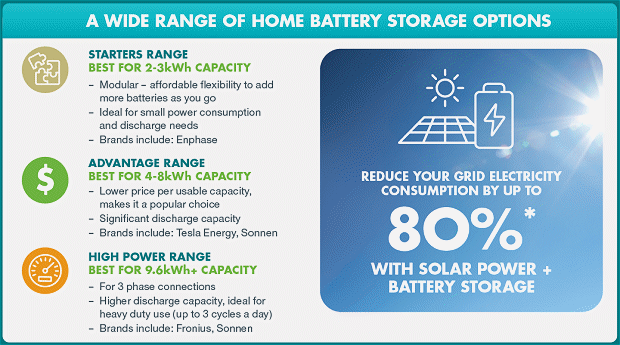 Energy Matters can offer a number of storage options well suited to Adelaide/South Australia's conditions and tailored to your needs.
There's an increasing choice of battery storage solutions now available; but it's important you install the best system for your circumstances. Our years of experience installing energy storage throughout Adelaide and South Australia can assist you in this process. Call our friendly experts on 133-SUN to learn more – or try our solar + battery calculator to get an idea of the level of energy independence you could achieve.
Generate more solar electricity – add more capacity
With the cost of solar having fallen in South Australia in recent years, a popular system size these days in Adelaide is 5kW. If your system is smaller, now could very be a good opportunity to add more panels and update your inverter where required.
For example, a 2kW solar power system cost around $8,000 in South Australia in 2010 ; after incentives.
Today, the same amount of money can purchase a huge 5.2kW solar power system from Energy Matters. This is equivalent to a 60% reduction in price and a system of this size can cover a larger portion of a household's electricity bills.
With steep increases in electricity prices over the years – and likely more increases to come – a larger solar panel system can offer a very attractive value proposition for South Australian households.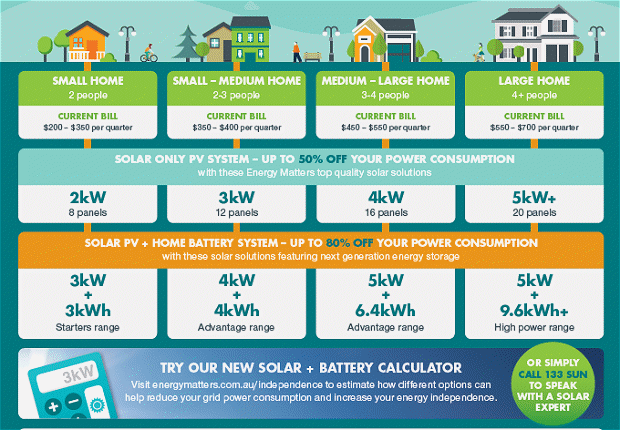 5kW is also a great size if you're considering adding a battery system at a later date. Request a solar quote or call our friendly team on 133-SUN for further details.
Energy Matters – the solar and storage experts
We don't just sell solar, we're passionate about it. This is evident by our people, our products and our awards.
Over the last ten years, Energy Matters has been on a mission to help households in Adelaide, South Australia and throughout the nation make the most of the benefits of solar.
With more than 20,000 solar power systems across the country; there's few companies with our depth of experience in solar and importantly; battery installations.
Call our friendly team on 133 SUN to discover more about getting the most from your solar panel system after the 16c feed in tariff ends.
*Figures calculated on a standard system installation in Sydney. Your premises will require an assessment and any savings will be dependent on your own circumstances (which may vary over time) and as such; will likely to be different to any estimates shown.
** Group 4 solar feed in tariff participants in South Australia are those who received approval to connect their systems to the mains grid between 1 October 2011 and 30 September 2013 had an import/export meter installed by midnight 29 January 2014.