We don't currently sell Fronius solar batteries, but we do stock a range of other high class storage systems, such as Tesla, Sonnen, EnPhase and more. Go to our solar battery page for more information.
While one brand (Tesla) in particular has enjoyed much of the battery system limelight in Australia recently, other storage solutions can also offer solid performance; including a system from Fronius.
Fronius Energy Package
The Fronius Solar Battery is part of the Fronius Energy Package. And it's available now.
The Package is made up of the three-phase Fronius Symo Hybrid inverter, the Fronius Solar Battery and the Fronius Smart Meter.
Based on lithium-iron phosphate chemistry (LiFePO4), the Fronius Solar Battery offers a long service life, short charging times and high depth of discharge capabilities (80%).
The battery is offered in various usable capacities and is easily expanded, from 1.2 kWh up to a maximum of 9.6 kWh (12kWh nominal). The latter having charging/discharging power of up to 6,400 watts.
Measuring 955 x 570 x 611 mm (height x width x depth), the 9.6kWh unit weighs 176kg, is free-standing and designed to be installed indoors. The battery has an expected service life of 20 years.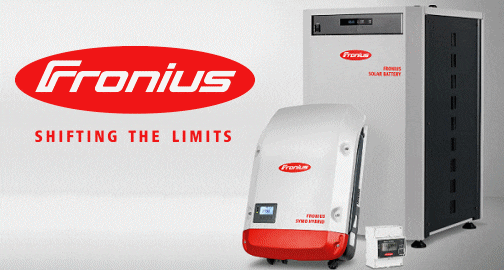 Another component of the Package is the 'plug and play' Fronius Smart Meter, which  measures the energy flowing from the grid into the house and vice versa; recording household load and optimising self-consumption.
Fronius Energy Package also incorporates either a 3kW or 5kW Symo Hybrid three phase inverter.
Fronius 3 phase upgrade
While most Australian homes have a single-phase electricity connection, for a limited time Fronius is offering a $2,000 rebate to customers who wish to upgrade their connection to three phase when they install a Fronius Energy package (terms and conditions apply).
For Australians considering an electric car purchase, one of the advantages of upgrading from single-phase to three-phase is charging of electric vehicles is up to five times faster according to Fronius.
A single phase Primo Hybrid inverter was expected sometime in 2016.
The Fronius Energy Package will also include an "emergency power function", enabling continued optimum electricity supply during blackout events. This functionality can be added to the Fronius Symo Hybrid via a software update expected mid-2016.
The Fronius Solar Battery and Energy Package is available in Australia via Energy Matters.
For further details about the system, pricing and rebate, those interested can get a quick quote or you can contact us via this contact form. A datasheet on the Package can be downloaded here (PDF).
On a related topic, Fronius announced last year it was collaborating to integrate the Fronius Symo Hybrid and the Tesla Powerwall. The understanding is that this functionality would be available in 2016.
Current Fronius Symo Hybrid inverters will also be compatible with Tesla Powerwall through a software update.
Related:
Australian Guide To Battery Storage
What Is A Battery Ready Solar Power System?