Jay Whitacre, Ph.D., a Materials Scientist and Professor at Carnegie Mellon University's College of Engineering, is the recipient of the prestigious 2015 Lemelson-MIT Prize for his "saltwater" battery.
The Aqueous Hybrid Ion (AHI) battery uses abundant materials including water, sodium and carbon. The battery's major internal components are a saltwater electrolyte, manganese oxide cathode, carbon composite anode and synthetic cotton separator.
The energy storage device doesn't contain heavy metals or toxic chemicals and is non-flammable and non-explosive. Given these attributes, the AHI is claimed to be the safest and most sustainable battery in the world.
AHI is the world's first Cradle to Cradle Certified battery. Cradle To Cradle certification examines a product through five categories – material health, material reutilization, renewable energy and carbon management, water stewardship and social fairness.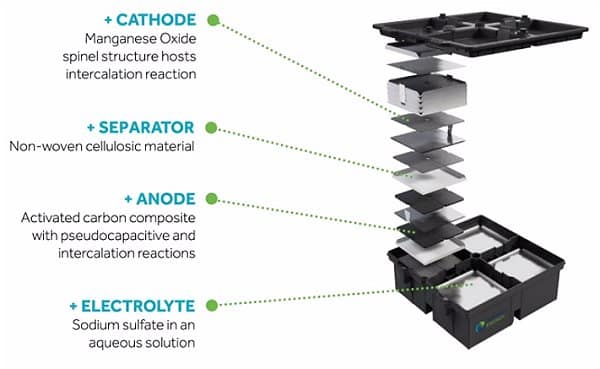 Flexible and scalable, AHI batteries are supplied in "stacks". The  energy storage system is designed for use in residential on-grid applications, off-grid scenarios, microgrids, energy management and grid services; in configurations from kilowatt-hours to megawatt-hours capacity.
S-Line Battery Stacks are ~2 kWh systems and can be connected in series or parallel. M-Line Battery Modules are ~25 kWh systems comprising twelve S-Line Battery Stacks in a parallel configuration.
Dr. Whitacre's company, Aquion Energy, began delivering AHI batteries to customers early last year and has installations in place globally, including in Australia.
Dr. Whitacre will use part of his prize money to create a fellowship that will support graduate students and nurture interest in innovative energy solutions.
"We are proud to recognize Jay Whitacre as this year's Lemelson-MIT Prize winner," said Joshua Schuler, executive director of the Lemelson-MIT Program. " He personifies the mission of Lemelson-MIT through his commitment to mentorship, his desire to solve some of our world's greatest problems and his ability to commercialize his technologies."
Dr. Whitacre is a prolific inventor and holds 30 patents or pending patent applications.
Other accolades Aquion Energy has received include Fast Company's World's Top 10 Most Innovative Companies of 2015 in Energy, and Popular Science's Best of What's New 2014: Innovation of the Year. In June this year, the company won the ees AWARD 2015 at Intersolar Europe.
Related