China is set to build a renewable energy hub in the Aussie outback that will produce more energy than all of our coal-fired operations combined.
The sheer scale of this wind and solar hybrid project – called the Asian Renewable Energy Hub – is absolutely staggering. It will be built in the East Pilbara region of Western Australia and encompasses a massive 6500 square kilometres of land, will include 1600 large-scale wind turbines as well as 78 square kilometres of solar panels that will produce a total of 26 gigawatts.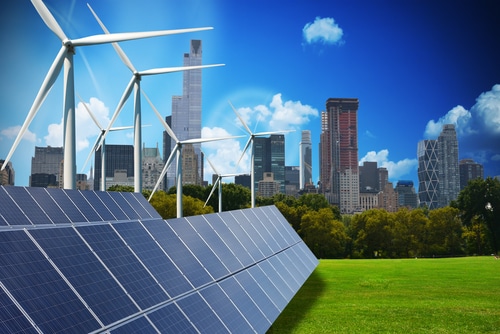 And the project will go even further, using a portion of this energy to power green hydrogen projects on the nearby coastline to desalinate seawater – a form of power that is expected to boom in the coming years. That will deliver an additional 23 GW of energy production.
It is an ambitious project that could be built in as little as five years, making it the world's largest power station of any kind.
Ramping renewable energy production up to fossil fuel scale
The world is looking to transition to renewable energy solutions and away from fossil fuels thanks to arrangements like the Paris Agreement and recent pledges from global leaders like US President-elect Joe Biden and Chinese leader Xi Jinping and many large-scale projects around the world. But these renewable energy projects were still dwarfed by the sheer scale of fossil fuel operations – until now.
The Asian Renewable Energy Hub has come together through a collaboration between the world's largest green hydrogen developer InterContinental Energy, Asian clean energy leaders CWP Energy Asia and global sustainable energy partner Vestas, along with Pathway Investments, the Australian National University's Energy Change Institute as well as the Nyangumarta People of Western Australia.
It is a project that will position Australia as a global renewable energy powerhouse and have a range of flow-on effects for Western Australia and beyond, including new supply chain facilities that will be required for the manufacture of all of the technology required for the wind, solar and hydrogen production.
The consortium estimates that will mean over 20,000 jobs during the construction phase as well as 3000 jobs during the 50-plus year operational life of the renewable hub which would be a major boost for Australia in the wake of COVID-19.
Consultation with Australia's First People
Being constructed over so much land in the East Pilbara, it was inevitable that the Asian Renewable Energy Hub would encroach on the land of Traditional Owners. Which is why the project is being delivered in close consultation with the Nyangumarta People. They have been assisting with all ecological studies to ensure that this project will not negatively impact on the land and only deliver benefits that can be enjoyed by all Australians – and people around the world.
The Nyangumarta People will retain native title over the land.
References: https://www.miragenews.com/super-charged-how-australia-s-biggest-renewables-project-will-change-energy-game/