40MWh (megawatt hours) of battery systems will soon be installed at 27 Walmart stores across Southern California.
Advanced Microgrid Solutions (AMS) has announced it will design, install and operate its Hybrid Electric Building systems for the company. AMS says these will improve energy efficiency, guarantee the retailer electricity savings and provide grid services to local utilities.
The addition of energy storage will also help Walmart further boost its green credentials.
Walmart is listed on the US EPA Green Power Partnership National Top 100. Based on the latest figures (February), its annual green power usage is 826,343,726 kilowatt-hours.
The company has set a goal of powering 50% of its operations with renewables by 2025 (currently 4% according to the EPA) and is a member of the RE100; a group of large firms that have committed to 100% renewables.
To date, Walmart has made significant inroads with on-site generation, including solar power systems installed at 350 of its stores.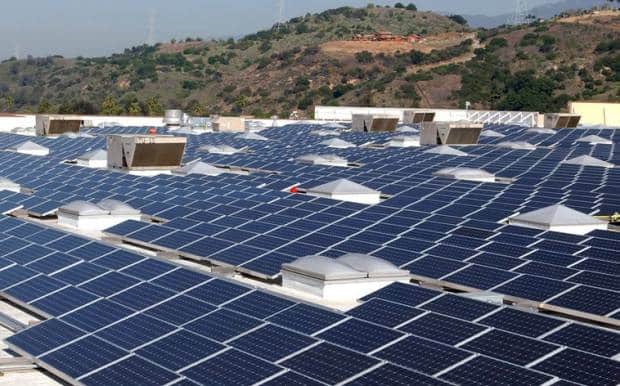 "Adding energy storage capabilities to our clean energy resources reduces the capacity needed from the grid and is part of our commitment to increase reliance on renewable energy," said Mark Vanderhelm, vice president, Energy for Walmart.
It sounds like a pretty sweet deal all round for Walmart, which won't have to outlay any capital for the batteries and will also be receiving revenue from providing grid services.
Reducing peak electricity demand is becoming a more pressing issue for companies around the world, including Australia, with commercial demand charges on the increase here – and residential demand tariffs are also appearing.
A demand charge is one applied based on the highest electricity demand recorded during a certain timeframe in a specified period.
For example, a business may have a low load throughout an average day except for a brief period where it spikes due to whatever activity is taking place at the time. The demand charge may be based on that brief load spike – and the bigger the load, the higher the cost. To make matters worse, the daily charge may be applied at this level over a full quarter or even a year.
Demand charges can make up a significant percentage of a commercial electricity customer's bill and really eat into a company's bottom line.
This is where commercial battery storage can be particularly beneficial; in addition to preserving high value surplus electricity generated by a rooftop solar array that may otherwise be exported and only return the system owner just a few cents a kilowatt-hour.