The world's first floating wind farm will have energy storage added after completion under a recently-inked Memorandum of Understanding (MoU).
The 35 MW Hywind Scotland wind far, located 25km from Scotland's Aberdeenshire coast, will consist of five large floating turbines. Due for completion in 2018, it will be followed by the construction of a 1MWh lithium-ion battery based storage pilot system in late 2018.
Lithium-ion is a storage technology also used in the Tesla Powerwall battery system.
Dubbed "Batwind", the project is a collaboration between the wind farm owner Statoil, the Scottish Government, the Offshore Renewable Energy (ORE) Catapult and Scottish Enterprise.
"The signing of this MoU will allow the signatories to work together in the development of the Batwind battery storage solution," said Fergus Ewing, Scotland's Energy Minister.
The system will be integrated to mitigate intermittency and optimise output; improving efficiency and lowering costs for offshore wind.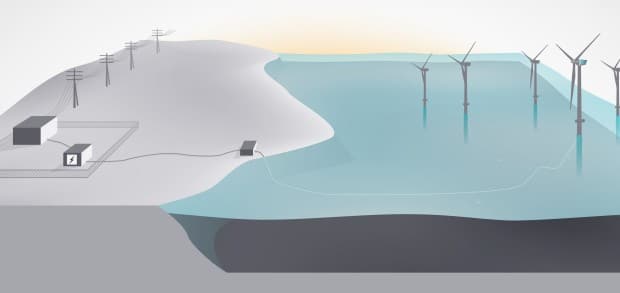 Statoil is an international energy company with operations in 37 countries. In addition to its gas and oil interests, other wind power projects in the company's portfolio include Sheringham Shoal, Dogger Bank and Dudgeon. Dogger Bank will be the world's largest wind farm; with enough capacity to generate 2.5 per cent of the UK's energy requirements.
"Statoil has a strong position in offshore wind. By developing innovative battery storage solutions, we can improve the value of wind energy for both Statoil and customers," said Stephen Bull, Statoil's senior vice president for offshore wind.
"With Batwind, we can optimise the energy system from wind park to grid. Battery storage represents a new application in our offshore wind portfolio, contributing to realising our ambition of profitable growth in this area."
A report produced by the Carbon Trust indicated if the UK's energy market embraced energy storage, it could lead to savings of up to £50 a year on an average consumer's electricity bill and a system- wide saving of up to £2.4bn a year by 2030.
Wind power in Scotland has been off to a flying start this year, with wind energy powering the equivalent of 100 percent of Scottish households for 22 days in January. The Scottish Government has its sights set on 100% renewable electricity generation (gross consumption) by 2020.