Scotland is set to become home to the world's largest floating wind farm after the Scottish Government granted consent to project developer Statoil's plan to install deep water turbines off the coast of Peterhead, near Aberdeen.
The 35 MW pilot park, dubbed Hywind Scotland, will consist of five 6 MW floating turbines, each tethered to the seabed by a three-point anchoring system. Located 25km from the Aberdeenshire coast in the Buchan Deep high wind zone, the park is expected to generate approximately 135 GWh of electricity each year, enough to power around 20,000 Scottish homes.
Norwegian energy developer Statoil spent six years on perfecting a proof-of-concept turbine installed off the island of Karmøy in Norway. The company says the approval decision will trigger investments of 2 billion kroner (AUD $325 million) and provide construction, operation and maintenance jobs for Aberdeenshire residents.
"We are very pleased to develop this project in Scotland, in a region with a huge wind resource and an experienced supply chain from oil and gas," said Irene Rummelhoff, Statoil's executive vice president for New Energy Solutions.
"Through industry and supportive policies, the UK and Scotland is taking a position at the forefront of developing offshore wind as a competitive new energy source."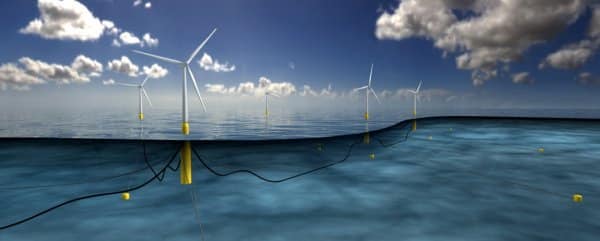 The advantage of Statoil's Hywind system is the ability to access deep water sites in depths of 100 metres and more – areas beyond the reach of conventional offshore turbines. The UK Carbon Trust estimates that floating wind technology could potentially lower generating costs below £100 (AUD $215)/MWh, with leading projects like Hywind Scotland lowering costs even further to £85-£95 (AUD $182- AUD $ 204).
The Hywind Scotland site will cover four square kilometres in the Scottish North Sea, where wind speeds can reach 10 metres per second. Heavy mooring cables will anchor the five turbines at depths of 120 – 95 metres, while a massive export cable will transport electricity from the wind farm to a station located at Peterhead.
"Hywind is a hugely exciting project – in terms of electricity generation and technology innovation – and it's a real testament to our energy sector expertise and skilled workforce that Statoil chose Scotland for the world's largest floating wind farm," said Scotland's Deputy First Minister John Swinney.
Production is expected to start in late 2017.