Renewable energy company Acciona has unveiled what will be the first zero emissions electric vehicle to participate in the grueling Dakar Rally.
In late November, Acciona 100% EcoPowered passed the technical and administrative checks made by the rally organisers.
The vehicle features a  220 kW (300HP) synchronous electric motor that weighs only 80 kilograms. An equivalent internal combustion engine weighs around 280 kilograms.
4 removable lithium-ion battery packs provide energy storage of 140kWH.  One of the new innovations implemented in the vehicle is quick release sliding battery packs. The vehicle also has 100 watts of solar panels to provide all the power needed for telemetry and security systems.
100% EcoPowered's chassis is constructed from chrome-moly tubing, which is far lighter but much stronger than steel. The bodywork of the vehicle is carbon-fibre composite.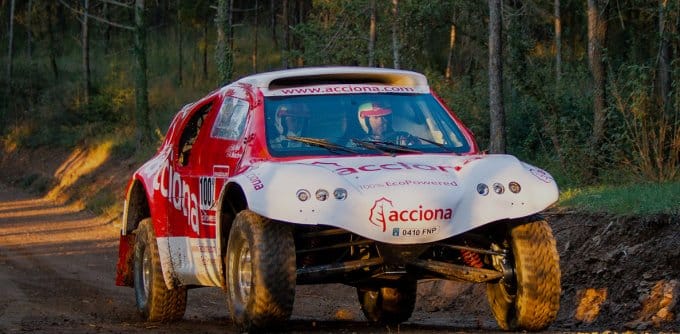 Dakar 2015 will see competitors travel 9,000 kilometres across three countries – Argentina, Chile and Bolivia – between the 4th and 17th of January. Unlike Acciona's entry, the other participants are expect to chew through around 2,250 litres of fuel each. The carbon emissions of the two-week race are approximately 22,000 metric tonnes – equivalent to a single Formula One race.
Formerly known as the Paris–Dakar Rally, the event has been running since 1978. It's certainly no Sunday drive and multiple participants have lost their lives during the event. Overall approximately 60 people, including 27 competitors, have died in the Dakar Rally. A particularly challenging and risky part of the race will be a 2-day marathon stage where none of the participants have access to their service vehicles.
Acciona says its 100% EcoPowered electric car completes its trilogy of green vehicles. First was a sled that reached the South Pole propelled only by a system of kites in 2011.  In 2012, the company participated in the Vendeé Globe with a yacht that used no fossil fuel.
Two years of research and development, plus the skills of a multidisciplinary team of more than 20 people have gone into Acciona's Dakar attempt. You can follow the progress of Acciona 100% EcoPowered  at the company's dedicated web site.