Lithium ion batteries are increasingly transforming energy storage and transport – even in heavy marine applications.
Canadian company Electrovaya has announced that the KF Hisarøy electric cable ferry, which has been operating between Mjånes and Hisarøy in Norway, has racked up a full year of flawless operation.
The ferry features a prototype 100kWh rechargeable battery system developed by Electrovaya in partnership with Solund Verft, HAFS Elektro & Rør AS and Electrovaya´s subsidiary Miljobil Grenland AS in Norway.
The Wergeland Halsvik AS owned vessel is making approximately ten 1.6 kilometre round-trips per day between the mainland and the Hisarøy Island and can carry 49 passengers and 6 cars.
"Wergeland Halsvik AS is very pleased with the ferry and the battery system delivered from the yard and its cooperating partners, " said Hans Wergeland. "As this market grows, and the demand for environmentally friendly, zero carbon foot-print energy solutions increases, this system is well-suited to further opportunities in the marine sector."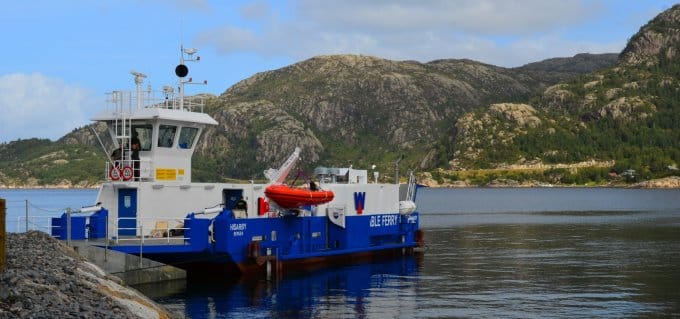 The battery energy storage system is expected to save  approximately 180,750 liters of fuel over its service life and potentially avoid 480 tonnes of carbon dioxide emissions, 9 tonnes of particulate matter and volatile organic compounds, 2 tonnes of carbon monoxide and 2 tonnes of other type of emissions.
The ferry is driven by two winches and the battery system is recharged on the mainland between the round trips and overnight.
The battery system is based on Electrovaya's SuperPolymer 2.0 technology; which the company says provides a faster, more efficient transport of lithium. This equates to its ability to pack more energy into smaller and lighter spaces. Electrovaya manufactures prismatic cells that have a laminated polymer 'pouch' construction with a flat geometry.
Electrovaya says the marine electric vehicle market is expected to jump from $2.6 billion to $6.3 billion by 2023.
"Demand will come from both on-water and underwater electric vehicles for use both on inland waterways and the sea. The key advantages of electric powertrains for marine vehicles are the lower maintenance requirements and minimal noise, air and water pollution."
A prior study found 47 of a total of 125 ferry connections in Norway have the potential for battery operation now, with a further 34 able to go electric in the future. If renewable energy sourced electricity were used to recharge, it would make these ferry operations very green.