The participation of Acciona's revamped 100% EcoPowered vehicle in this year's Morocco Rally represents the first time an EV left the start line in a championship race within the world rally calendar.
Currently under way, the race runs over a route over 2,200 kilometres long, divided into five stages.
300 participants from 27 countries are currently battling everything the Drâa Valley has to throw at them and the inclusion of an electric vehicle this year has created a great deal of interest.
Acciona 100% EcoPowered is a T1-class rally car designed in accordance with all FIA/ASO technical and safety regulations.
The vehicle features a synchronous electric motor combination equivalent to 300 CV (around 296 hp). The AM Racing motor arrangement has a total weight of just 80kg as opposed to 280kg for an equivalent internal combustion engine.
Energy is stored in seven Tesla high-performance lightweight battery packs with a 60-minute fast charging capacity.
Solar panels are integrated into the bodywork, recharging the primary power supply system of the vehicle for the operation of various electronic components, navigation, lighting and communication systems. The collective output of the 12-volt PV modules is 100 watts.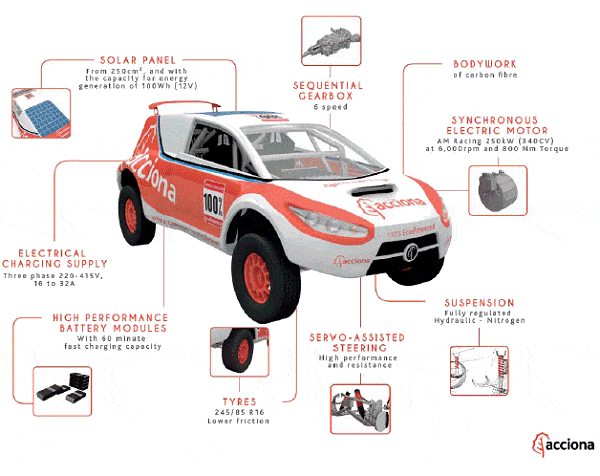 Acciona 100% EcoPowered has a top speed of 150 km/h and a range of around 200 kilometres. Depending on the terrain, energy consumption of the vehicle ranges from 20 to 45 kWh/100 kilometres.
The vehicle also features a chrome-moly tubing chassis, servo-assisted steering and a carbon-fibre body.
"One of the main challenges of this project has been to keep the right calculations and to develop the design of the battery and electric power system in order to guarantee high autonomy in all kinds of terrain, without becoming a handicap regarding the dynamic behaviour of the vehicle," says the team.
Driving the vehicle in this year's event is Ariel Jatón, an Argentinean rally driver who also collaborated on the development of the car. He is accompanied by Gastón Scasuzzo, an electronics engineer and navigator for the journey.
Last year, Acciona EcoPowered was the first zero emissions electric vehicle to participate in the grueling Dakar Rally. Unfortunately, the team wasn't able to complete the race – but it wasn't a failing of the car per se; the navigation system malfunctioned
Further details on the Acciona 100% EcoPowered rally car can be viewed here.