As temperatures climbed in South Australia and Victoria yesterday, so too did the use of air conditioners – and as a result, wholesale electricity prices.
While only brief spikes, the dispatch (5 minute) wholesale electricity price reached $13,000 per megawatt-hour yesterday in South Australia; the maximum spot price allowable for the 2013-2014 financial year. In Victoria, the price reached above $12,000 a megawatt-hour.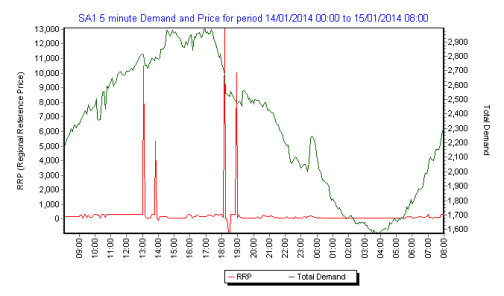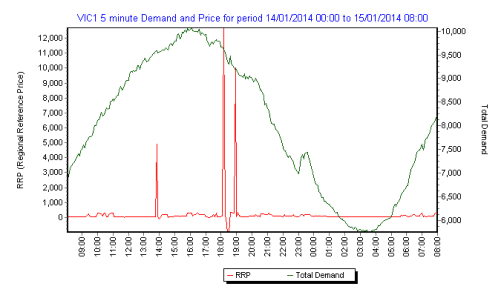 Electricity Price/Demand Graphs
– Source:
AEMO
The redline price situation could have been more severe and sustained if not for the many thousands of solar panel systems and wind turbines installed throughout each state that offset the energy usage of power hungry air-conditioners.
In early 2013, it was estimated solar power systems installed in Australia were saving between $300 million and $670 million each year in wholesale electricity costs. This is something the government may want to keep in mind while seemingly salivating at the prospect of disembowelling the Renewable Energy Target.
If anything, current weather events prove the case of a need for increased solar power.
According to the Canberra Times, Dr Glenn Platt of the CSIRO says an increase in commercial solar arrays would help Australia's energy grid cope with increased demand during heatwaves.
It's these heatwaves that led to a gold-plating of Australia's electricity network infrastructure – $11 billion spent to cope with a handful of days a year when air-conditioner usage goes into overdrive.
While it's expected heatwave events will increase in the years ahead; those days will still very much be in the minority compared to the rest of the year. It gives pause for thought as to where Australia's renewable energy revolution would be now if some of the money splashed out on "gold-plating" network infrastructure had been redirected to nurturing the rollout of rooftop solar panels across the nation.
Related: