If those who wish to see Australia's Renewable Energy Target (RET) abolished get what they want, up to 6,750 solar PV jobs could be lost and foregone nationwide in less than 5 years.
The grim prediction comes from REC Agents Association (RAA) in a report due to be released on Wednesday.
"If the Renewable Energy Target is axed, 2,000 jobs could be lost straight away and thousands of new jobs would not be created", said Fiona O'Hehir, Vice-President of RAA and CEO of Greenbank Environmental, who commissioned the analysis.
"Axing the RET is on the Government's agenda and they need to understand this would have a diabolical impact on jobs, industry and the hundreds of thousands of Australians who want to put solar on their homes."
The RAA report states the solar industry employed around 17,000 Australians in 4,300 small and medium sized businesses last year.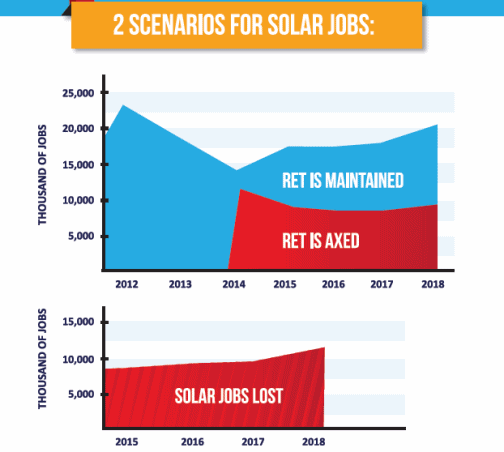 Click here
for the Australian Solar Council's
full solar jobs infographic (PDF)
Things certainly aren't looking rosy for the Renewable Energy Target; particularly if rumours that Alan Moran will be on the review panel are true.
One of the furphies being perpetuated by some, including Mr. Moran and Prime Minister Abbott, is the impact of solar panels on electricity bills; with claims the RET is a significant contributor.
However, RAA states if the parallel reduction in the wholesale cost of electricity delivered by solar power systems is taken into account, the real cost of the SRES component of the RET (which forms the basis of home solar subsidisation) is just $1.90 per quarter – only 0.38% of a typical household quarterly bill.
With millions of Australians directly benefiting from having solar panels installed and the positive flow on effects to all electricity consumers; it may seem ludicrous a danger to the RET even exists; but while misinformation continues to be disseminated and others accept it as gospel for whatever reason; the threat looms large. As such, the best time to go solar may be right now.
The full RAA report will be available at www.recagents.org.au