Energy related carbon dioxide emissions in 2015 remained flat for the second year running according to the International Energy Agency (IEA).
Global energy carbon dioxide emissions stood at 32.1 billion tonnes last year, essentially unchanged since 2013.
The IEA states preliminary data indicates renewable energy has played an important role and accounted for approximately 90% of all new electricity generation last year.
64GW of wind power and 57GW of solar PV was commissioned last year, an increase of nearly 30% over 2014.
Importantly, the switch to renewables and other action on CO2 emissions hasn't resulted in a sky-is-falling scenario economically speaking as some suggested it would.
The global economy continued to grow by more than 3% over the last couple of years, which the IEA also says offers further evidence that the link between economic growth and emissions growth is weakening.
Over the four decades the IEA has reporting on carbon dioxide emissions, there have been only four instances where emissions plateaued or decreased compared to the previous year – and three of those periods were associated with global economic woes.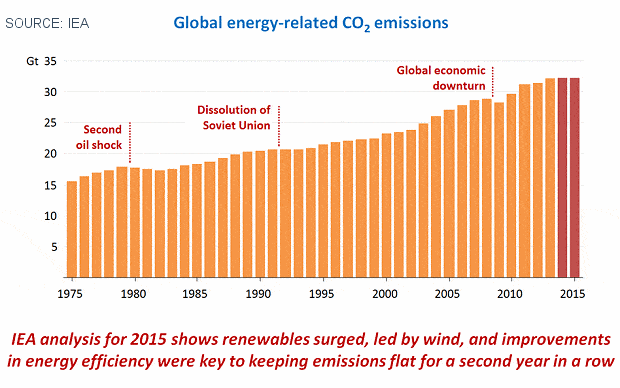 The world's two largest emitters, China and the United States, both registered significant declines in energy related emissions in 2015; however this was offset by increasing emissions in the majority of other Asian developing economies, the Middle East and Europe.
" In 2015, coal generated less than 70% of Chinese electricity, ten percentage points less than four years ago (in 2011)," states the IEA.
" Over the same period low-carbon sources jumped from 19% to 28%, with hydro and wind accounting for most of the increase. In the United States, emissions declined by 2%, as a large switch from coal to natural gas use in electricity generation took place."
The IEA says it will provide further analysis in a World Energy Outlook special report on energy and air quality; due for release at the end of June.
In other recent news from the organisation; researchers, government officials, investors and other energy experts gathered in Paris to share ideas about the opportunities and challenges for renewable energy earlier this week.
Executive Director Fatih Birol told the participants the COP21 accord was "just the beginning" and the transformation to a new energy sector already has its work cut out due to current low fossil fuel prices.