Released yesterday, the H&M group Sustainability Report 2016 outlines a number of new goals and reaffirms a commitment to 100% renewables-sourced electricity – a goal it's not far from achieving.
H&M has been a member of the RE100 for some time. The company states it sourced 78% of its electricity from renewable sources in 2015 and last year that jumped to 96%.
In 2016, the firm slashed its CO2 emissions by 47% compared to 2015. The H&M group's goal is to become climate positive throughout its entire value chain by 2040 at the latest, and renewable energy is a key to achieving that.
"We want to lead by example, pave the way and try new things – both when it comes to the environmental and social side – to ultimately make fashion sustainable and sustainability fashionable. Our climate positive strategy is one way of doing this," said Anna Gedda, H&M group's Head of Sustainability.
While H&M has installed solar panels on some of its buildings and is looking into adding more self-generation capacity, it has purchased a large quantity of certificates recognised by the GHG Protocol.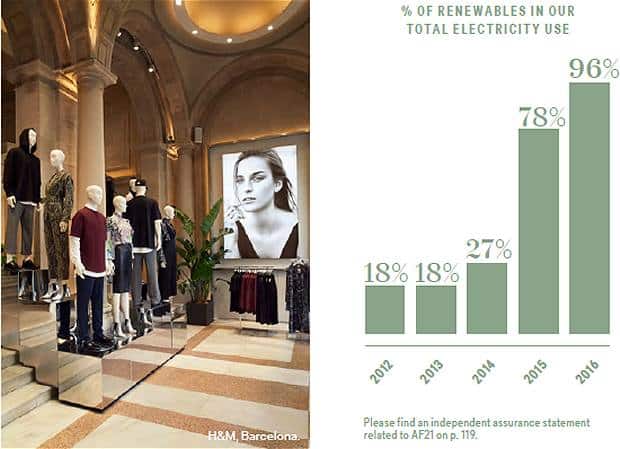 The company has also invested in GO²,  a program that bundles the cost of renewables usage with a contribution to new renewable energy supply.
H&M says it is also encouraging and empowering its business partners to use renewables.
Energy efficiency is  playing a major role in the company's sustainability efforts, resulting in a reduction of 'electricity intensity' by 8.3% against a 2007 baseline so far.
By 2030, each new store constructed will use 40% less energy per square metre than the stores built today.
Another major new commitment from the company is to use 100% recycled or other sustainably sourced materials by 2030.
"I'm convinced our new sustainability strategy presented in this report will take us closer towards our vision; to lead the change towards circular and renewable fashion while being a fair and equal company," says CEO Karl-Johan Persson.
The full H&M group Sustainability Report 2016 can be viewed here (PDF).
Starting with a single womenswear store in Västerås, Sweden in 1947, today there are more than 4,400 H&M stores in 65 markets; including Australia.