A factory making the world's most popular plastic construction toy, Lego, will harness the power of solar energy to generate electricity for its operations.
Last week, the Lego Group inaugurated its new factory in Jiaxing, China. The 165,000m2 factory (equal to 20 football fields) currently employs more than 1,200 people and is expected to produce  up to 80 percent of all Lego products sold in Asia.
The company says it has placed a special focus on sustainability at the factory; from recycling and reusing waste products and water, to improving energy efficiency.
"We aspire to leave a positive impact on the society," said Tim Brooks, Vice President, Environmental Sustainability. "As an example, the LEGO factory in China will feature solar panels on the roof, enabling us to generate clean solar electricity directly at our factory."
The model below (made of Lego of course) depicts the factory with its solar panel rooftop.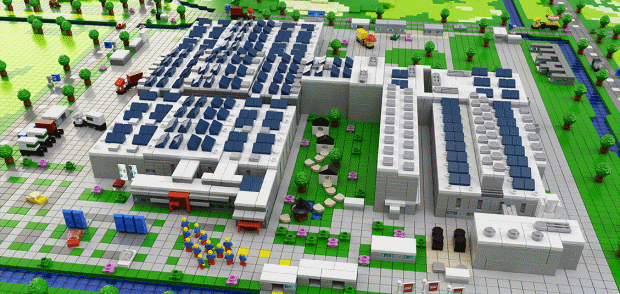 20,000 solar panels will be installed on the rooftop, generating almost 6 gigawatts of clean energy annually and avoiding more than 4,000 tonnes of carbon dioxide emissions per year. The electricity produced will supply approximately 7% of the factory's energy requirements.
Among other green features of the factory are energy-sipping LED lighting, daylight and movement sensors – so there will be no more "forgetting" to switch off a light.
Electric cars are being used for onsite transportation at the factory, with charging points available throughout the facility.
Cutting-edge plastic moulding machinery has also been implemented to save energy. The LEGO Group says that over the last three years, it has improved its energy efficiency by 16 per cent per LEGO brick produced.
80,000 m2 of the total 315,000 m2 site is covered with greenery; to promote employee well-being and prevent soil erosion
Lego has set a goal of using 100% renewable energy by 2020. The company has also invested in two off-shore wind farms – Borkum Riffgrund 1 in Germany and Burbo Bank Extension Offshore Wind Farm in the UK.
Lego, like many other companies, is embracing commercial solar and other renewable energy sources not just as a way to benefit the planet, but to make a positive impact on its bottom line.
Trivia: Last year the Lego Group sold 72 billion Lego elements.