While it's taken decades for the USA to reach 1 million installed solar power systems; the next million will only take a couple of years. By 2025, the U.S. will be installing a million systems a year.
According to a new report published by the George Washington Solar Institute, there's enough solar installed across the nation right now to power the entire state of Pennsylvania or to cover every rooftop in New Mexico.
The Institute's report has been timed to coincide with the launch of the #MillionSolarStrong campaign; recognising the milestone and promoting further solar awareness.
Solar in the USA is currently generating enough electricity to power 5.9 million households. By 2020, that figure will skyrocket to 20 million homes.
There are 942,000 residential solar installs in the USA, 56,500 commercial installations and 1,500 utility scale projects generating clean electricity for the nation's grid.
"Our meteoric growth is driven by the fact that solar is one of the lowest cost options for electricity and it has been embraced by people who care about the environment and want to choose where their energy is coming from," said Rhone Resch, president and CEO of the Solar Energy Industries Association (SEIA). The SEIA is spearheading the #MillionSolarStrong campaign.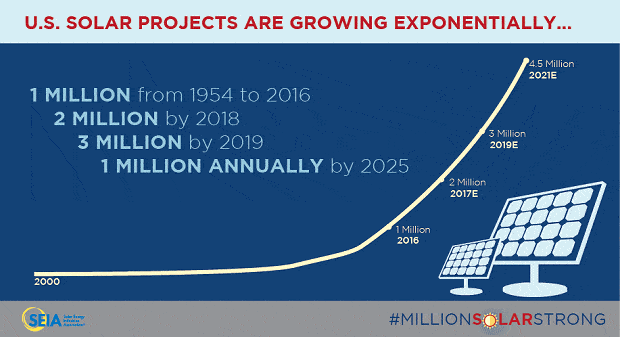 According to the report, solar installation costs have plummeted by more than 70% over the past ten years, led by more efficient solar panels that are two-thirds cheaper than just 5 years ago.
On the environmental front, the USA's solar power systems are having a significant impact on carbon emissions reduction; avoiding 34 million tonnes of carbon dioxide annually. That's equivalent to the emissions footprint of the entire state of Oregon.
The nation's solar industry has also triggered a jobs bonanza, with the industry now employing more than 200,000 Americans. Solar was responsible for the creation of 1 in 83 of all new U.S. jobs last year and solar jobs are expected to double to 420,000 by 2021.
The Million Solar Milestone report can be viewed in full here (PDF) and the #MillionSolarStrong campaign page here.
Trivia: the USA's first residential solar PV system was installed in 1973