With normal use of 10-25 kilometres per day, "mö" can get all the power it needs from the sun.
Spanish company Evovelo is in the midst of a beta-testing program of its fully-enclosed solar and pedal powered car-cycle that it says will be approved for use as a tandem tricycle (in Spain anyway).
Mö is 140cm wide, 200cm long, 130cm high and can carry two adults plus luggage and/or children with the special seats added.
Mö's embedded solar panels charge a removable ~700Wh+ (48V 15Ah)  battery, which powers a 1200/1500W direct drive motor.
In addition to the solar panels, the car-cycle has a wall charger; able to recharge the battery to 90% in an hour.
In full electric mode, the vehicle has a range of up to 50 kilometres, which can be extended by pedaling.  Evovelo says with intensive use of around 40 km per day; its carbon footprint could be as little as 0.001 KgCO2 / km or even lower; depending on the source of electricity used to charge the battery.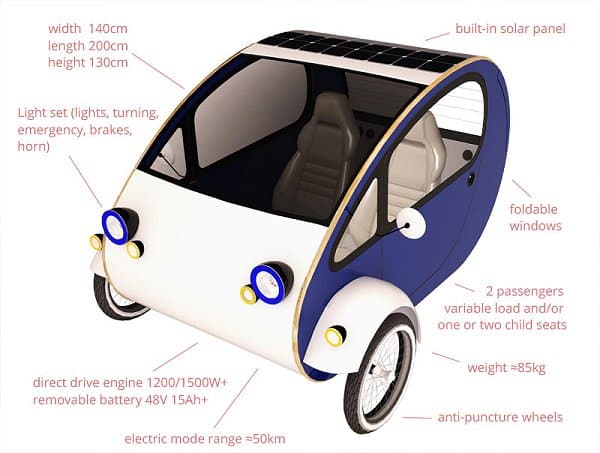 It's a lot lighter than another electro-solar and pedal powered vehicle we reported on recently, Sunnyclist. Mö is just 85kg compared to Sunnyclist's 220-250kg; but the three wheels and pedals aside; they are very different vehicles. Mö weighs around the same as a petrol-powered 125cc quad bike.
Among its other features are foldable windows, aluminium and/or composite 20″ rims, drum or disc brakes on the front and electric, drum or disc on the rear.
For added greenie points, much of Mö is made up of sustainable/recyclable materials.
Mö  has a price tag of ~€4500; which is around AUD $6,800 before shipping etc.
Obviously not built for barreling down the Stuart Highway in outback Australia (and it likely wouldn't be street-legal here anyway), the vehicle will be marketed to urban commuters overseas. Outside of Spain, the company says it has had interest from other parts of Europe, the United States and Latin America.
Evovelo states it already has potential manufacturers/dealers in the USA, Ecuador, Mexico, UK and Germany.
The alpha prototype was unveiled at the recent COP21 climate conference in Paris.