Solar power systems in Moreland City Council's area installed as part of a bulk buy program are bearing fruit for their owners in the form of substantial power bill savings and emissions reductions.
City of Moreland is a local government area in metropolitan Melbourne, Victoria.
In 2014, Moreland City Council launched the Moreland Solar Bulk Buy program. Coordinated by Positive Charge, the program offers discounted solar power systems.
Energy Matters was chosen as the system supplier and installer after Positive Charge conducted a rigorous, transparent procurement process ensuring Council could offer residents the highest quality product at the best price.
Hundreds of systems have been installed to date under the program and owners are reaping the benefits of making the switch to solar; including couple Lara and Eddie.
"It looks like the system will pay itself off in 5 – 6 years, which is fantastic," says Eddie.
According to Energy Matters, a large 5.2kW system installed in the City Of Moreland area can provide a financial benefit of between $1,159 and $1,428 annually depending on the installation location and a household's electricity consumption profile.
A system of this size can also avoid 9 tonnes of electricity related carbon emissions annually.
For further details regarding the bulk buy program, Positive Charge can be contacted on 03 9385 8555.  Positive Charge is run by the City Council-supported Moreland Energy Foundation (MEFL).
The group is also working in other Melbourne metropolitan areas. So far in FY 2015-16, Positive Charge has supported the installation of 607 solar PV systems.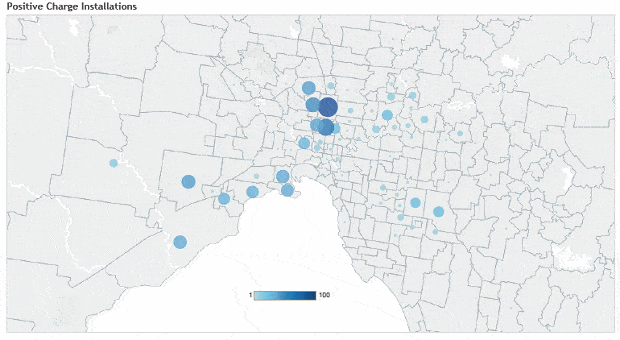 Discounts solar for residents is by no means the extent of Moreland City Council's climate change efforts.
In 2014, the Council endorsed the Zero Carbon Evolution Strategy; which aims to reduce emissions across the Moreland community by 22 per cent by 2020. The same year saw it being the first council in Victoria to rule out direct investments in fossil fuels.
City of Moreland's twelve suburbs include Brunswick,  Coburg, Fawkner, Oak Park and Pascoe Vale. The estimated resident population  as at 30 June 2015 was 163,488.