We're back in Victoria and ready to see what our talented teams have in store for us in this round.
Jessie and Mel, Victoria's Team Renovate, became household names as star contestants on Channel Nine's, The Block, and there isn't much that this dynamic duo can't do. With Jesse's real estate background and Mel's project management skills, they are the perfect team for the job.
On Team Rebuild we have The Block fan favourites, Bec and George. A superstar designer and a brilliant builder, these guys truly are the dream team! They know first-hand the constraints and challenges of a renovation and will jump at the chance to knock a house down and rebuild.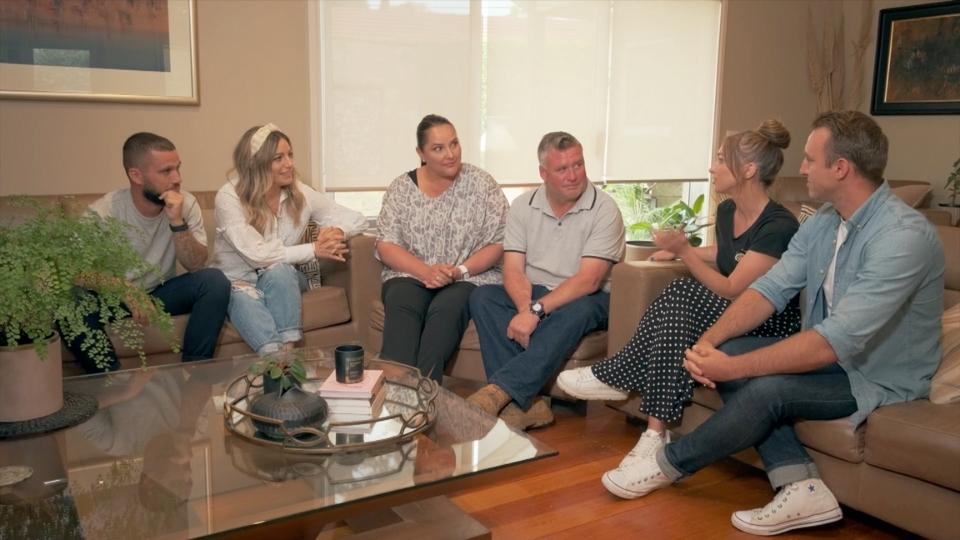 Future-proofing a well-loved but impractical family home
This week we meet Matt and Lynelle, a couple living out the Victorian coastal dream on Phillip Island, a 90-minute drive south-east of Melbourne.
With a median house price of $600,000, Phillip Island is truly a special part of Victoria with majestic bay beaches, great fishing, a family-friendly vibe, and some of the best surf beaches in Australia. As a family that loves sports, being outdoors, and doing things together, Matt and Lynelle couldn't imagine a better location to raise their teenage boys and beautiful labrador.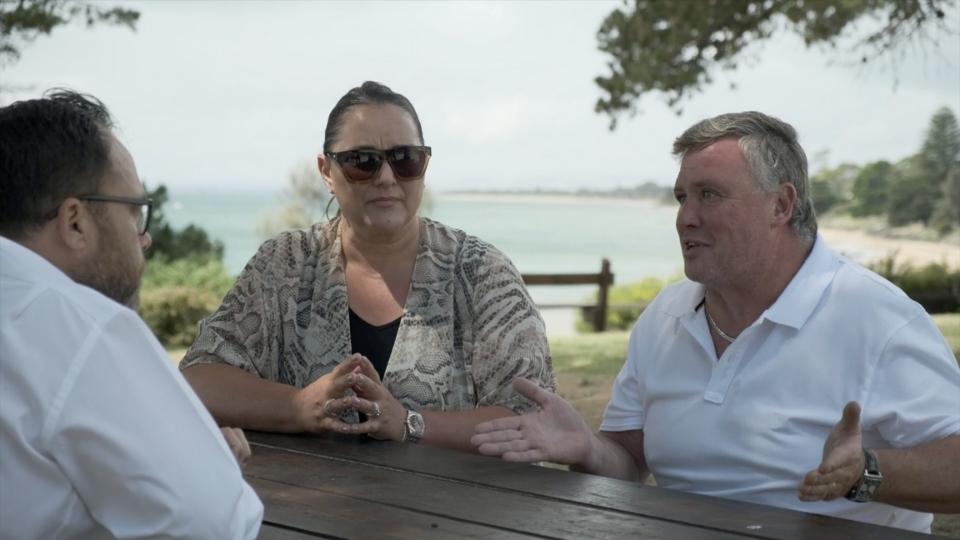 Their family home was built as a spec home in the 1990s and was originally purchased by Matt's parents. Matt, Lynelle, and their sons moved in 15 years ago and undertook extensive renovations and landscaping. After hosting many happy memories for the family, the house is now looking a bit dated and the family is facing a cross-generational living dilemma. Times are changing and they want to future-proof the house for the next phase of their lives.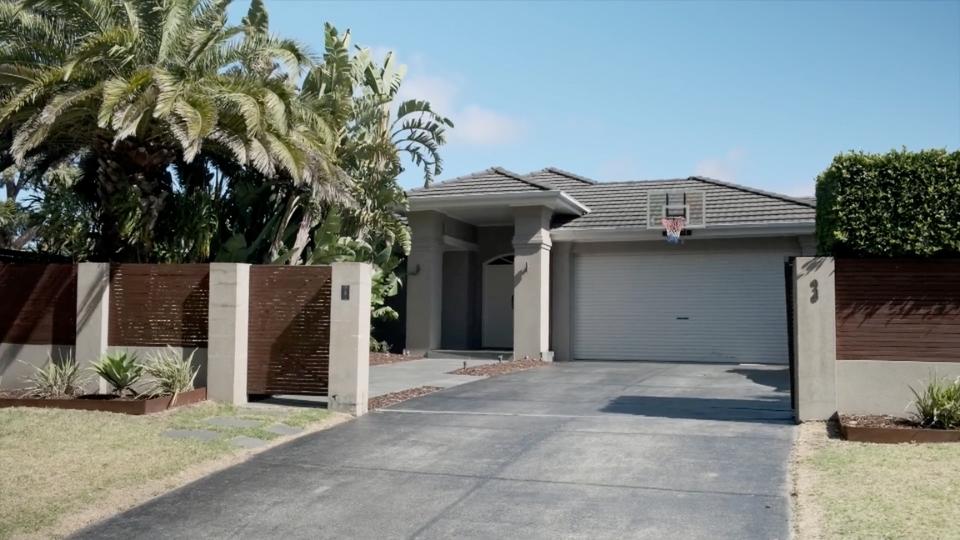 When host, James Treble, asked the couple how the house isn't working for them, Lynelle insisted they do love the house but as kids got older they needed more space and a practical solution to the living areas. Ideally, they need to create some separation for themselves from where the kids spend time with their friends and future partners.
In addition to the space and privacy issue, the house is oriented the wrong way, missing out on natural sunlight. The energy systems in place aren't sustainable either. Phillip Island isn't connected to natural gas, so their bottled gas solution is costing them dearly – especially with their heated swim spa. Matt and Lynelle are especially keen to achieve significant energy savings by switching to electric appliances and installing a rooftop solar panel system.
If there's any part of their property that the couple do love, it's their stunningly landscaped outdoor entertaining area, designed by none other than Dave Franklin, the superstar landscape architect from The Block. A longtime friend of Matt and Lynelle, Dave has created a truly memorable outdoor space that has been the centrepiece of many outdoor parties and functions.
Going into this process, Matt and Lynelle hope that it helps them to clarify their path forward and cement some ideas. They feel the existing house has enough merit where it would warrant a good and extensive renovation but have seen so many developments in the last 35 years that they are keen to take advantage of.
Lynelle said that when they discuss what they would do if they renovated they tend to disagree on a lot of points but, when it comes to a rebuild they agree on almost everything.
While they have a clearer vision for a rebuild and like the idea of having everything new, Matt indicates that the cheaper option of a renovate still holds appeal as they could do a lot with the extra money outside of the home
Matt and Lynelle's Design Brief
New floorplan
Two separate living areas
Retain the landscaping if possible
Bigger pool and better outside connection
Utilise new technology
Efficient, comfortable, and healthy home
$1.5 million budget for a rebuild
Team Renovate: Jesse and Mel
As Jessie and Mel walked up to the home, they were pleasantly surprised by what they saw. Mel was especially enthusiastic, exclaiming that the house is a "renovator's dream" and gleefully declaring that Bec and George "have zero chance".
Heading inside, they were slightly less enthralled with the dark entrance and old carpet in the master bedroom. They liked the size of the master and the fact it has a walk-in robe and ensuite. Jess wasn't overly impressed with the bathroom styling, taking a particular dislike to the shower's dated mosaic strip feature, something that was "never on-trend" in his opinion as a qualified tiler.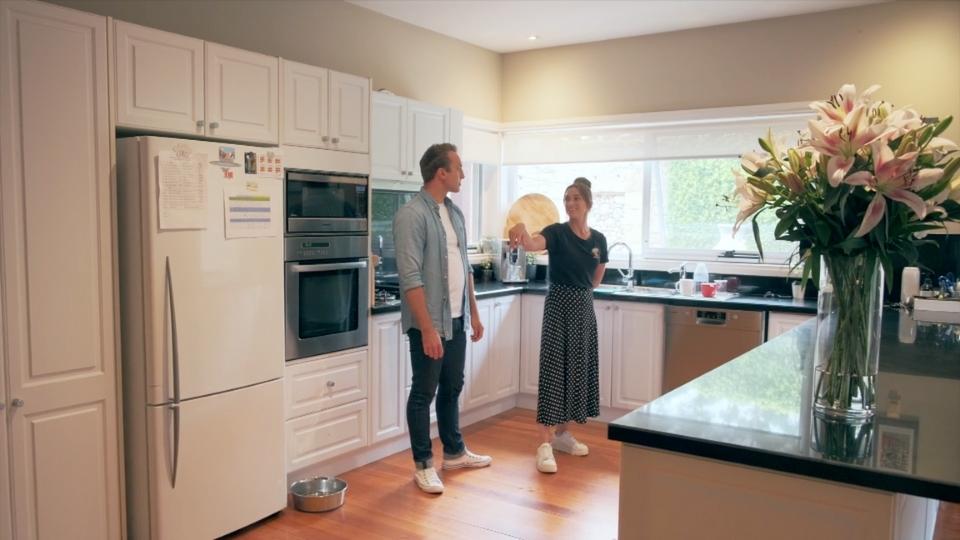 Moving further into the living, kitchen, and dining zones they immediately agreed they would be getting rid of the chandelier. They also weren't fans of the yellow and brown colour palette and the "claustrophobic" dining room space. They did, however like the size of the kitchen.
Ending on a high note, Jessie and Mel were blown away by the backyard, with Jessie saying he would live out there. Mel agreed, saying it's an entertainer's dream. Jessie even went so far as to say that it would win landscape week on The Block! High praise indeed. The only change they would consider is making the pool a little bigger.
Team Rebuild: Bec and George
Strolling up the street, Bec mused that it's "kinda the dream" to retire somewhere like there. Upon seeing the house for the first time, Bec had to admit that it isn't that bad. George, however, wasn't having a bar of it, declaring they should just "knock it down and build something new".
George had to swallow his words a little bit after walking into the master bedroom and spying the outdoor area through the window. He conceded that the property is nice but "you can't keep a house because of its landscaping".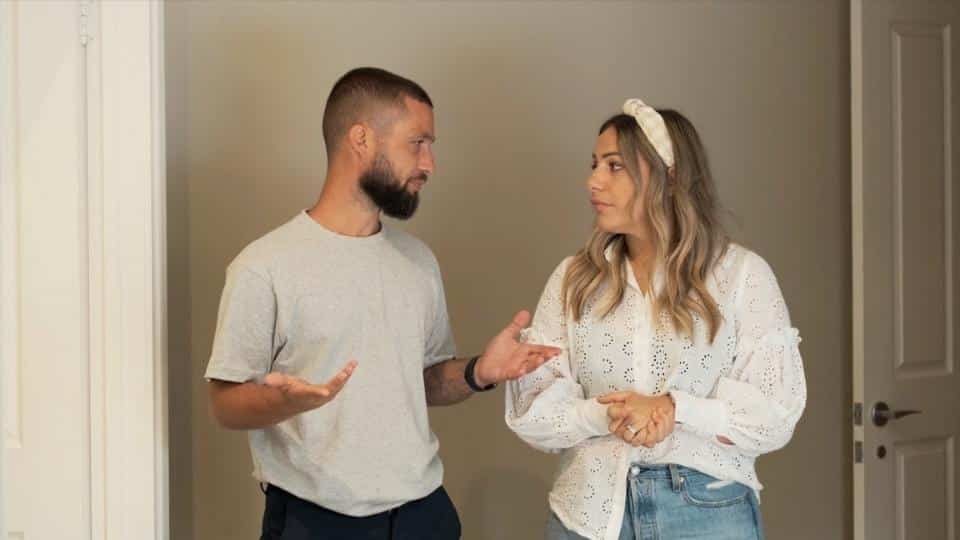 Entering the living, dining, and kitchen zone they gave a "no comment" on the chandelier. They agreed that the kitchen is nice and big. They even toyed with the idea of going double-height to try to get some beach views.
Like Team Renovate, they were stunned by the gorgeous outdoor area and its stark contrast to the interior of the house. They were clearly a bit worried about how a rebuild might impact the landscaping, particularly the mature hedging.
They also spotted the massive gas bottle in a fenced-off area of the backyard and wondered whether Matt and Lynelle are using gas to power everything.
Design Consultations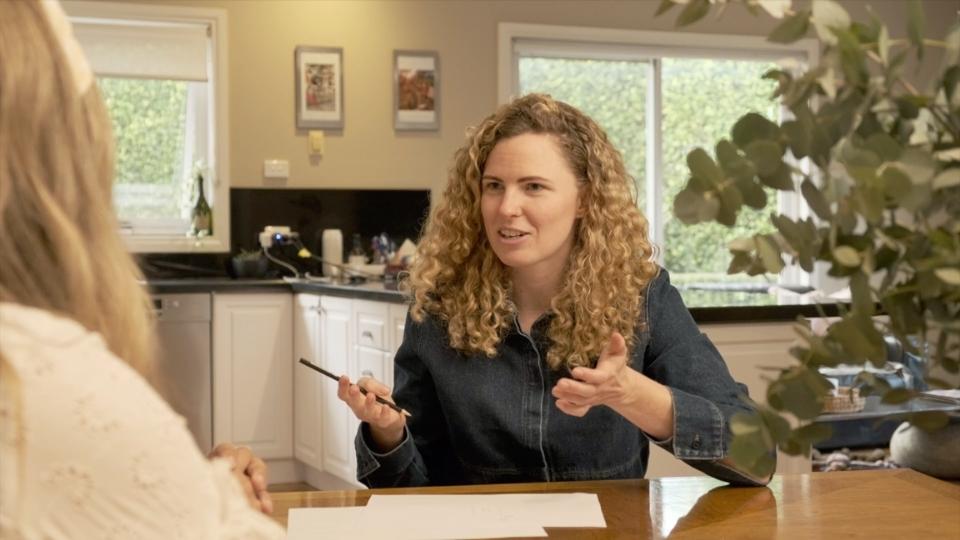 Assisting both teams with their designs is Madeline Sewell from Breathe Architecture, a Melbourne-based architect leading the way in sustainable architectural design.
Madeline's initial observations are that heating and cooling will be a challenge for both designs. She would be looking at ways to improve the 'thermal envelope' with double-glazing and insulation. Another hurdle is that that the island has no natural gas, so she was keen to adopt an all-electric solution run on green power.
Madeline sat down with both teams to discuss their initial thoughts and ideas.
Team Rebuild
Bec and George were pleasantly surprised to hear Madeline's opinion that a renovation would be harder than a rebuild.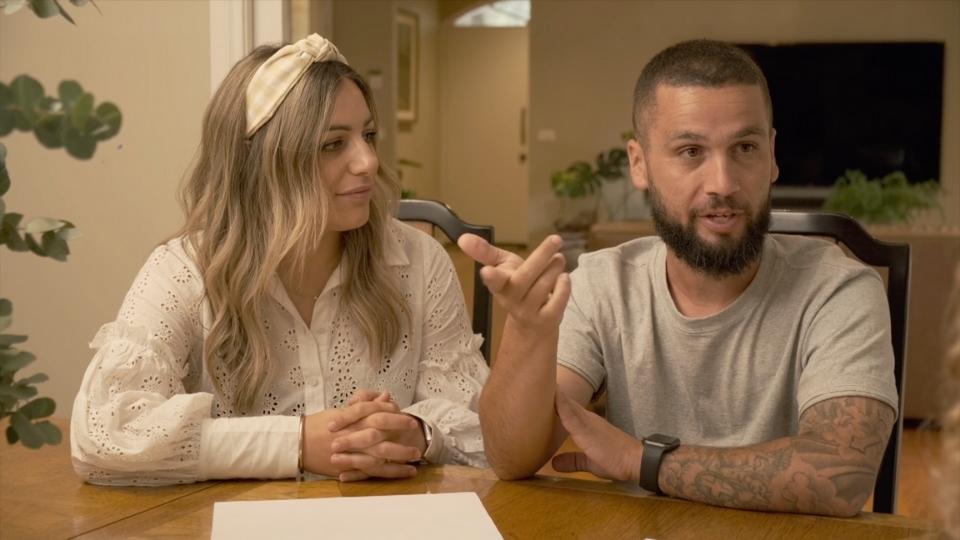 When considering the existing property, Madeline said that the orientation and aspect are not its strengths. In particular, the garage being located to the north is blocking a lot of the amenity and making the house dark.
She suggested moving the living and dining closer to the front of property and bedrooms further to back, so the parent and teens have a bit more privacy and the living areas are capturing more light.
Despite Matt and Lynelle's desire to have an ensuite in each bedroom, Madeline wanted to challenge that idea as bathrooms are very energy-intensive to produce.
Team Renovate
Sitting down with Jessie and Mel, Madeline began by saying that the strength of a renovation is they are already working with the bones of the site and have a leg-up environmentally.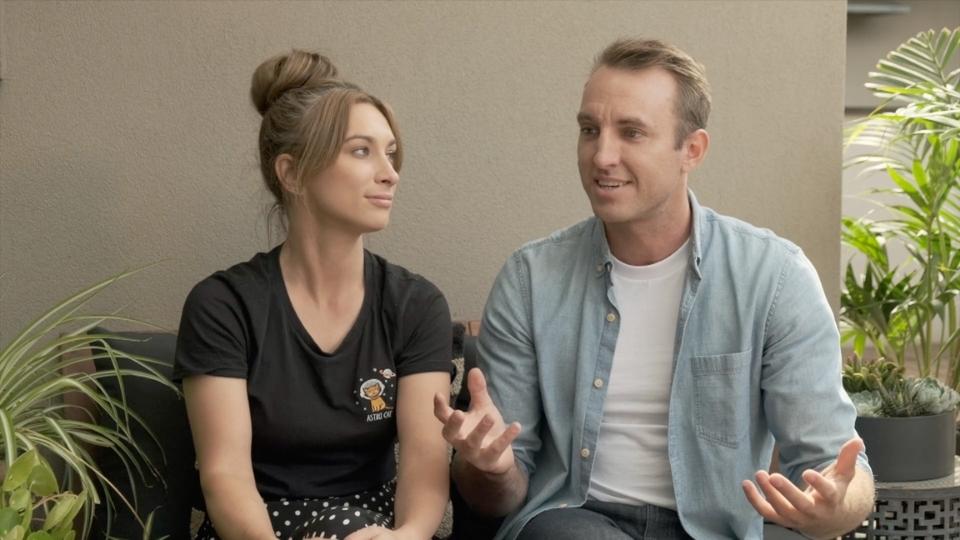 She suggested they could create thermal mass (the ability of a material to absorb, store and release heat) by doing a reverse brick veneer – peeling off the plaster inside and recladding the outside. When the sun hits the bricks it warms up and stabilises the temperature, ultimately requiring less energy to heat and cool.
She said another strength of the renovation is retaining the landscaping, which is both beautiful and sentimental for the family.
Designs: Ideas and Inspirations
While Madeline worked on the designs, the teams and homeowners visited a number of incredible properties for further inspiration.
Bec and George took Matt and Lynelle to visit a breath-taking new build that really encapsulates the modern, industrial design that they love.
Showing them around the property is Leigh Allchin, of Allchin Builders. The exterior showcased a multi-clad design with recycled red brick and Bondor panels. The interior shone with a classy industrial feel that was built for relaxing and entertaining, making the most of the swim spa and view.
Lynelle loved the kitchen with its long dark bench and spacious butler's pantry. She also loved the expansive walk-in robe. Matt was impressed by the natural light-filled open-plan design and the array of finishes. The moment he and Lynelle walked in, they agreed this is type of place they want to end up with.
Meanwhile, Jessie and Mel toured a magnificent property featuring its own private golf course. There's plenty to love about the home itself, with striking polished concrete floors, barn doors, tilt panels, a black kitchen, and a feature fireplace.
Jessie asked the homeowner Jon about the house's construction. Jon explained it's primarily a concrete construction with an insulated roof. The roof is designed to make the most of the aspect and the central courtyard captures the afternoon sun.
The expansive Deceunick uPVC windows and doors are a significant feature of the property. Widely used across Europe and UK, the uPVC products manufactured by Ultimate Windows are designed to withstand harsh climatic conditions, making them the ideal choice for coastal areas.
Next, George from Team Rebuild travelled to Cape Paterson to visit a unique eco village called 'The Cape' – part of a pilot program initiated by Sustainability Victoria. Here Jesse met with Simon Dunstaneco from SJD Homes to tour a sustainably-designed net-zero carbon home in the estate.
Looking around the estate, George noted the beachy, modern houses. Every home in the estate is built with energy efficiency and sustainability front of mind, with rooftop solar panels, double-glazed windows, insulation, and smart orientation with north-side windows to capture the winter sun.
The home that George visited, the 'Sandpiper' by SJD Homes, achieves thermal mass with the walls and the floors. The home has a 7-star energy rating, with all-electric appliances to take advantage of the solar system, and a heat pump water system instead of gas.
The eco village pilot program sets out to prove you can get net-zero carbon design into mainstream building. Simon is hopeful that this type of construction is going to be mainstream in as little as 5-10 years.
In their final quest for inspiration, Jessie and Mel visited Sarah and Luke Stronach's (from Arkana Energy) recently renovated property. The home was built in the early 80s and is surrounded by a beautiful natural landscape that Sarah and Luke wanted to capture from every room of the house.
Although the remodelled home is aesthetically stunning, the real draw for Jessie and Mel is the energy efficiency of the property. With ducted heating and cooling, Sarah and Luke's initial energy bills were incredibly high – over $800 a quarter. To combat this, they installed 34 black Hyundai solar panels, more than twice the size of a standard 6.6kW system. This didn't just reduce their electricity but wiped it out entirely. Being conscious of the aesthetics of their property, the sleek black panels achieved a great balance between function and design.

Final Designs
Team Renovate Design Highlights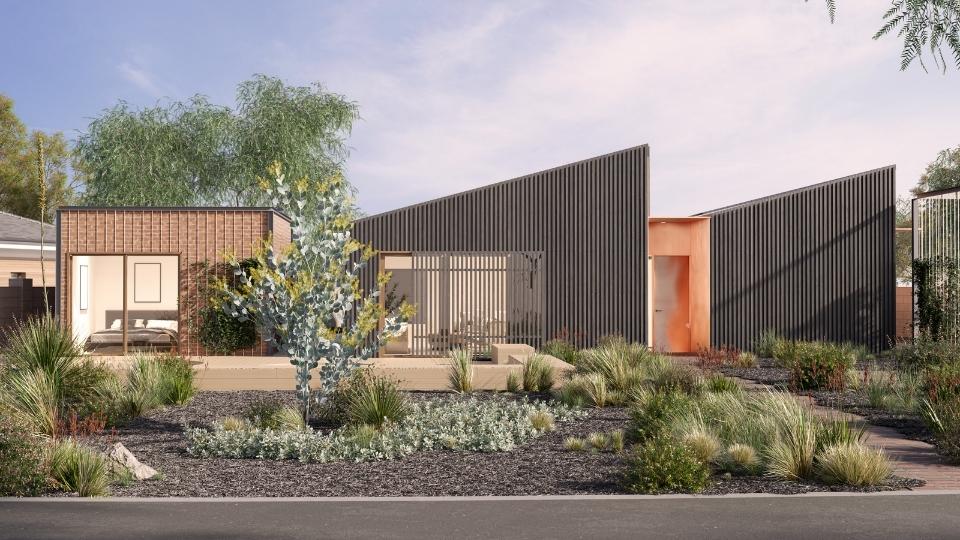 Used as many recyclable materials as possible
Sawtooth roof, bringing in natural light from the north and providing industrial vibes
Using charred timber and copper adds a luxurious and glam feel whist maintaining industrial feel
Cabana constructed with recycled brick
Internal space has been reimagined by moving bedrooms to quieter locations away from the street
Repositioned daytime living spaces to maximise natural light and capture winter sun
Indoor/outdoor living provided by generous kitchen island
Long central hallway separates living spaces from sleeping zones creating privacy for both parents and teenagers
Retained existing landscaping
Pool area given resort feel with addition of a small plunge pool and spa
Maintained existing brick walls by insulating and over-cladding on the outside, and converting walls to reverse brick veneer
The home is now electric, eliminating need for bottled gas
Can now generate own power with rooftop solar system
Improved orientation and insulation
Energy star rating of 7.3
Estimated total cost: $1,256,000
Team Rebuild Design Highlights
Reorientated home to capture natural light
Reused all existing plants throughout property
Stunning streetscape, with façade wrapped in natural timber batons, combined with individual series of pools and cabana, providing a coastal resort-style vibe
Roofline pitched dramatically towards a central courtyard, with glimpses of internal landscaping and trees peeking above the roofline
Beautiful, light-flooded central courtyard with living space surrounding it, providing cross-flow ventilation, natural light, and opportunity to purge heat in summer
Living, dining, and kitchen spaces are placed to the north side of the home and the generous butler's pantry rounds out the functionality of the living areas
Bedrooms are all located to the south-side to create comfortable and cosy sleeping zones
Each bedroom given Juliet balcony for amenity and luxury
Clever use of materials, including Forest Stewardship Council (FSC) certified Australian plywood lining instead of traditional plasterboard and the external baton sliding screens to provide shade, security, and privacy. All combine to create a sense of quality to design
All-electric home combined with rooftop solar system and battery storage system
Energy star rating of 7.6
Estimated cost: $1,463,000
Verdict
The two different solutions were judged by an expert panel on style, sustainability, and cost. The judges are real estate expert, Rachel El Deir, building and property expert, Natalee Bowen, and interior designer, James Treble. Each judge will give a final score out of 10.
Ultimately the decision will come down to Matt and Lynelle — will they renovate or rebuild? Their decision will add an additional two points to the final tally.
Team Renovate
Rachel: Really liked the design and particularly loved that they kept the backyard, which is a big selling point for a home with a lot of bedrooms. Concerned they might be overcapitalising with the budget. Score: 8.5/10
James: Was impressed with how they changed floorplan within existing frame, but felt they could have extended with extra land available. Loved the use of texture and the calming palette. Not sure how practical some finishes will be for cleaning. Budget seems way too high – do they need two pools or copper finishes, or can the cabana be smaller or added later on to reduce costs. Score: 8/10
Natalee: Thinks it's a gorgeous home that captures modern coastal feel inside. She would probably have made some different choices, particularly when it comes to the ambiguity of the front entrance. Also disappointed design doesn't capture north light. Felt budget was too high for what was being delivered. Score: 7.5/10
Total Score: 24/30
Team Rebuild
Rachel: loved the design, particularly the façade and the cabana. Appreciated the orientation and aesthetics of the living space. Interior garden is a massive wow-factor for her. Would be happy to move in. Only down-side is having parking at rear which compromise backyard. Score: 8/10
James: Liked how the floorplan was able to be altered, but wasn't sold on the driveway and think the home could have been extended without pushing it into the rear. Loved the central courtyard and zoning. Score: 8.5/10
Natalee: Got the materials right to achieve coastal, modern, and industrial aesthetic design brief. Impressed with sustainability and high energy rating. Loved that it captures north-facing sunlight. Score 8/10
Total Score: 24.5/30
Final decision: Renovate or Rebuild?
Once again, it's up to the homeowners to settle on the winners of this round.
Leading up to the reveals, Lynelle was always leaning towards a rebuild because it made more sense to get a brand new home unless, of course, there was going to be a major price difference.
In saying that, Team Renovate's design blew both Matt and Lynelle away with its beautiful design. Lynelle couldn't believe it was the same footprint as the existing house as it felt so much larger.
After seeing Team Rebuild's design they were blown away a second time.
It was clearly a very difficult choice for Matt and Lynette, loving both designs.
Knowing they had to make a decision, they finally decided on Team Rebuild's design much to Bec and George's delight.
While Jessie and Mel were disappointed, they were ultimately happy because the homeowners were happy.
At the end of the day, Matt and Lynelle's decision came down to budget. While they liked aspects of both, by spending a little bit more they were able to achieve a brand new design that better suits their block.
Congratulations Team Rebuild!