Global PV inverter shipments will reach a record 63.5 gigawatts this year (up from 59.7 GWac in 2015), and are forecast to reach 100 gigawatts by 2021.
It won't be a steady rise to that 2021 figure according to a new report by GTM Research. There will be a bump in the road in 2017, with shipments expected to drop 5% next year. However, revenue will only fall by 1.2 percent thanks to gains from the residential string inverter segment and module level power electronics such as Enphase microinverters.
The report also indicates the solar PV inverter market is concentrating. The top 10 inverter manufacturers accounted for 80 percent of global shipments in the first half of this year and the top five made up more than half.
"We haven't seen the leading vendors hold share this high since 2010, when solar demand was highly centered in continental Europe," said author of the report,  Scott Moskowitz.
During the first half of 2016, the leading inverter companies by shipments were Huawei, Sungrow and SMA respectively. SMA led the pack based on revenue, improving its rankings due to its leading position in the U.S. market.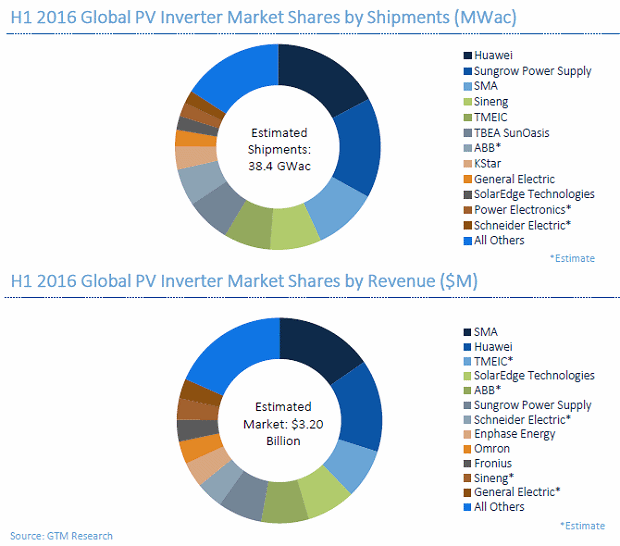 GTM Research forecasts new markets in the Middle East and Southeast Asia will be the fastest growing regions globally from between 2016 and 2021; with each region growing at compound annual growth rates above 25% over that time.
The solar inverter retrofit market is still small, but expected to grow as warranty expirations loom for several gigawatts of installed units.
The report states the solar plus storage market presents challenges for vendors and is still small compared to standalone solar, but vendors able to help define the market " will be rewarded for their efforts".
SolarEdge gets a mention in the executive summary for its aggressive price reduction strategies, as does Ingeteam for its acquisition of Bonfiglioli's solar PV inverter business in June this year; a move designed to accelerate its global expansion.
Mr. Moskowitz says solar inverter prices have plummeted 10 percent in some segments just over the last six months.
"Pricing pressure remains a constant, unrelenting reality in the maturing solar inverter market," he stated.
More from The Global PV Inverter and MLPE Landscape H2 2016 can be downloaded here
Related:
Micro, String and Central Inverters – What's The Difference?