Battery storage has won agreements for the first time in the UK's Capacity Market auction, with approximately 500MW capacity expected to be operational by 2020-21.
The auction secured 52GW of electricity capacity for winter 2020/21.
"We are rebuilding an archaic energy system, bringing forward brand new gas power and innovative low-carbon capacity like battery storage to upgrade our energy mix," said Business and Energy Secretary Greg Clark.
"This is about more than just keeping the lights on. A modern, reliable, and flexible electricity system powers the economy and Britain's future success."
Centrica was one of the winners in the auction. It will develop two 50MW fast response distributed generation gas-fired power generation facilities in North East Lincolnshire and Cambridgeshire, a 370MW combined cycle gas turbine at King's Lynn in Norfolk, plus build a 49MW battery storage facility at Roosecote in Cumbria.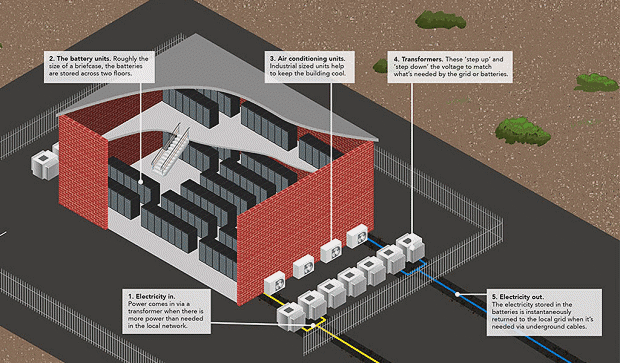 "The battery storage facility, which will be one of the world's largest of its kind, will be capable of holding enough power to meet the needs of around 50,000 homes, responding to fluctuations in demand in under a second," says Centrica.
In other recent energy storage news from the UK, Europe's first grid-scale Tesla Powerpack installation was unveiled last week at Somerset.
Co-located with a solar farm, the battery system will enable enough renewables-based electricity to be delivered to the electricity network for 500 homes when required.
"Innovation in storage technologies will help manage our electricity grid more efficiently, support greater energy security and, crucially, drive down consumer bills," said Energy Minister, Baroness Neville-Rolfe, who officially opened the site on Wednesday local time.
As with Powerwall, Tesla Powerpack recently received a boost in capacity and features. Tesla Powerpack 2 provides twice the energy density and a more seamless grid integration.
As well as the UK, commercial energy storage is expected to have a major impact on how Australian businesses manage their electricity costs in the years ahead. Commercial battery systems enable businesses to slash peak demand charges, shift electricity consumption profiles and to extract the most value from commercial solar installations.