The end of October should see the arrival on New Zealand shores of Seacharger, which may be the first unmanned surface vehicle (USV) to cross an ocean on solar power alone.
The craft set out from Hawaii on July 27 on a pre-programmed route. While autonomous, it can also be controlled remotely in case it needs to avoid unforeseen obstacles.
Seacharger is around 2.3 metres long and weighs approximately 22kg. It's powered by two 100W solar panels and a 16V LiFePo4 battery pack consisting of 50 x 26650 cells, providing total capacity of 500 Wh.
A brushless motor with belt drive reduction spins the propeller through magnetic coupling. Seacharger can travel at around 1.3 m/s (2.5 knots) in calm water, but is slowed down in rougher conditions.
Communications are via a RockBLOCK Iridium satellite modem.
As at Tuesday, the craft had already travelled more than 6,200 kilometres and at that point was around 1,400 kilometres from NZ. Due to the buffeting by wind, currents and times when the motor isn't operating; it certainly hasn't been a straight line journey as indicated by the tracker (the red line – of sorts; there's been a lot of zig-zagging).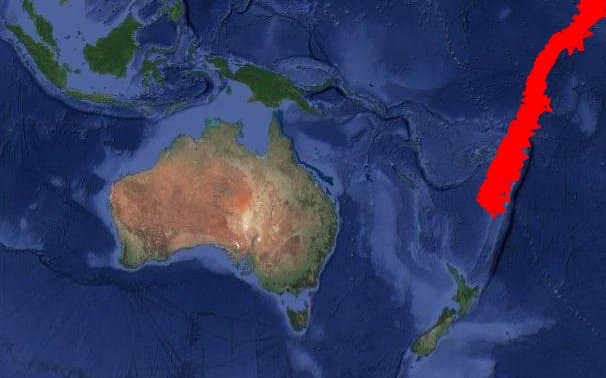 Apparently this journey was a spontaneous affair.  Scoop.nz reports after Seacharger successfully made a trip from California to Hawaii, one of its creators wasn't keen on pay the shipping cost to send it back home. Instead, he thought he would see if it would make it to the other side of the Pacific. However, he might find the shipping costs even steeper should it succeed as it's twice the distance from California.
And there is a good chance of success. The duo behind Seacharger are very familiar with USV's powered by renewable energy. Mr. MacMillan is currently working on solar-assisted wavegliders at Liquid Robotics.
As for the motivation behind the mission? "Just having fun and learning stuff."
Even if it doesn't make it to New Zealand, Seacharger would have fared much better than the ill-fated Solar Voyager, an autonomous solar powered kayak that ran into troubles in the Atlantic in June after its propeller was fouled in fishing gear. Its mission cut short just a few weeks after launch, the vessel was rescued  by a Canadian warship.