Liquid Robotics recently announced its fleets of solar assisted Wave Gliders have reached 1 million nautical miles at sea. That's 1,852,000 kilometres to us metric-talkin' landlubbers.
Unmanned ocean vessels are increasingly being used to measure and monitor conditions and on reconnaissance missions; collecting and communicating environmental, security, weather and seismic data.
The Wave Glider is propelled with a two-part mechanism that exploits the difference in wave motion at the water's surface with that a short distance beneath to provide thrust.
The deck of the Wave Glider is coated with solar panels, with the S V3 model boasting 150W capacity. Electricity generated is stored in a battery that can range from 0.9-4.5kWh capacity. While the energy is primarily used to power instruments, in the S V3 the craft can get an added speed boost and maneuverability from a propeller driven by an electric motor.
It hasn't all been smooth sailing for the Wave Gliders – literally speaking – but they've proven their mettle by enduring all sorts of inclement weather; including 17 hurricanes.
Liquid Robotics says the Wave Glider holds the Guinness World Record for the longest journey by an autonomous, unmanned surface vehicle on the planet. It was also the first USV to complete missions from the Arctic to the Southern Ocean. A couple of the robots first visited Australian waters in 2012.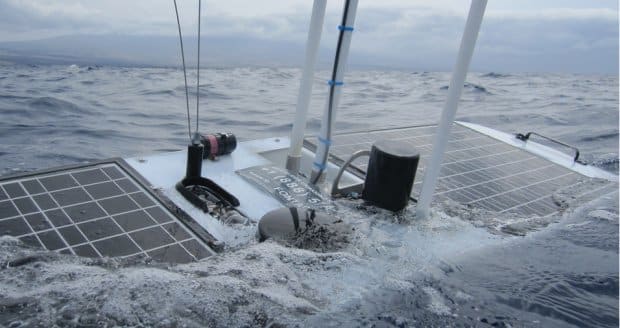 The recent milestone is the equivalent of approximately 46 times around the world.
"For the unmanned systems industry surpassing one million nautical miles is a landmark event," said Dr. James Bellingham, Director Center for Marine Robotics, Woods Hole Oceanographic Institution.
"It clearly proves Wave Gliders (USVs) can sustain long duration operations required for scientific and defense missions. They're changing how we explore and protect the ocean."
It was recently announced Wave Gliders have joined the battle against illegal fishing in the world's largest, continuous marine reserve around the Pitcairn Islands in the Pacific.
The Wave Gliders will be controlled via a satellite watch room; taking photos of fishing vessels operating in restricted areas and pinpointing the location of the rogue fishing operations.
Robotic craft like the Wave Glider aren't just clean and green, they are also cutting costs and reducing risks involved with surveillance activities.
Another unmanned marine vessel (UMV) we recently covered was the Datamaran.