UGE International Ltd. has installed two on-site wind turbines on the Eiffel Tower as part of a major renovation to the first floor of the iconic structure.
The two UGE VisionAIR5 wind turbines will produce 10,000 kilowatt hours annually, enough to power the commercial areas of the Eiffel Tower's first floor.
The vertical-axis VisionAIR5 turbine has a height of 5.2m and a width of 3.2m. It has a cut in wind speed of 3.5 m/s and a survival wind speed of 50 m/s. UGE says the VisionAIR5 has been designed for a service life of at least 20 years and is 'quieter than a human whisper'.
"The Eiffel Tower is arguably the most renowned architectural icon in the world, and we are proud that our advanced technology was chosen as the Tower commits to a more sustainable future," said Nick Blitterswyk, CEO of UGE. "When visitors from around the world see the wind turbines, we get one step closer to a world powered by clean and reliable renewable energy."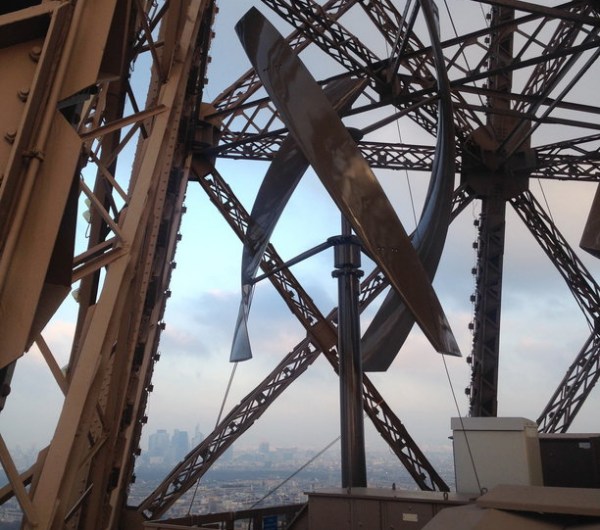 In addition to wind power, the first floor renovation also included LED lighting and a solar hot water system mounted on Ferrié Pavilion; the output of which will supply approximately 50% of the water heating needs of the first floor's two pavilions.
A rainwater recovery system has also been installed to provide flushing water for toilet facilities.
High-performance heat pumps have been integrated to improve temperature control and glazing has been used to reduce summer solar heat gain by more than 25%, reducing air conditioning related energy consumption.
The renovation project was the most ambitious Eiffel Tower refurbishment in nearly 30 years.
Tower trivia
The Eiffel Tower was constructed in 1889 as the entrance arch to the 1889 World's Fair. At 324 metres, it's the tallest structure in Paris and was the tallest man-made structure in the world until 1930. The iron in the Eiffel Tower weighs 7,300 tonnes and the entire structure is approximately 10,000 tonnes. Holding together the iron latticework are 2.5 million rivets.
As with the Sydney Harbour Bridge, painting is a major maintenance task. 60 tonnes is used for every 7 year repaint.
More than a quarter of a billion people have visited the Eiffel Tower since it was opened.