The U.S. Department of Energy says its multi-billion dollar SunShot program has achieved over 90 percent of its stated goal to make solar energy fully cost-competitive with traditional energy sources by 2020.
Spurred on by its success, the DoE has announced a target to further reduce the price of solar-generated electricity by 50 percent by 2030.
Since the SunShot Initiative was launched by President Obama in 2011, solar deployment has grown more than tenfold in America. More than one million solar installations are in operation across the country and the cost of solar power has dropped by 65 percent.
Modelled on President John F. Kennedy's "moon shot" program – an ambitious national plan that resulted in America landing a man on the moon – SunShot aimed to drive down the cost of utility-scale solar to $1 per watt, or $0.6 per kilowatt hour (p/kWh), without government subsidies, by 2020.
In 2016, this goal is nearly realised, with the price of utility-scale solar in the U.S. now averaging $0.7 p/kWh.
According to the DoE, since its inception five years ago, SunShot has exceeded 70 percent of its commercial and residential cost targets, and the market is now in a position to achieve these goals by 2020.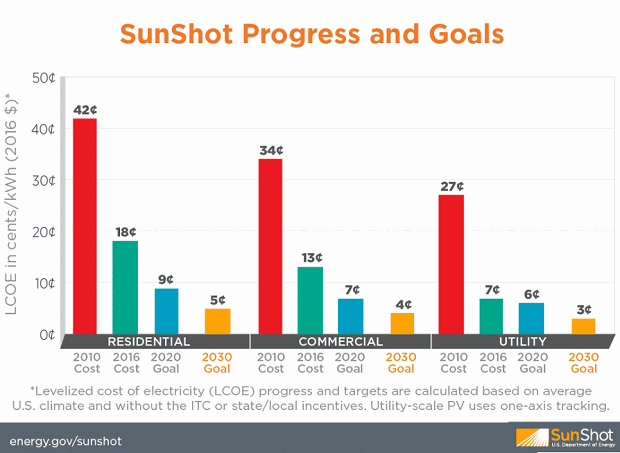 Under the new 2030 SunShot targets, solar electricity costs fall even further, to an average $0.03 p/kWh for utility-scale solar, $0.04 p/kWh for commercial solar, and $0.05 p/kWh for residential solar power systems.
Recent modelling shows that realising these targets could double the projected amount of nationwide electricity demand that could be met by solar; to 14 percent in 2030 and 27 percent in 2050, with the national economy reaping up to $400 billion in environmental and health benefits.
"Both SunShot and the solar industry have made major strides to reduce costs for innovative technologies which resulted in dramatic market growth and the creation of hundreds of thousands of American jobs," said DOE Acting Assistant Secretary David Friedman.
The Energy Department has announced $65 million in new funding to support the expansion of SunShot out to 2030 – subject to U.S. Congressional approval.
The program is calling on industry and public institutions to seize the opportunity to access federal cash, with $25 million available for innovations in photovoltaic module research and development; $30 million to help speed the commercialisation of solar projects; and $10 million to help improve solar irradiance and power forecasting tools for utilities.
"These new goals and funding will further push down costs, save American consumers and businesses money, and create even more jobs."