There are now officially more than 1.6 million small solar panel systems installed throughout the nation; enough to supply the electricity needs of 1.4 million Australian households.
While October wasn't the busiest of months for installations by any stretch, 5,169 small wind, hydro and solar systems were installed nationally in October. This represented a total generation capacity of 22,225kW and further boosted Australia's already impressive totals.  Solar panels made up the vast majority of the figures.
The CER's current "Cracking The Small Scale Code" states Queensland again had the highest number of small-scale installations, with 1,595 systems installed last month. Western Australia overtook New South Wales last month for second place.
Small scale commercial solar power installations are becoming more commonplace as companies start becoming more aware that harnessing the power of the sun can improve their bottom line. There were 210 commercial sized solar PV systems (10 – 100kW) installed across Australia last month. New South Wales led the states with 61 commercial sized solar PV systems.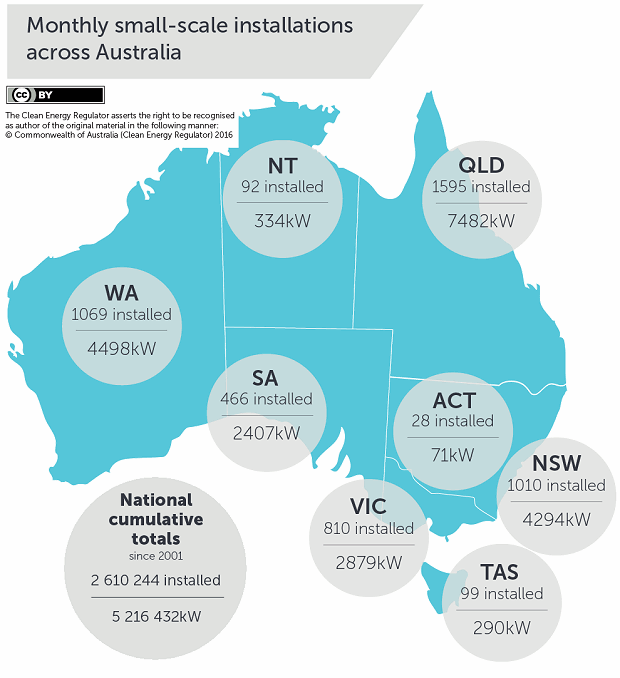 "Across Australia small-scale renewable energy systems now have the capacity to generate or displace approximately 9.5 million megawatt hours of electricity each year. That is enough to power more than 1.4 million average Australian homes." stated Mark Williamson, the Clean Energy Regulator's Executive General Manager.
Added to the cumulative October solar PV statistics are 805,495 solar hot water systems and 202,519 air source heat pumps.
With regard to solar battery systems, 53 PV installations also had a concurrent battery storage addition in October, bringing the total to 1,961.
It's important to note these battery statistics do not include energy storage retrofitted to existing solar power systems. As to that number, it's anyone's guess – but given the number of enquiries Energy Matters receives from existing solar owners regarding retrofits; it would boost that number significantly.
Energy Matters is expecting increased interest in solar batteries after launching its current and limited special offer – up to $2,500 off German-made sonnen battery systems.
The Clean Energy Regulator keeps tally of running totals since the Small-scale Renewable Energy Scheme commenced in 2001.