Microsoft has inked two agreements for wind power in the USA, which combined represent 237 megawatts of capacity.
Microsoft contracted with Allianz Risk Transfer (ART) to purchase the certificates accompanying the new 178-megawatt Bloom Wind project in Kansas, using a new structure that the company states has the potential to bring clean energy projects online at a more rapid clip.
The second agreement involves the purchase 59 megawatts of renewable energy certificates from the Happy Jack and Silver Sage wind projects, which are situated next to Microsoft's Cheyenne, Wyoming, datacenter. The arrangement will cover all the electricity use of the datacenter.
Announced early this week, the new additions to Microsoft's renewable energy stable bring the company's total investment in wind energy projects in the U.S. to more than 500 megawatts.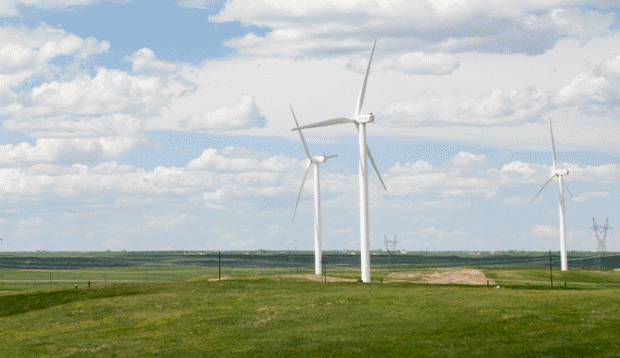 "Microsoft is committed to building a responsible cloud, and these agreements represent progress toward our goal of improving the energy mix at our datacenters," said Brad Smith, Microsoft's president and chief legal officer. "Our commitment extends beyond greening our own operations because these projects help create a greener, more reliable grid in the communities in which we operate."
The projects join the 175-megawatt Pilot Hill wind farm in Illinois and 110-megawatt Keechi wind project in Texas.
In May this year, Microsoft committed to increasing the amount of directly-sourced solar, wind and hydropower used in its datacentres to 50 percent by 2018 and has set an additional goal of 60 percent early in the next decade.
In May, while the company was already sourcing 100 percent of the electricity used by its datacentres from renewables, only approximately 44 percent of that power was sourced from wind, solar and hydropower.
Microsoft is a heavy-hitter in the U.S. Environment Protection Agency's (EPA's) Green Power Partnership and has been carbon-neutral since June 2012.
According to the Partnership's recently updated Top 100, Microsoft's annual green power consumption was 2,699,210,000 kWh. It ranks no.2 on the list, behind Intel Corporation. Microsoft was Partner of the Year in 2012, 2013 and 2015.
The software and cloud services giant says it has been 100 percent powered by renewable energy since 2014.