The latest episode of Road to Zero welcomed the director of Ultimate Windows, Tye Spierings. Tye chatted with Roshan about the new National Construction Code (NCC) targets and how Ultimate Windows is helping homeowners meet them.
Ultimate Windows featured their uPVC windows on season 1 of Renovate or Rebuild, as well as the upcoming season which will be airing in early 2024. Their uPVC windows and door are game changers, with airtightness and thermal Insulation.
New home builds looking to meet the new targets for the Nationwide Energy Rating Scheme (NatHERS) will benefit from the windows and doors available through Ultimate Windows. Whilst if you're looking to save more on energy, you can also get FREE solar quotes here at Energy Matters.
What are the new National Construction Code (NCC) targets?
The 2022 NCC brought in changes that increased the minimum energy efficiency standard from the existing 6 stars to 7 stars under the Nationwide Energy Rating Scheme (NatHERS). These changes came into effect in May 2023. In addition, a new requirement will see a 'Whole of Home' rating. This rating will now take into account fixed appliances as well as the thermal envelope of the dwelling.
Homes will now be provided two certificates: one for the usual energy rating out of 10 stars and the second for the new 'whole of home' rating out of 100. There are many facets considered and measured in the whole of home rating, including heating and cooling systems, solar systems, pool pumps, and appliances. The building rating is not considered in the whole of home rating, as these are addressed separately.
The changes to the NCC targets address the need for new home builds to utilise and install greater energy-efficient products. These products reduce reliance on electricity and gas to heat and cool the home and run appliances. Examples of how to achieve a 7-star rating can be found via the button below.
What is uPVC and how is it a game changer?
uPVC stands for Unplasticized Polyvinyl Chloride, which is a type of rigid plastic commonly used in the construction industry for windows and doors. It is a popular material for these applications due to its numerous benefits:
Durability:
uPVC is highly durable and long-lasting. It is resistant to weather conditions such as rain, sunlight, and extreme temperatures, which helps prevent fading, warping, or deterioration over time.
Low maintenance:
uPVC windows and doors are easy to maintain. They do not require painting or varnishing and can be easily cleaned with soap and water. Unlike materials like wood, they do not rot, rust, or corrode.
Energy efficiency:
uPVC has excellent insulation properties, which contribute to energy efficiency in buildings. It helps to keep the interior temperature stable by preventing heat transfer through the windows and doors. This reduces the reliance on heating or cooling systems, leading to lower energy bills.
Sound insulation:
uPVC provides effective sound insulation, reducing the amount of external noise that enters the building. This is especially beneficial for homes or buildings located in noisy areas or near busy roads.
Security:
uPVC windows and doors are designed to enhance security. They often have multi-point locking systems, reinforced frames, and toughened glass options, making them more resistant to break-ins and burglaries.
Versatility:
uPVC can be easily shaped and moulded into various designs, allowing for customisation according to architectural requirements. It comes in a wide range of colours and finishes, enabling homeowners to choose options that match their aesthetic preferences.
Cost-effective:
uPVC windows and doors are generally more affordable than alternatives such as wood or aluminium. The lower initial cost, combined with the long-term durability and low maintenance requirements, makes UPVC a cost-effective choice for many homeowners.
Ultimate Windows is leading the way in this new material as one of only a handful of manufacturers in Australia to produce uPVC windows and doors. Located in Victoria, and with a showroom in Canberra, the team of 40 plus staff boast of the benefits of uPVC to the construction industry, and the impact it will have on increasing the energy efficiency of homes.
Ultimate Windows provides your home with increased energy efficiency
With their high-efficient windows, Ultimate Windows can help your home achieve a 7-star rating. uPVC window frames and double-glazed windows can provide your home with thermally-efficient windows to reduce your energy bills and increase your energy rating.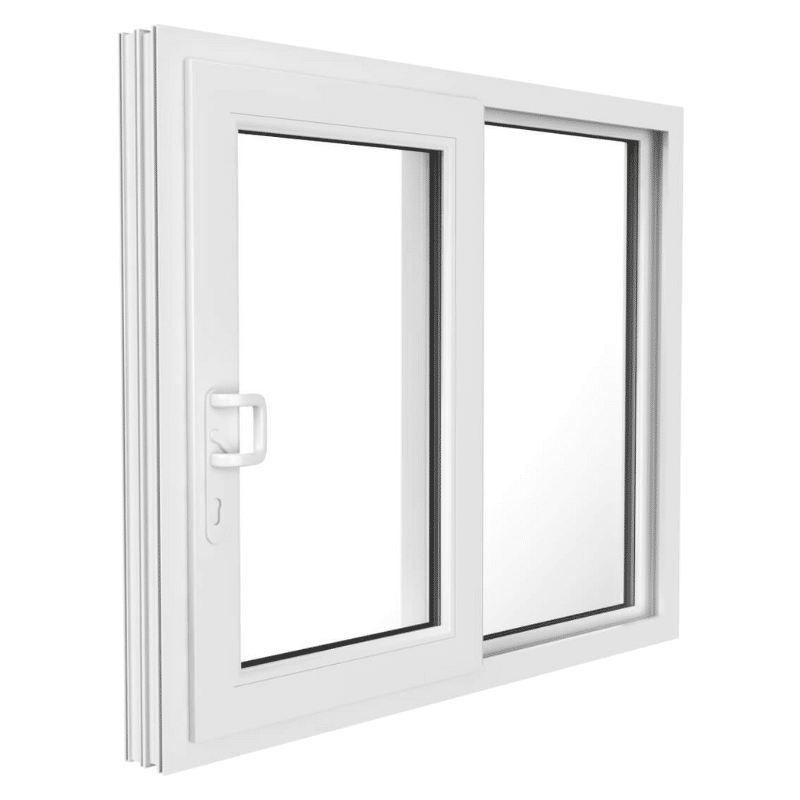 With the Euro, Sliding, and Lift & Slide systems available, Ultimate Windows has the solution for your home's window needs.
Euro System
The Euro system offers exceptional insulation and durability while requiring minimal maintenance. It is also fully recyclable. Its thermal performance is derived from the innovative design featuring 5 chambers within the 70mm frame width, which enhances both thermal and acoustic insulation. The majority of frames and operations include gasket sealing and multi-point locking, ensuring a high level of air tightness. This system is available in various window styles such as Awning, Tilt & Turn, Casement, and fixed windows. Additionally, it offers door options like Hinged, French, and Tilt & Turn. The Euro system provides U-Values ranging from 2.3 to 1.6 and SHGC between 0.43 and 0.24.
Sliding System
Ultimate Window's sliding system is a versatile solution for convenient access to your home. The 92mm system is specifically designed to deliver superior insulation for sliding doors. The main profiles and materials within this system prioritize insulation performance. With U-Values ranging from 2.4 to 1.8 and SHGC between 0.43 and 0.27, our sliding system ensures energy efficiency while maintaining an optimal level of natural light.
Lift & Slide System
The Lift & Slide system is an advanced sliding system with gasket sealing, specially engineered to provide exceptional insulation. All profiles and accessories in this system adhere to a 175mm frame width, while the sashes boast a width of 76mm, featuring 4 insulation chambers. With U-Values ranging from 2.4 to 1.7 and SHGC between 0.43 and 0.27, the Lift & Slide system offers outstanding thermal performance, ensuring energy efficiency and comfort in your living space.
Ultimate Windows
With offices and showrooms in Wodonga and Bundoora in Victoria, and Hum in the ACT, contact Ultimate Windows today to see how they can improve your home's energy efficiency.
1300 898 782
https://ultimatewindows.com.au/
Looking to increase your home's energy efficiency? Have you considered installing solar or upgrading your hot water system to a heat pump? Request FREE quotes today from local installers.