On June 25, 2023, the Australian Capital Territory (ACT) Government released its 2023-24 Territory Budget, unveiling several groundbreaking initiatives aimed at achieving the region's goal of reaching net zero greenhouse gas emissions by 2045. Key highlights of the budget include significant investments in the Sustainable Household Scheme, a pioneering Government electrification project, and other sustainability-focused projects. These endeavours not only prioritise the environment but also aim to improve the lives of ACT residents and reduce their cost of living.
Switching to a better plan? You may already have an energy plan but want more power or to shop for a better deal.
Energy Matters'  "Energy Bill Comparator" is a cutting-edge energy comparator tool that allows you to compare your area's most competitive retail offers. We collect the data from our wide range of trusted retailers, allowing you to decide about changing your plan.
If your goal is to get more electricity and minimise the cost of your gas and electricity bills, switch to a better plan now!
Sustainable household scheme
Cheaper, cleaner solar energy for multi-unit apartments
Canberra residents in multi-unit apartments will soon have access to cheaper and cleaner solar energy. The Commonwealth and ACT governments will invest $3.6 million to promote the installation of shared rooftop solar on apartment blocks. This initiative will benefit around 2,100 households, potentially reducing their electricity bills by up to 35%.
Under the program, multi-dwelling body corporates can receive up to $100,000 for rooftop solar. The funding will be split equally between a Commonwealth rebate from the Solar Banks initiative and an interest-free loan from the ACT Government's Sustainable Household Scheme. Approximately 92% of apartments are eligible for this program, which aligns with the solar eligibility criteria of the Sustainable Household Scheme. Applications will open later this year.
The $3.6 million investment is part of the Sustainable Household Scheme's $80 million boost through the 2023-24 ACT budget. Overall, the Commonwealth has committed $101 million to shared solar, benefiting more than 25,000 households across Australia. Additionally, the 2023-24 Federal Budget has allocated over $1.7 billion for energy-saving upgrades in homes, businesses, social housing, and local governments.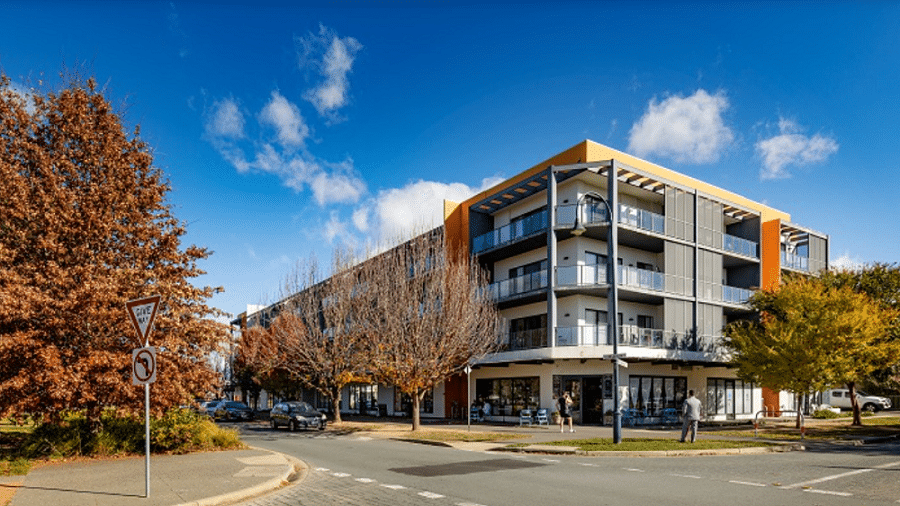 Government electrification project
In alignment with the ACT Government's commitment to phasing out fossil-fuel gas, the 2023-24 Territory Budget dedicates almost $70 million to electrify government-owned and operated buildings. This ambitious project aims to replace gas heating and hot water systems with electric alternatives in various government facilities such as schools, hospitals, emergency services, and government offices.
This significant investment not only contributes to the government's goal of achieving zero emissions from its operations by 2040 but also stimulates the growth of the commercial upgrades industry in Canberra. The initial electrification upgrades will take place at the Manuka Pool, Weetangera Primary School, and the Gungahlin Joint Emergency Services Centre.
Big battery project and expanded home energy support program
To further accelerate emissions reduction efforts, the ACT Government will invest in the Big Canberra Battery project. This initiative aims to deploy large-scale and neighbourhood-scale batteries to power ACT homes and businesses. By integrating battery storage systems, the territory can increase energy efficiency, enhance grid stability, and promote renewable energy utilisation.
Moreover, the Budget expands the Home Energy Support Program, extending the range of vulnerable households eligible for rebates. From July 1, 2023, homeowners holding a Health Care Card will be eligible to access the program. Low-income homeowners with a Pensioner Concession Card, Veterans Gold Card, and Health Care Card can receive a 50% rebate of up to $2,500 for installing rooftop solar and energy-efficient products.
Acknowledging the growing adoption of electric vehicles in Canberra, the ACT Government will allocate additional funds to expand the public EV charging network. The investment aims to achieve the target of 180 public EV chargers by 2025, supporting the transition to zero-emission vehicles. By providing convenient and accessible charging infrastructure, the government aims to further encourage the uptake of EVs in the region.
Are you ready to embrace a greener future by installing an electric vehicle (EV) charger? Imagine the convenience of having your own charging station, allowing you to power up your EV whenever it's convenient for you. You can contribute to a cleaner environment and combat climate change by installing an EV charger at your home or business. Energy Matters' trusted local installers are ready to provide you with a personalised quote tailored to your specific needs. 
Don't wait any longer; request your quote today and be part of the EV charging revolution!
Quotes from ACT Chief Minister Andrew Barr
Quotes from ACT Chief Minister Andrew Barr demonstrate his commitment to sustainability and the positive impact of these initiatives on the community.
"Through the Sustainable Household Scheme, we are pleased to be easing the cost-of-living pressures many Canberra households are facing, while also supporting the local economy.
"The huge success of the Scheme to date has shown that households want to play their part towards a more sustainable future. We thank Canberrans for being on board.
"Under this next phase of the Scheme, we're helping Canberrans transition from gas to electricity, by upgrading their electrical appliances. This will have an enormous impact on the sustainability of Canberra households and will also have a positive impact on family budgets."
ACT government's achieving net zero greenhouse gas emissions
The ACT Government's 2023-24 Territory Budget showcases its dedication to combating climate change and achieving net zero greenhouse gas emissions by 2045. Through increased funding for the Sustainable Household Scheme, pioneering electrification projects, installation of rooftop solar on multi-unit apartments, and expanded support for EVs and renewable energy infrastructure, the government aims to reduce carbon emissions, improve energy efficiency, and ease cost-of-living pressures for its residents.
Source&Images: ACT Government Media Releases and Everyday Climate Choices
Energy Matters has been a leader in the renewable energy industry since 2005 and has helped over 40,000 Australian households in their journey to energy independence. 
Let us discuss and choose the best quote that suits your needs and budget, and we can connect you with our trusted local installers, who will provide up to 3 FREE quotes for your home and business solar energy system. Get your free quotes today!