The United States surpassed 20 gigawatts of operational solar photovoltaic capacity during the second quarter of this year and the residential sector broke another installation record.
GTM Research and the Solar Energy Industries Association's (SEIA) Q2 2015 U.S. Solar Market Insight Report says the USA installed 1,393 megawatts solar PV during Q2.
Residential solar had another record-breaking quarter, with 473 megawatts installed – 70 percent growth year-over-year and 6% over Q1 2015. 10 states installed more than 10 MW capacity in the second quarter of this year.
729 MW of utility-scale solar PV was made operational in the second quarter and 5GW is currently under construction. Q2 was the 9th consecutive quarter where the utility-scale PV sector added at least half a gigawatt capacity. The contracted utility PV pipeline currently sits at 16.6 GW.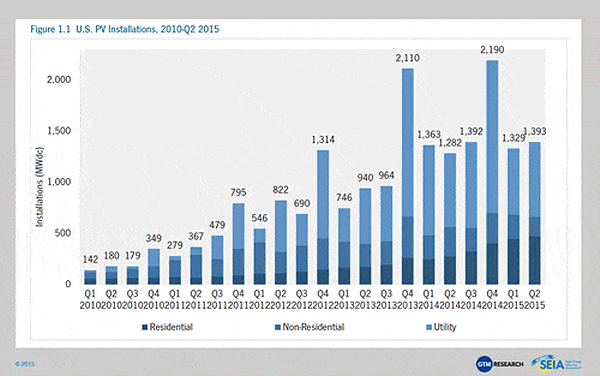 "The utility PV market continues to be the bedrock driver of new installation growth. And in the second half of this year through 2016, growth will reach new heights as a higher share of what comes online stems from projects procured purely based on centralized solar's cost competitiveness," said Shayle Kann, Senior Vice President at GTM Research.
However, it wasn't champagne all round. The non-residential sector continued to struggle – Q2 installed capacity was down 20% from Q1 2015 and down 33% from Q2 2014.
During the first half of this year, the US installed 2.7 GW of  solar panels, representing 40% of all new electric generating capacity brought on-line in the nation. 21 states can now boast than 100 MW of solar PV capacity.
"At over 20 GW of installed solar electric capacity, we now have enough solar in the U.S. to power 4.6 million homes, reducing harmful carbon emissions by more than 25 million metric tons a year," said Rhone Resch, SEIA President and CEO.
Mr. Resch stated more 150,000 American solar jobs have been created since the federal solar Investment Tax Credit (ITC) incentive was launched in 2006.
" By any measurement, that's a success for both our economy and environment," said Mr. Resch.
GTM and SEIA forecast solar PV installations will hit 7.7 GW in 2015, up 24 percent; with the most rapid growth to be seen in the residential market. With the end of the ITC next year, even more activity is expected in 2016, with the U.S. solar PV market expected to add 18 GW between July this year and December next year.
More from the Q2 2015 U.S. Solar Market Insight Report can be viewed here.