Utility scale solar capacity addition in India during the first quarter of this year has been forecast to be equivalent to the entire capacity added in 2015.
Research from Bridge To India indicates utility scale solar projects totaling up to 4.8 GW of capacity will be brought online during 2016, a jump of 140% over capacity commissioned in 2015.
The firm forecasts 2,007MW of utility scale solar in the first quarter; 856MW in the second, 1,393 in the third and 590 megawatts in the final quarter of 2016.
Four states out of India's 29 states and 7 union territories are expected to represent 80% of all new capacity added in 2016 – Tamil Nadu, Andhra Pradesh, Telangana and Karnataka.
Last year, 2 GW of utility solar was added throughout the nation; which was double the rate of capacity addition between 2012 and 2014. 2015 came in under Bridge To India's estimate of  2.45 GW.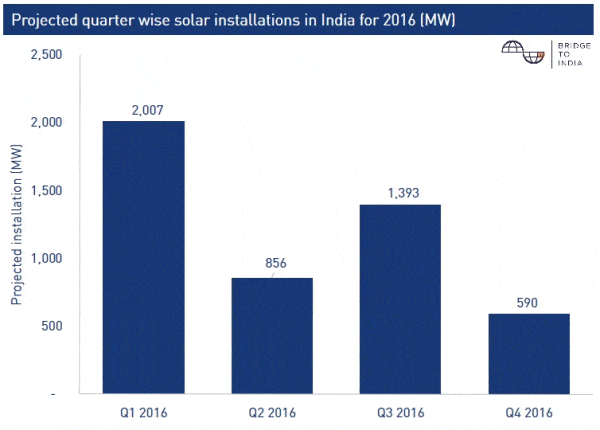 Bridge To India says the government's ambition to ramp up utility scale addition from 1 GW per year until last year to 7.2 GW planned in the next financial year (April 2016 to March 2017) now appears attainable – but a goal of 10,000 MW in 2017-18 is another story.
".. it is not going to be easy to sustain this momentum as states are expected to assume the responsibility for further growth once the central government led allocations begin to dry up. "
The firm also sees evacuation of power and grid stability becoming major bottlenecks for future growth.
India has also triggered a new massive push on rooftop solar. The country's Cabinet Committee on Economic Affairs recently boosted the budget for grid connect rooftop solar by more than 8-fold, The funding will be utilised to support the installation of 4200 MW of rooftop solar power systems across to India out to 2019-20.
India's Jawaharlal Nehru National Solar Mission was launched in January 2010. It originally set a goal of deploying 20,000 MW of grid connected solar power by 2022. This target was increased last year to 100,000 MW. Of that total, 40,000 megawatts capacity is to be in the form of rooftop solar power systems.
Bridge To India was founded in 2008 with the objective of bringing international renewable technology and business expertise to India.